Rotary Gets Preview of 18th River of Time
Reenactors will represent the history of Michigan.
September 28, 2008
By: Stephen Kent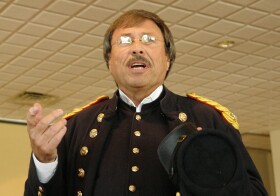 Corporal Paul Davis
Last Weeks program - September 23, 2008
Jan Rau, chair of the Bay County Historical Society's River of Time Encampment, spoke to the Rotary Club then introduced Corporal Paul Davis representing the Michigan Marine Guard.
September 26 to 27 will see the 18th Annual River of Time take over the park on the river with hundreds of period reenactors and thousands of visitors. Reenactors will represent the history of Michigan from the French and Indian period through WW II.
Friday is devoted to the schools as move than a thousand kids will visit the encampment. The event is considered a living history. Students see how people lived in earlier times and learn about the periods of Michigan history.
Davis represents the Marines from the Civil War period. Specifically his group is the Marine Guard from the USS Michigan, actually the first iron clad ship built, dating from 1843. The Michigan served on the Great Lakes and made port in Bay City several times. The ship continued in service until it was scrapped in 1949.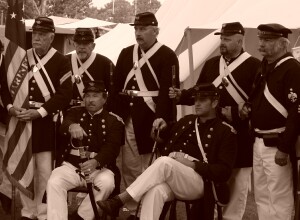 Looking Back. Michigan Marine Guard
2007 River of Time
Reenactors take their hobby seriously, said Davis. They study their time lines and work to accurately portray their character. Some participants simply dress the part without taking a character. Others pick particular people, or family ancestors, or a composite of various people. At the extreme end are the professionals who portray characters like Lincoln and Grant, both of whom are regulars at River of Time.
Davis also noted that some people take things more seriously. At one end are the "FarBees" (far be it from real). At the other extreme are the thread counters who insist the a uniforms fabric be historically correct down to the number of threads and the way it is stitched.
A reenactor's clothing (don't call it a costume), represents a major investment. His own marine uniform is a $1,500 investment. Men tend to buy their clothing, women more often make their own. An entire industry supports the hobby and one of the best known is the Quartermaster Shop in Port Huron.
This weekend's event will include many special features. A Civil War water and land battle will be fought between three boats and a shore battery. Land skirmishes will be fought between Union and Confederate companies. When asked if there are Confederate reenactors coming to Michigan Davis said yes. The 8th Arkansas is scheduled to be here. "If we don't have enough" he laughed, "we just make some".
---
CLUB NEWS and ANNOUNCEMENTS
Anne Trahan reminded members to donate or solicit auction items for
International Night
. Be sure to buy your tickets and consider being a patron sponsor. October 7 is the deadline for patrons to have their names on the program.
Rob Clark and Kathy Czerwinski are collecting items and money for the
Bucket of Fun
drawing. Three buckets will be given away, two "adult" and one "family" style. Tickets have been distributed to member to either sell or purchase.
---
Upcoming Programs
(See the official schedule at RotaryBayCity.org )
Sept 30 Details about the Adopt A Village international program. Chuck and Ann tell us about our connection to the people of Guatemala...and our chance to Realize a Dream.


Oct 7
Club Assembly
Oct 14 Rotary International Exchange Student Luis Flavio Sales introduces us to his home in Uberaba, Minas Gerais, Brazil.
---
Visit RotaryBayCity.org