Rotary International Project For Guatemala Discussed
Club Plans To Invest $5,000 In Adopt A Village Program
September 30, 2008
By: Stephen Kent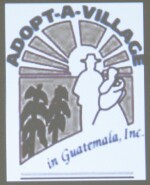 Last Weeks program - September 30, 2008
This Rotary Year, Governor Bob Chadwick challenged clubs to address the International theme of "Make Dreams Real" by taking on an international project that helps people improve their lives and the lives of their children. The Bay City Club elected to participate in the "Adopt-A-Village in Guatemala" program.
Founded on the slogan "Empowering Mayan Families Through Education", the AAV program if a 501(c)3, grassroots charity that aids the Mayan people of northwestern Guatemala, most of whom are returned refugees from that country's long standing 36-year civil war.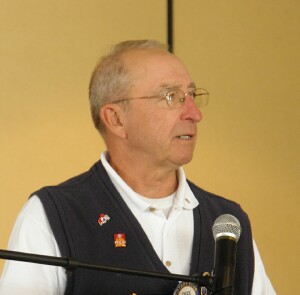 Member Chuck Cusick presented a talk on the AAV program and talked about his recent trip to the area with his wife Nancy and two others. Chuck's story and accompanying slides showed the conditions of the Mayans in the remote mountain villages. It also illustrated the difficult, and sometimes dangerous, trip that volunteers take to get to these villages as they negotiate barely passable roads clinging to the sides of mountains.
The Mayan culture has been a part of Mesoamerica for some 3,000 years. Their advanced civilization, known for abstract mathematics, astronomy, medicine and a sophisticated calendar system was almost wiped out when the Spanish colonized the country in the 1500's. The 36-year civil war starting in the 1960's killed over 200,000 Mayans and displaces another million who fled into the mountains in what the UN called a genocide against the Maya.
The AAV program serves small resettlement villages that dot the mountainous areas just south of the Mexican border. Families in this area have overwhelming needs but almost no access to resources of any kind. AAV has concentrated on education. They have built and supplied nine elementary schools plus a training and development center focusing on sustainable agriculture and farm animal management. AAV has also constructed clean water systems, built family latrines, provided health training, and brought doctors, dentists and medicine to impoverished villages.
The Bay City Club's project to "Make Dreams real" will raise $4,500 to purchase and install a satellite system and generator which will bring the outside world to the education system being built by AAV. An additional $500 will address infant and child mortality through a pilot program focusing on hygiene, oral re-hydration of babies with diarrhea, and with anti-parasite medications.
---
CLUB NEWS and ANNOUNCEMENTS
The Club has scheduled two heavy hitters in the Michigan economic development scene as upcoming speakers:
Tony Wenson, of the Michigan Film Office, is slated to speak to Rotarians here Tuesday, Oct. 21;
Jim Epolito, director of the Michigan Economic Development Corporation, is slated for the Rotary podium on Tuesday, Oct. 28.

Both programs promise to be informative and interesting.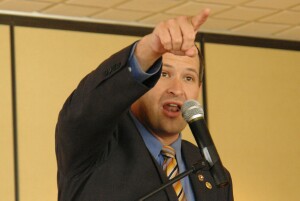 With International Night only two weeks away, Anne Trahan reminded members to bring in auction items. As a warm up Rob Clark auctioned two hot tickets to Saturday's University of Michigan Homecoming game against the University of Illinois Fighting Illini. The 50 yard line tickets, along with VIP parking and other perks went quickly at a nice profit for the club. Many more exciting items will be auctioned at the October 16 event when member Hratch Basmadjian will take the gavel for what promises to be an auction to remember!

Rob Clark and Kathy Czerwinski are collecting items and money for the Bucket of Fun drawing. Three buckets will be given away, two "adult" and one "family" style. Tickets have been distributed to member to either sell or purchase.

Welcome to our newest member Tom Birch, new Director of the bay County Library System.

---
Upcoming Programs
(See the official schedule at RotaryBayCity.org )
Oct 7
Club Assembly
Oct 14 Rotary International Exchange Student Luis Flavio Sales introduces us to his home in Uberaba, Minas Gerais, Brazil.


Oct 21
Tony Wenson, of the Michigan Film Office
Oct 28
Jim Epolito, director of the Michigan Economic Development Corporation
---
Visit RotaryBayCity.org