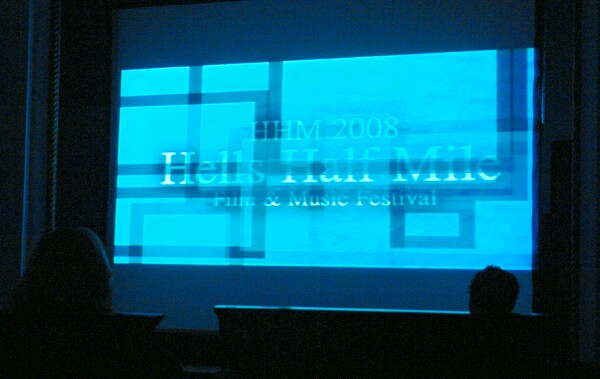 Third Annual Hells Half Mile Film and Music Festival Success
Over 1,000 People Enjoy Films and Music In Downtown Bay City
October 5, 2008
By: Stephen Kent
Based on the success of this weekend, the Hell's Half Mile Film and Music Festival seems to be on the road to a long run in Bay City. Over a thousand people paid to view one or more of the sixteen films that were screened at the State Theater, the Masonic Temple, and the Delta College Planetarium.
Besides the films the festival presented "Masonic Music Night" on Friday and Saturday nights featuring local bands at the Masonic Temple on Friday night. Bands included Monument Valley, Tone and Niche, Nathan Kalsih and the Wildfire, and Cheap Girls.
A Filmmaker reception was held on Friday evening. Seventeen producers, directors, actors and crew members were on hand to meet the public and discuss film. One group came all the way from Australia.
Saturday's events included a screenwriting workshop, filmmaker panel discussion, cinematography workshop. The evening started with a Filmmaker Happy Hour and ended with a second Masonic Music Night.
The HHM festival takes its name from the notorious strip of bars, bawdy houses, and brothels that lined Bay City's River front in the late 1800's when timber was king. Timber Fellers (lumberjacks) would hit town at the end of the winter logging season with pockets full of pay and a mighty thirst for booze, women, and general hell raising. Today the area caters to families and shoppers, but the ghosts of that wild past still haunt the historic buildings on the river.
For anyone who enjoys film and music it was a weekend worth being in Bay City. The committee will take a short break then get to work preparing for next year's event.
---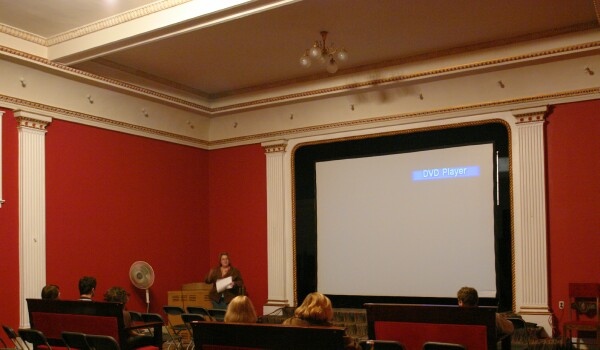 The next film is introduced in the Masonic Temple's Red Room.

---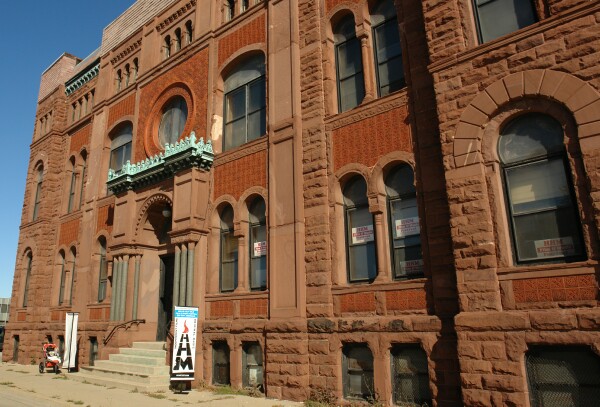 The historic Masonic Temple, now owned by the Bay Arts Council

---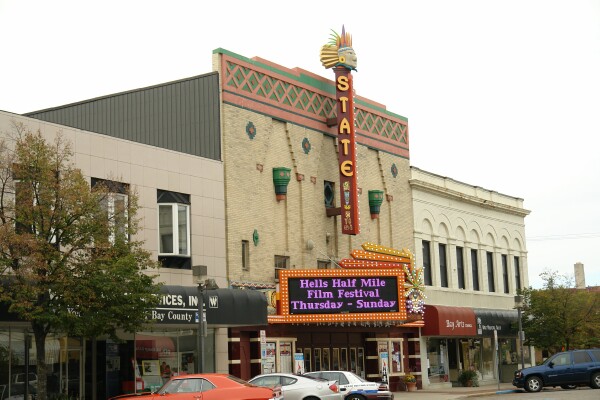 The historic State Theater sporting its new marquee.

---