Rotary Discusses Strategic Plan
October 12, 2008
By: Stephen Kent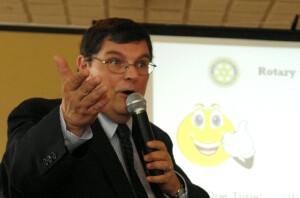 Last Weeks program - October 7, 2008
Member Chuck Brooks reviewed the Club's 2006-2009 Strategic Plan. As each goal was reported Chuck gave a thumbs up if the goal was met and asked members to clap once. If the goal was not met he gave a thumbs down and ask members to say aloud "We Can Do Better!" The overall grade was a resounding success and a double THUMBS UP! Some of the highlights included:
Increase membership by a net 1 per year. Thumbs Up.

Every member bring one potential new member as a guest. Thumbs up AND down

Hold regular new member orientations for prospects Thumbs UP

Present 100 Paul Harris points to each new member. DOWN

Continue high level weekly programs and invite various high profile speakers. This year the club welcomed Attorney general Mike Cos, UAW Pres Ron Gettlefinger, and Senator Debbie Stabenaw. Include two programs on the Rotary Foundation and hold one or more off site meetings, such as the recent visit to Delta College. Thumbs Up

Continue the 10 Minute Rotarian programs. This was replaced with the "Rotarian of the Day". Thumbs Up

Continue the annual high school Vocation Days. The club hosted over 150 students this year. Thumbs Up

Continue the Group Study Exchange. The club sent teams to West Africa and to Australia. Thumbs Up

Raise $45,000 a year with the annual International Night and Golf Outing events. The events raised $41,246 this year to receive... Thumbs Up and Down UP/DOWN

Fund a long term, major project raising %250,000 over five years. The club funded three historic kiosks for $100,000 and contributed $150,000 to the Pere Marquette Depot Renovation. Thumbs Up

Continue to give $10,000 in Community Grants. Thumbs Up

The club also continued other projects including: MuttMits, River Walk Garden, and the Dictionary project. We added a Thesaurus project and Food for Families. Thumbs Up

Recruit a Public Relations Chair. Thumbs down

Continue and increase International Service. With a goal $16,500 the club raised over $20,059. Thumbs Up
Achieve 100% member giving. Actually got 88% Thumbs Down
But the club raised over $17,000 in the Polio Plus Challenge. Thumbs Up

Continue the Youth Exchange. Thumbs Up

Undertake International Projects. The plantation Project, Books to Afghanistan, and the Mayan Adopt a Village project. Thumbs Up


Overall: Double Thumbs Thumbs Up
---
CLUB NEWS and ANNOUNCEMENTS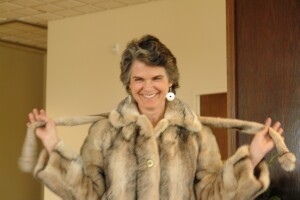 With International Night on October 16, only ONE week away, Rob Clark and Anne Trahan again reminded members to bring in auction items. Among the many great items is a "Wild Rice", full length mink coat, which Anne modeled for the club.

Rob Clark and Kathy Czerwinski are collecting items and money for the Bucket of Fun drawing. Three buckets will be given away, two "adult" and one "family" style. Tickets have been distributed to member to either sell or purchase.

---
Upcoming Programs
(See the official schedule at RotaryBayCity.org )


The Club has scheduled two heavy hitters in the Michigan economic development scene as upcoming speakers:
Tony Wenson, of the Michigan Film Office, is slated to speak to Rotarians here Tuesday, Oct. 21;
Jim Epolito, director of the Michigan Economic Development Corporation, is slated for the Rotary podium on Tuesday, Oct. 28.

Both programs promise to be informative and interesting.


Oct 14 Rotary International Exchange Student Luis Flavio Sales introduces us to his home in Uberaba, Minas Gerais, Brazil.


Oct 21
Tony Wenson, of the Michigan Film Office
Oct 28
Jim Epolito, director of the Michigan Economic Development Corporation
Nov 4 Dr. Ed Goyings and his wife will describe in detail their trip to the Amazon and mission to help people.


Nov 11 The Gales of November Documentary film maker Ric Mixter talks about the anniversary week of several Great Lakes storms and the ships those storms sunk.

---



Visit RotaryBayCity.org





0202 nd 03-18-2019