The Effects Lying Can Have On A Teenager's Life...
Teenagers Are Prone To False Allegations Throughout Middle School Years
October 26, 2008
By: MyBayCity Staff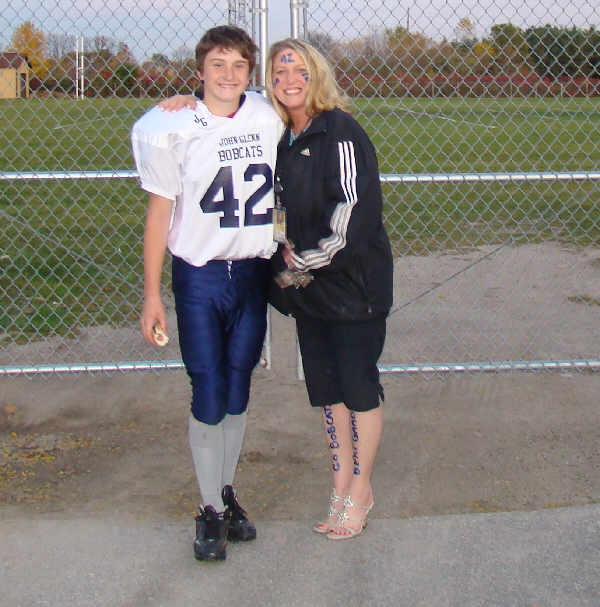 Teach Your Children That The Truth Does Not Lie And Will Come Out Eventually Whether They Are The One Guilty Or Innocent Through Their Teenage Years!
Guilty by association . . . or not?
It's not surprising that so many teenagers have difficulty telling the truth. In this day and age, there is a widespread belief that some lying is necessary in everyday life, not true in my book! Many of us have been conditioned to be nice at all costs! Teenagers want to "fit in" and sometimes, find themselves "going with the flow", even if it includes repeating something they are unsure of (rumor), or even well aware, is a flat out lie!
Learn how to protect your family before an allegation can completely uproot your child's life! School systems and their administrators also need to identify "who's telling the truth" in Middle School altercations. Continued education in identifying fact from fiction is crucial in this day and age.
Recently, my own family experienced the wrath of a teenager's lie and the punishment of "hearsay". My oldest child, a straight A student, defensive captain of his football team and all around nice, honest and kind young man was accused of doing something he did not do. He had no school administrative support, only his family and many friends came to his aid.
He was denied his education for three days of suspension, forced to miss football practice for four days, the second to the last game of the season and worst of all, face people upon his return to school who still had the "unknown" on their face as to whether he was involved in this situation or not, ultimately damaging his reputation.
For an entire week, my child had this stamped on his forehead. I am proud to say, he returned to school, football practice and what must have been scary, the kids who stated the untruths, holding his head high. I cannot imagine what this felt like for my child, knowing that even school administrators believed he was guilty by association of an awful accusation.
After desperate meetings with school officials pleading that my son was not involved, prayers to the only one who could rectify this situation and bring forth the truth, not to mention, many martini's, this particular situation ended yesterday with a vindicated result. I am so happy that regardless of what administrators believed, because of what was being told to them, I stood behind my son and did not allow his trust in me by showing mine in him, to falter!
One week after the awful allegations, suspensions, missing school work including 4 tests, the MEAP, football practice (which means everything to this young man) and so much more, it was reported to me by my child's football coach that the child who had lied, who is also on my son's football team, admitted to his falsehoods. Therefore, my child will at least have validation that "others" will now know for a fact, that he had nothing to do with this altercation. School administrators will be notified and hopefully an apology to my son will be first on the list Monday morning to at least, gain back the trust from a good (person) student and a dedicated sports fanatic at a phenomenal school!
Parents, if you ever experience such a situation, know that it is your right to request that if and when the truth should finally come to the forefront, demand that your child's school record of suspension be expunged (removed).
We will never know, myself included, the negative impact this situation has had on my wonderful son. I hope and pray that I have raised him to be strong enough to come out of this on top, but how many kids in Middle School who have similar situations, will not. Sadly, suicide rates are up 67% for teenage children and situations such as this can cause those without a strong support system at home or at school, to fall into despair, which is why I believe that better identification education within the school system needs to be addressed, nationwide!
The ONLY reason I am sharing my personal story to the "Internet World" is that so many children at this age are accused of falsehoods that without proper support from home and school officials, can cause good kids to "go bad". If my story can help just one family, it will be worth putting it out to the public. Issues such as this, need to be fully examined before suspensions are handed out through
hearsay
and the ole' "guilty by association" analogy.
Here are the top reasons why teenagers fall into the "lying trap":
To be popular

To avoid hurting another's feelings

To avoid having to handle conflict

To avoid negative consequences (punishment)

To avoid losing a parent's love/approval

To avoid feeling embarrassed
Adolescents that prefer harmony over conflict are more prone to telling a lie than owning up to their behavior. This also includes withholding potentially incriminating information from you. Kids (and adults!) lie to divert their feelings of anxiety, fear, and guilt. If you have good observation skills, over time you can spot which non-verbal signals your son or daughter unconsciously resort to when you're only getting partial truths. You as a parent, know better than anyone, if and when your children are lying. If you find your child in a similar situation and know in your heart that your child is telling the truth, STICK BEHIND YOUR CHILD regardless of what others say, think or do! Let them know that they have your support and that this is not the end of the world. Support from home is the best medicine in getting over situations such as this.
Other possible clues that teenagers are lying include:
Extreme defensiveness

Overly smug

Providing much more information than necessary

Behavior that is "out of character"

Stalling before answering
If you think that your teen is lying or keeping important information from you, don't rush in with your accusations. Ask "insightful questions" in a neutral tone of voice for further clarification. Often parents and school administrators want to confront children right away, before facts have been uncovered or a proper investigation can be completed. If you've tested your intuition over the years, and you know that you can trust that "funny feeling you get inside," you'll still want to wait until you've thought through how to best address your suspicions and thoroughly investigate the accusation at hand.
No one likes being falsely accused. So, get as much information from your child, his/her friends and school administrators as you can before laying the cards out on the table. Look at all sides of the coin and give all the benefit of the doubt, regardless of how a situation may look at first glance. Make sure you also discuss how your teenager can make amends (a much better consequence than yelling, lecturing or worse yet, having your child hold a grudge against an offender!). Kids need to recognize that it's in their best interest to tell the truth at all times and the ramifications it can have on another!
PARENTS, SUPPORT YOUR CHILDREN, ESPECIALLY IF THEY ARE THE ONE POINTING FALSEHOODS TO AVOID GETTING IN TROUBLE! These, are the children that need the most support. Avoid your child feeling despair or helplessness and let them know your behind them and believe in them, regardless of what side of the coin (guilty or innocent) they may find themselves on during their teenage years.
Surprisingly, my son only wants his particular situation off of his clean record and for the schoolmate that lied to have the support that he does behind the scenes. My son simply wants to be able to continue getting a good education and being a part of a fabulous team at a phenomenal school, one that he loves very much! I am so very proud of my son, be proud of yours too!