Don't Cap Michigan Film Tax Credits, Says Film Office Communications Chief
Ken Droz Estimates $350-400 Million in Film Projects in the Works for State
October 21, 2008
By: Dave Rogers
Last Weeks Meeting - October 21, 2007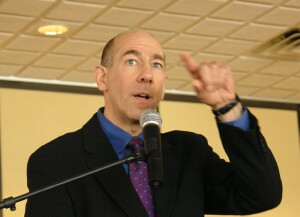 A "whole truckload" of film projects planned for Michigan could stop if the state legislature slaps a cap on tax incentives, according to Ken Droz, Michigan Film Office executive.
A native of Detroit and graduate of Michigan State University who spent 17 years with advertising agencies, Droz has forsaken Hollywood for the opportunity "to jump start a major industry in the state."
Since Gov. Jennifer Granholm signed a bill offering tax incentives and rebates to film companies who produce films in Michigan, more than 60 projects have been approved, he told Bay City Rotarians last week.
From the $150 million in projects incentivized in the first six months after the bill was signed, the estimated total of spending on films has skyrocketed to $350 to $400 million, said Droz.
A cap on rebates proposed by some legislators "would put a halt on all activity," he said. "The money being spent here is not going to Hollywood high rollers, it is going to people who are gaining employment in a field fairly new to Michigan."
He noted that the Education and Training Connection, Inc., of Midland, an adult education firm, is training people to be camera loaders, grips, script writers, extras, directors and for other jobs in the industry.
"There is a major need for workforce and people will come to Michigan, migrate to Michigan, for these jobs," said the film office official. "We are looking to train and hire new people."
The influx of film companies in Michigan also has sparked an outpouring of civic pride as many communities are seeking to be film sites, he said. The film office is building a database of photos of potential sites, both interiors and exteriors.
"If you get a call from a film producer, please take the call and have a receptive attitude," he urged. "Picture this a someone with a truckload of money looking to unload it in your area."
Films in production that were shot in the mid-Michigan area include "Street Boss," shot in Saginaw, and "All's Fair in Love," that used Flint as a setting.
Mr. Droz said film-making in Michigan also will be a boost to tourism and predicted that Hollywood producers "will be blown away by the diversity of landscape available here." The bill passed last April aimed at sparking film business in Michigan provides a 40 percent refundable tax credit against Michigan Business Tax (MBT) liability for qualified film or digital media pre-production, production, and post-production costs incurred in Michigan. Alternatively the credit could be claimed against Michigan income tax withholding tax liability.
The program also offers a "refund" or "tax rebate" equal to 40 percent of qualified production expenditures, not a credit against taxes owed. Additional 2 percent credit is offered for films produced in core communities.
Wages paid to non-Michigan residents eligible as a qualified expenditure capped at $2 million per person per production.
The film legislation also allows an income tax deduction equal to all or a portion of a gain realized from an equity investment of at least $25,000 in an qualified production in Michigan, if the initial investment plus the gain, or a portion of the gain, is reinvested in a new qualified production within one year.
The program sunsets on September 30, 2015. ###
---
WORK CAMP REPORT
The club welcomed Cathy Short, Youth Coordinator from First Presbyterian Church who thanked the club for the grant of $2,000 from the Community Grant program that was given in support of the River Front Work Camp held last summer.
The Work Camp is part of a national, non-denominational program. Students from across the country converge on a town where they spend a week painting and repairing houses, building wheelchair ramps and doing other good deeds. The youth stay at a local high school.
First Pres has been sending youth to work camps for almost 20 years. In 2001 the Church hosted it's first camp in Bay City. This year First Pres sponsored a new format of seven smaller camps run week after week. 100 kids would show up, work for a week then the program would start over next week.
Rather than use local schools, the youth stayed at the church in Sunday School rooms and used the YMCA for showering each day. The Church is not air conditioned, which can be a hardship on those hot days. Rotary's $2,000 grant enabled the program to purchase portable air conditioners for the kids to use.
The church is already planning for the 2009 summer session, when the air conditioners will be put to use again. For more information visit
www.groupworkcamps.com
---
CLUB NEWS and ANNOUNCEMENTS
A Major Projects Meeting will be held after the regular meeting on October 28 to evaluate proposals for the club's next project. All proposals will be evaluated and a group of finalists will be selected for the next cut. Everyone is welcomed and encouraged to participate.


Group Study Exchange applications must be turned in by October 31 for this year's trip to Thailand.


The Foundation Gala will be held in Frankenmuth on Nov 7. The club will be reserving tables for 8 at $30 per person. The normal cost is $35. Contact Deb Lutz if you plan to attend.


The club membership drive is now under way. Next Tuesday's meeting will feature speaker Jim Epolito, director of the Michigan Economic Development Corporation. Everyone is encouraged to bring prospective members to the outstanding program. This week only the club will pick up the lunch tab for all guests.

---
Upcoming Programs
(See the official schedule at RotaryBayCity.org )
Oct 28
Jim Epolito, director of the Michigan Economic Development Corporation
Nov 4 Dr. Ed Goyings and his wife will describe in detail their trip to the Amazon and mission to help people.


Nov 11 The Gales of November Documentary film maker Ric Mixter talks about the anniversary week of several Great Lakes storms and the ships those storms sunk.

---
Visit RotaryBayCity.org