Christmas Music ALREADY? I Haven't Even Devoured A Turkey Yet!!!
While Washing Our Halloween Costumes, I am Listening To CHRISTMAS MUSIC!
November 2, 2008
By: MyBayCity Staff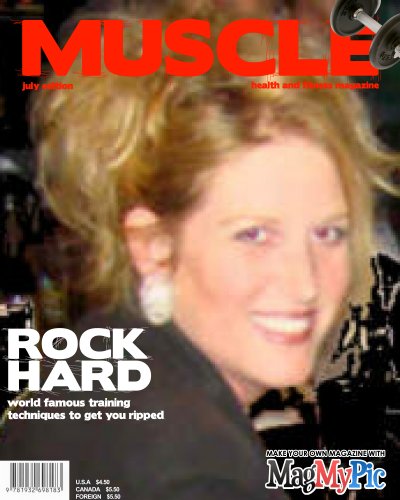 This "Marlo Makeover" will hopefully make me rock hard!
Okay . . . so, many supporters have called, emailed and literally stopped me on the street to inquire how the "Marlo Makeover" is going. I am NOT happy to report . . . not so good. I have only lost 3 pounds over the past three weeks, but have encountered many "bumps in the road" that have put a stop to the progression of LOSING bumps that have no business being a part of my 40 year old body! (This folks, is called "denial")
I've been struggling with scheduling difficulties between doing my job as the Sales Manager of numerous cities, taping The Tri City BUZZ Show segments, being a single mother (which also includes full time taxi driver of teenagers and their own schedules) and unfortunately, lastly, finding time to work out with Molly down at WORK Fitness Studio in Downtown Bay City. (This too, is "denial", my schedule ALONE should be enough to shed pounds!)
Today is the day I get to stroll my fanny down to WORK Fitness Studio with a bathing suit on for my "before" pictures. NOT LOOKING FORWARD TO THAT! It is supposed to be a 2-piece suit, NOT GOING TO HAPPEN! I don't even OWN a 2-piece bathing suit and will be lucky to paste one on at all!
Today is also the day I start my weight loss challenge, one that, by the way, is open to the public to participate. The Work Your Weight Away Revolution begins Monday November 3rd. Click for more details
Work Your Weight Away Revolution
With the holidays approaching, and my being conscious of losing weight during them, I would like to share with you some tips I found for cooking smart this season. Thanksgiving is absolutely, positively my FAVORITE meal of the year to cook and devour! This year however, I have been researching ways to still enjoy making and eating it in a healthier manner.
During my research, I found the following Thanksgiving statistics on a website called,
ThreeFatChicksOnADiet.com
. The website offers free diet information and forums for weight watchers and more!
Does your thanksgiving dinner sound something like this?
8 ounces of white and dark meat turkey....480 calories
1 cup mashed potatoes with butter....300 calories
1 cup stuffing....600 calories
3 to 4 ladles of gravy....300 calories
3/4 cup candied sweet potatoes....300 calories
1/2 cup cranberries....200 calories
1 roll with butter....180 calories
1 piece of pumpkin pie with whipped cream...150 calories
1 glass of wine or cider....150 calories
Total: 2,660 calories
Hoping to work that Thanksgiving dinner off? Better set aside some time. It takes 12 hours of walking to burn off 2,660 calories!!
According to
HealthCastle.com,
the average Thanksgiving dinner has over 2000 calories -- Which can be a real challenge if you are watching your waistline. The following are some eating tips from
HealthCastle.com
that they say will still make you look good and be healthy after the Thanksgiving dinner without having to deprive yourself.
If you are a guest of a Thanksgiving dinner:
Don't go to the Thanksgiving dinner hungry:
we often eat faster and more when we are hungry - therefore eat a wholesome breakfast and lunch on the day to avoid overeating at dinner time. (I have a heartwarming tradition with my father every Thanksgiving. He comes to my house at 5a.m., we enjoy a flavored pot of coffee, wash the bird, get him seasoned and in the oven and sit and talk about what we are thankful for. I tend to skip eating all day until dinner, this can be hazardous! This year, I will include breakfast to our tradition)
Thanksgiving dinner is not an all-you-can-eat buffet:
Fill your plate half with vegetables, one quarter with a lean meat and the rest with a starch of your choice. Eat slowly and stop when you are full. (This is where I usually make HUGE mistakes. I take a little of everything and then re-fill my plate with my favorites, such as green bean casserole, stuffing and dunk additional dinner rolls in MORE gravy! Not this year!)
Turkey - go skinless:
choose your 4-oz turkey portion skinless to slash away some fat and cholesterol. Save your appetite for the side dishes and desserts. (Okay, I have to admit, the skin is WHY I like Thanksgiving dinner! I usually skip right over the meat and sneak the crispy skin during the carving process. I will have to let someone else carve the bird this year, for sure!)
Side Dishes - watch your portion size:
go for smaller portions. This way you can sample all the different foods. Moderation is always the key. (Moderation, whats that? I better look it up in the dictionary before turkey day)
Make a conscious choice to limit high fat items:
high fat food items can be found in fried and creamy dishes as well as cheese-filled casseroles in a traditional Thanksgiving meal . For instance, mashed potatoes are usually made with butter and milk; green bean casseroles are often prepared with cream of mushroom soup, cheese and milk and topped with fried onions; candied yams are loaded with cream, sugar and marshmallows. If you cannot control the ingredients that go in to a dish, simply limit yourself to a smaller helping size. Again moderation is the key. (There's that word again!)
Drink plenty of water:
alcohol and coffee can dehydrate your body. Drink calorie-free water to help fill up your stomach and keep you hydrated. (It will be hard this year to skip over the bottles of wine while cooking and the "Green Monsters" while eating, but I will do it, I hope!)
Last but not least:
Dress in restrictive clothing, this will hinder over eating this Thanksgiving. (I, just may wear that bathing suit to dinner! Wait, maybe not, my guests may leave, then I would be stuck with the entire dinner to consume by myself!)
They say you can survive Thanksgiving dinner while dieting, we will see! This year I will try to make smarter choices by consuming smaller portions of what I really like, skip the things I don't really love, and fill up on veggies!
New foods at the Thanksgiving table, new traditions such as the entire family taking a walk while the bird is cooking, a game of football following consumption or turning on The Tri City BUZZ show on Charter OnDemand to laugh off the pounds before hitting the hay can all be assets to ensuring new "bumps" won't appear on your body this year!
To watch The Tri City BUZZ TV Show on Charter OnDemand anytime, simply go to channel 999, click IWantMore, then Mainstreet, Community and VIOLA!