State MEDC Chief Says to Business, Cities, Counties: You Gotta Have A Plan!
Many Bright Spots in Michigan's Economy, One is Battery Power at U-M
October 28, 2008
By: Dave Rogers
Last Weeks Meeting - October 28, 2008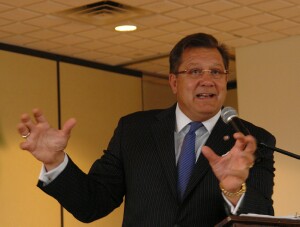 James Epolito retired at age 50 and didn't know what he wanted to do until Jennifer Granholm tapped him on the shoulder at church and asked for a few minutes to talk.
The former Michigan State University football player from the coal fields of Pennsylvania, a free market capitalist with a business career at his back, recalls only "the last thing I said was yes."
Mr. Epolito made an energized, emotional speech to the Rotary Club of Bay City as winds howling outside symbolized the economic threats facing the state and the nation.
Gov. Granholm wanted Mr. Epolito to lead the crusade to restore Michigan's economic might as head of the Michigan Economic Development Corporation (MEDC).
The job he was offered "sounded a little like trying to solve world hunger," but he took it anyway.
His first task was the daunting task of putting together a strategic plan for the state that outlines a diversified portfolio of job producing industries to make up for the loss of 500,000 jobs.
Planning is the answer, says Mr. Epolito, noting that only 17 percent of Michigan's small and medium size businesses have strategic business plans.
Not only businesses, but every unit of government needs a plan, he said.
"We have to focus on diversification and plant the seeds so our kids have jobs and want to stay in the state," he said.
Noting that Michigan leads the nation in some areas like alternative energy and life sciences, he ticked off a few bright spots:
Mascoma Corp., a $300 million woody biomass ethanol plant in the Upper Peninsula;
Health Media, Inc., a health care analysis firm recently acquired by Johnson & Johnson;
Dow Corning, largest producer of polycrystalline silicon in the world, expanding its Hemlock Semiconductor plant and considering location of another new plant in the area;
Dow Chemical Company's initiatives into the photovoltiac arena of alternative energy;
A Swedish Biogas process recently brought to Flint and visited by King Karl Gustav of Sweden, the first waste-to-power plant in the U.S.;
GM's new Volt electric hybrid, projected to build a new engine plant in Flint and to revitalize the Bay City PowerTrain plant.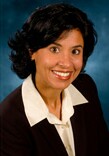 Prof. Sastry
Mr. Epolito touts University of Michigan engineering professor Ann Marie Sastry as the "world's top battery expert" who is working on a long-lasting battery "that will ultimately be the solution" to the country's transportation and energy problems.
Prof. Sastry holds degrees in engineering from the University of Delaware and Cornell University and earned a P.H.D. from Cornell in 1994. She is Arthur F. Thurnau Professor of Mechanical, Biomedical and Materials Science and engineering and director of the Energy Systems Engineering Program at U-M. She has won numerous awards.
He lavished praise on legislators, including State Sen. Jim Barcia and State Rep. Jeff Mayes, who were in attendance, for helping pass 12 new laws that will make the state a Center of Energy Excellence.
"We've got to start living in an environment of thankfulness,"he said. "Get a plan, execute it and feel good about it."
###
---
CLUB NEWS and ANNOUNCEMENTS
Membership Drive: The Club welcomed a large number of guests and prospective members to Tuesday's meeting. Quoting from the member Rite "Rotary is an intimate affiliation of carefully selected business and professional people, having as its objective the promotion of high ethical standards in private, commercial and civic life, and dedicated to the ideal that the basis of all worth endeavor is unselfish service." Prospective members must be sponsored by a current member and attend an orientation program, the next of which will be held at noon on Wednesday, December 3, at the Stein House.


A Major Projects Meeting was held after the regular meeting. Seventeen members attended. A large number of proposals were evaluated, discussed at length, and ranked. The committee will tabulate the rankings and present the results to the membership.


The Foundation Gala will be held in Frankenmuth on Nov 7. The club will be reserving tables for 8 at $30 per person. The normal cost is $35. Contact Deb Lutz if you plan to attend.


Welcome back to Ron Fuller who has been unable to attend for some time. Everyone was glad to see you Ron!

---
Upcoming Programs
(See the official schedule at RotaryBayCity.org )
Nov 4 Dr. Ed Goyings and his wife will describe in detail their trip to the Amazon and mission to help people.


Nov 11 The Gales of November Documentary film maker Ric Mixter talks about the anniversary week of several Great Lakes storms and the ships those storms sunk.


Nov 11 City of Bay City Rehabilitation programs. Bay Area Housing's Neighborhood Preservation Program and the City of Bay City Redevelopment Dept. team up to talk about rehab loans, preserving neighborhoods, and general rehab programs in our beautiful City.

---
Visit RotaryBayCity.org