Rotarian Couple Tell About Volunteer Service In Amazonia, Brazil
Rotary School and Medical Facility Bring Hope and Care to Villages
November 4, 2008
By: Stephen Kent
Last Weeks Meeting - November 4, 2008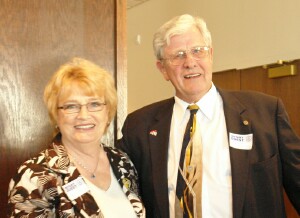 Dr. Ed Goyings and his wife Betty
, of Frankenmuth, presented a slide show and talk about their trip to Amazonia, Brazil. Ed retired from his Frankenmuth dental practice in 2007. This trip was a Rotary Humanitarian service and supported by a $3,000 service grant.
Goyings described a region around the Tapajos and Amazon Rivers where the main mode of travel is boat. The couple worked in the Santarem and Alter-do-Char area.
The couple made their way to the Bill Chase Dental Clinic, named in honor of the founder and chairman of Amazon-Africa Aid. This organization works in partnership with Fundacao Esperanca ("Foundation of Hope"), a Brazilian nonprofit organization that has been providing health care and education to the people of the Amazon for over 30 years.
Ed worked as a volunteer dentist during the couple's two week stay. Betty lectured on photo-journalism at Espes University and visited the Rotary School, which were both close to the clinic. The majority of students are female in a culture where men are not a big part of the family.
The dental clinic has six chairs and is air conditioned. The equipment is 40 to 50 years old. Trained Brazilian hygienists and assistants, many of whom spoke English, helped the volunteers. The volunteers, work 7:30 to 5:00 with a two hour break. The clinic team will perform over 26,000 procedures in a typical year.
Dr. Goyings performed a full range of dental procedures as well as training and supervising the assistants. He told of difficult procedures which at home he would have referred to a specialists. He was able to take about $4,000 worth of supplies with him, which are an important service to the clinic.
The children of the area suffer from gross tooth decay. Many require root canals. This is partly attributed to the high sugar use of the culture and lack of dental hygiene.
While there the couple attended the Rotary District 4720 Conference. There are three clubs in the area, each with six to ten members. A Rotary Group Study Exchange team from Pennsylvania was in the area at the same time. That team distributed mosquito nets and soccer balls as a project.
---
CLUB NEWS and ANNOUNCEMENTS
Linda Heemstra reported on the Books to Afghanistan project. The district collected over 3,500 books. That's 54 boxes on four pallets. Rowley's Wholesale delivered the books from Do-All's facility in Bay City to the collection point in Mount Pleasant. Special thanks to the Bay City and Bangor school systems for contributing books on English as a second language. Linda also said that Israr has asked for some assistance developing a check out system for lending books. The Bay City club just happens to have four professional librarians as members so Linda, Barb Fisher, Tom Birch, and Kevin Ayala will provide their expertise.


Membership Drive: Prospective Rotary members are invited to an orientation program at noon on Wednesday, December 3, at the Stein House.

---
Upcoming Programs
(See the official schedule at RotaryBayCity.org )
Nov 11 The Gales of November Documentary film maker Ric Mixter talks about the anniversary week of several Great Lakes storms and the ships those storms sunk.


Nov 18 City of Bay City Rehabilitation programs. Bay Area Housing's Neighborhood Preservation Program and the City of Bay City Redevelopment Dept. team up to talk about rehab loans, preserving neighborhoods, and general rehab programs in our beautiful City.


Nov 25 The Bay County Election. Bay County Clerk Cindy Luczak will talk about the election process and how we fared in this record turnout year.

---
Visit RotaryBayCity.org