'maybe august' Presents 'Hello Dave' & 'Pinky Lee'
At The Bay City State Theatre on November 29, 2008
November 13, 2008
By: Mike Bacigalupo - State Theatre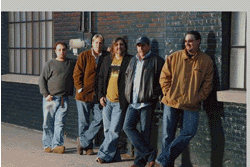 maybe august Presents Hello Dave & Pinky Lee
State Theatre - November 29, 2008
'maybe august' presents 'Hello Dave' & 'Pinky Lee' on Saturday, November 29, 2008. Show time is at 7:00 PM at the Bay City State Theater in Downtown Bay City.
maybe august
exists mainly to give life to their original songs. Though each song has one or two primary songwriters, every member of the band contributes to writing & arranging each song.
With influences like John Hiatt, Dave Matthews, Glen Phillips, & Bare Naked Ladies, the songwriting bar is set high. maybe august songs are not merely vehicles to get to the next sappy chorus. They are well thought out & well-crafted stories and observations that attempt to connect to lives of listeners through the artists' own experiences and insights.
Great pains are taken to ensure the integrity of the songs are not compromised, even at the risk of popularity. Or perhaps it is exactly for that reason that maybe august writes the way they do. Real people know a few things about life. It's not always pretty and nice; sometimes people are ugly and unkind.
Love, stability, and even sanity are fluid; and true happiness is transient. It's the beauty of interpretation that makes the writing (and life) poignant, powerful and its honest reflection that makes each song captivating. maybe august is music for people who have lived real lives and have stories to tell. People who work all day, sometimes play at night, raise families in between and live the hell out of every today.
Pinky Lee
Jenny Bousquet and Holly Keller have been playing music together in the Petoskey area for the past year of 2007 as Pinky Lee. They write songs about family, love, and seasons with a folky, soulful, individual style. Both girls play guitar and mandolin while singing unique vocal harmonies, and recently participated as a finalist in NPR's popular 'Prairie Home Companion' music contest.
Josh Hall has been a singer/songwriter performing on the local scene of Northern Michigan for 11 years, as well as playing in a full jam band with his guitar, harmonica, and mandolin. He was one of the first seven people to graduate from MSU with a degree in creative writing. His musical style has been largely influenced by artists like Bob Dylan and Nick Drake.
Greg Mastin is an established player of multiple instruments, originally from Maine where he had been playing in bluegrass, folk, and jam bands for many years. Here in Michigan, he plays the stand up bass for a quadruped of fun loving artists who like to call themselves 'Pinky Lee Josh n Me'.
Hello Dave
Spending almost a decade developing and redefining their place as one of the best bands to come out of Chicago, Hello Dave continues to spread their sound to fans across the country. Beginning in college, at Eastern Illinois University, playing at Fraternity parties Hello Dave has grown into an internationally touring band, playing throughout the U.S. and overseas in Europe and Southeast Asia.
The band's ability to involve and connect with their audience during every performance has caused them to form an intensely devoted fan base with a great love and enthusiasm for the band. With a sound uniquely there own, Hello Dave combines the sounds of classic and southern rock with pop, country and rhythm & blues. It is this combination of different genres that give Hello Dave such a great appeal to many different types of music lovers. Hello Dave gives audiences a feel good vibe with genuine emotion and integrity.
Ticket Prices are $10.00 advanced and $15.00 Day of Show.
Buy Tickets On-Line