Adult & Continuing Education Supervisor Am Muempfer Speaks
Bay-Arenac ISD Career Center Described As Best Educational Bargain In Area.
November 18, 2008
By: Stephen Kent
Last Weeks Meeting - November 18, 2008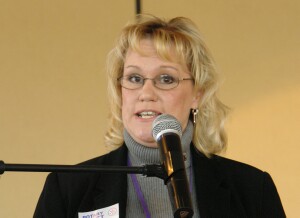 Bay Arenac ISD Career Center
has just completed a $6.5 million expansion of the Student Program Dept. to add a Health and Science Wing.
Amy Muempfer
, Supervisor of Adult & Continuing Education, spoke to the Rotary Club about the the mission and programs of the Career Center.
Located at 4155 Monitor Road, the Career Center offers programs for all area residents ages 16 and older. High school students (16 and older) can enroll in programs to recover credits needed to graduate. Other residents who want to increase their knowledge or skills may enroll in a technical or career program. Businesses contract with the center to provide targeted continuing education programs. The center also provides GED preparation and testing.
The center is funded by both state money and by tuition. The Michigan Department of Education pays for students in the 16 to 19 age range in the same way it funds high school students. State grants through the Department of Labor and Economic Growth are available for some students over 20. Others students pay tuition.
Most classes are offered at the main facility on Monitor Road. Others are available at the Bay County Community Center on JFK Drive and at the Bay Arenac ISD Living and Learning Center on Pine River Road in Standish. The center generally runs two 16 week semesters.
Tuition and fees vary based on the student and the program. High School Completion and GED Preparation classes are free to all students. Credit Recovery is based on the time in class and typically runs $100 for a 2.5 hour class for 16 weeks. The GED exam has a $90 fee and some students qualify for a discount.
Tuition is charged for career and technical classes to students who have a high school diploma or GED, and to all students over age 20. These classes range from $140 to $400 plus book fees. Custom training program fees vary.
"I'm proud to say that I think this is the best bargain in town" said Muempfer. "Our staff and management is committed to providing the highest quality educational experience."
Courses and training are offered in a wide variety of careers from manufacturing and industry to business, arts, human services and health sciences. When asked about the new Veterinary Science courses Muempfer said the program has been very well received and is becoming very popular with students.
When asked about competition with Delta College, Muempfer said that they are more complementary. "Our courses are more entry level. We might be considered a feeder to Delta."
The center serves about 300 students per semester. Adults are welcome whether looking for career advancement, skills improvement, or just the opportunity to take a path they always wanted to try.
---
CLUB NEWS and ANNOUNCEMENTS
Rob Monroe is still looking for a host family for Rotary Exchange Student Luis for the period from Christmas to Spring Break.


Food for Families. Barb Engelhardt issued a challenge to the club to increase giving to the Food for Families. She'll match gifts up to $500 through Christmas. The donation jar is by the door at each meeting.


Membership Drive: Remember to invite your prospective Rotary members to the orientation at noon on Wednesday, December 3, at the Stein House.


Vocational Days are fast approaching. Pinconning schools will be added this year so that will mean more students. Contact Griff or Ralph for more information. You can download the form from the club web site.

---
Upcoming Programs
(See the official schedule at RotaryBayCity.org )
Nov 25: Auto Industry Bill Bay City Mayor Charles Brunner will speak on his trip to the nation's capitol. Brunner was one of several mayors from communities with auto industry plants to lobby Congress for support of aid legislation.


Dec 2: Wings of Mercy Founder and President Cody Welsh will speak about the program where pilots fly people to hospitals around the country for specialized care, at no cost. Cody has just retired from a career as a Northwest Airlines pilot.


Dec 9: General Housing's Brad Light will speak about the company's recent experience hosting and educating a delegation of workers from Russia's growing manufactured housing industry.


Dec 16: The new "green" DEQ building at the foot of Johnson St. Speaker Tim Diebolt, Michigan Dept. of Environmental Quality will discuss the building's features and will comment on wind power on the bay.

---
Visit RotaryBayCity.org