New Housing Growth Peaks in Past Three Years; Decline Seen This Year
Decade Shows Units Rising by 1531; Out-Area Demand Up, Says First American
November 25, 2003
By: Dave Rogers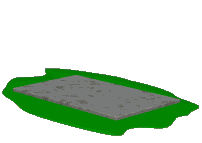 In the past decade Bay County has seen the growth of 630 housing units in residential subdivisions, 639 condominium units, 158 site condos and development of 104 commercial lots.
The compilation by Barbara Dinauer, manager of the First American Title Insurance Co. office here, reveals the highest level of growth occurring last year, 2002, with a total of 281 units in all categories.
      The past three years have seen the highest growth in the decade, with 169 units built or developed in 2000 and 189 units in 2001.
      However, this year's total appears to be headed down, with only 104 units recorded by mid-year.
      Last year's record total for the decade is broken down as follows: 112 houses in four new residential subdivisions; 141 condo units in five new condo developments; 12 site condos in one development; and 16 commercial lots in one development.
      The new developments are: Residential subdivisions; Auburn Farms #2, 31 units; Gray Hawk Estates, 37 units; Briar Farms, 25 units; and Carter Ridge Residential Subdivision, 19 units; Condos; River Bend Condos, 12 units; Cardinal Bend, added 22 condos; Nature's Ridge Condos, added 21 units; Gaslight Village Condos, 69 units; and Gateway Place Condos, 17 units.
      Last year Anchor Cove added 12 site condominiums and Ace Commercial Condos added 16 commercial lots.
      Ms. Dinauer says First American is seeing a significant number of requests for information about housing inBay County from people outside the area.
      She commented: "It's nice to know that more people apparently think the Bay County area is an attractive and desirable place to live; we know that because we have had to increase the number of informational packets we send to people living in other parts of the country who are making inquiries."
      This year, although numbers apparently will be down, nevertheless has seen the start of several new residential subdivisions, Stoney Acres, with 10 units; Country Estates #2, with 17 units; and Rueger Farms, off Midland Road in Monitor Township, topping the list with 43 units. In addition, Heather Ridge has launched 34 new condo units.
      The most significant developments over the past decade include Meadow Lake, near Bay Valley in Frankenlust Township, with 69 new units, launched in 1995; Cortland Farms, a Monitor Township complex, which added 60 units beginning in 1996; Breaker Cove, in the City of Bay City, 66 units launched in 1998; Creekwood Estates, also Monitor Township, 72 units; and Jennison Place, a city high rise, 24 units, both also in 1998.
      Cortland Farms South added 29 units beginning in 1999; Pepper Berry Creek Estates No. 3 launched 26 lots in MonitorTownship in 2001, the same year Cortland Farms South added 58 units.