Wings of Mercy Pilots Transport Patients In Need
December 2, 2008
By: Stephen Kent
Last Weeks Meeting - December 2, 2008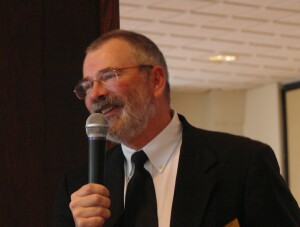 Wings of Mercy President Cody Welch
It was 1991 when a group of pilots in Holland Michigan found themselves discussing the plight of medical patients who needed to go to distant hospitals and clinics but had no means to make the trip. This humble start lead to an organization that has transported thousands of patients for treatment throughout the mid-west at no cost to the patient.
In 1996 another group of pilots in the Saginaw Valley started a chapter of
Wings of Mercy
in this area. Under the leadership of Cody Welch, recently retired from a career as 757 Captain for Northwest Airlines, the group has grown to have some 75 pilots and aircraft and has served over 190 patients and flown over 1,140 missions.
Wings of Mercy is a non-profit group of volunteer pilots, nurses, and others providing free air transportation for patients who need treatment at distant medical centers, but how have limited incomes or other circumstances making the trip difficult or impossible.
Wing is not an air ambulance service. It's a voluntary offering of transportation, little different from a person volunteering to drive someone in their family car. Patients must meet a number of guidelines to qualify for a trip.
Many patients are regulars. Conditions that take them to distant facilities frequently require follow up. For some it's a lifetime relationship with Wings. One heart transplant patient has made 35 trips in the last eleven years.
The cost of a mission averages $800 for fuel and aircraft. The Wings organization reimburses the pilot for fuel. Other expenses are donated. The organization that started with a $5,000 per year budget is now a $120,000 a year charity.
A challenge for the group is to schedule missions for maximum results. Bob Munley, also at Tuesday's meeting, schedules flights. The ideal mission delivers one patient and picks up another for the return trip. FAA regulations limit the organization to an arms length relationship with the pilots, who are volunteers. Wings cannot dispatch pilots and flights.
Welch serves as President of the organization and was one of the founders. As a specialist in air safety he emphasized the safety record of Wings and the steps they take to insure that record holds. Every mission has two qualified pilots on board and the rule is to never fly in bad weather.
The mission of Wings of Mercy depends on volunteers and donations. No funds are provided by the patient, hospital, or insurance. Over 1,400 donors support the organization. This, along with the pilots contribution of time and aircraft make the system work.
For more information visit
www.wingseastmi.org
---
CLUB NEWS and ANNOUNCEMENTS
Food for Families. With the help of Barb Engelhardt's challenge the club has given more than $1,000 to assist local food pantries. Keep the spirit of the season going! The donation jar is always by the door at meetings.


$5,000 to be donated! It was recently noted that the Million Trees Plantation project in Senegal was canceled by Rotary International. The International Projects committee has recommended that the club take $5,000 of the budgeted $9,000 and distribute it among local charities for use during this holiday season.


Dictionary Project Chuck Cusick announced that a friend bought the clubs excess dictionaries and will distribute them in to schools in St. Charles.


Vocational Days will be March 3 and 24. Pinconning schools will be added this year so that will mean more students. Contact Griff or Ralph for more information. You can download the form from the club web site.

---
Upcoming Programs
(See the official schedule at RotaryBayCity.org )
Dec 9: General Housing's Brad Light will speak about the company's recent experience hosting and educating a delegation of workers from Russia's growing manufactured housing industry.


Dec 16: The new "green" DEQ building at the foot of Johnson St. Speaker Tim Diebolt, Michigan Dept. of Environmental Quality will discuss the building's features and will comment on wind power on the bay.


Dec 23: Annual Holiday Program lead by our own Maestro Leo Najar.

---
Visit RotaryBayCity.org