Thousands Troop Through Decorated Homes on Holiday Parlour Tour
Center Avenue Historic District Society Sponsors Highly Successful Event
December 7, 2008
By: Dave Rogers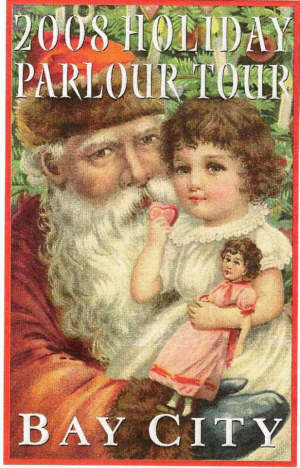 Holiday Parlour Tour is Winter Success
The seven homes were decorated and polished to perfection.
Buses circled the route taking visitors to stops in a wide area of the east side of Bay City.
Many visitors were out-of-towners like Ned and Jill Wetmore of Freeland who had not seen much of Bay City before.
Others from Frankenmuth, Vassar, Pigeon, Saginaw, Midland and other spots around the tri-county area expressed awe at the quality of the decorations and the elegant atmosphere of the historic homes.
Sandra Urband, chair of the event for the Center Avenue Historic District Society said all the numbers of ticket sales won't be totaled immediately. But one house on Sunday alone saw about 250 visitors.
"Our goal is to encourage property owners and prospective neighbors to renovate and preserve these homes and to assist them in finding artisans and information to help them in this endeavor," said Mrs. Urband.
The Grant and Sandra Urband home at 1611 Center Avenue (northwest corner of Hampton) was among the more popular on the tour, according to comments from visitors.
The home was built in 1885 by merchant Harry and Anna Griswold and later occupied by attorney James Duffy, who added a magnificent library in 1929. The Urbands have restored the home and furnished it with antiques and artwork, some from noted local artist Paul Kusmierz. Stained glass by their daughter, glass artist Sara Urband-Murphy on a stairwell was a major attraction for visitors.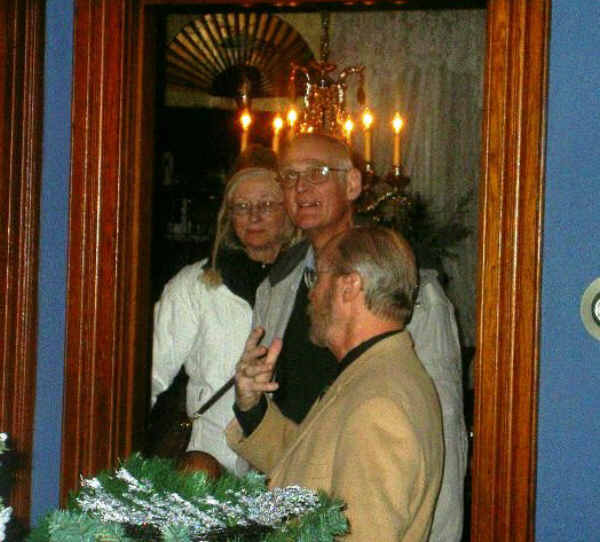 Grant Urband describes his Victorian home to Ned and Jill Wetmore of Freeland.
(MyBayCity Photo Dave Rogers)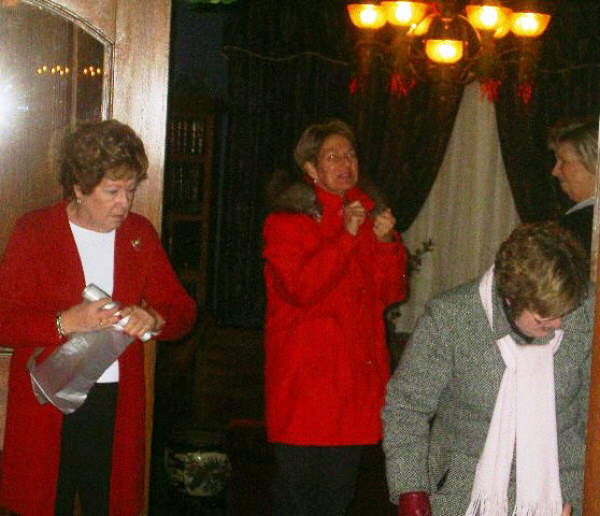 Volunteers Estelle Lamb and Sue Bloenk check tickets and help visitors with booties to protect against damage to floors.
(MyBayCity Photo Dave Rogers)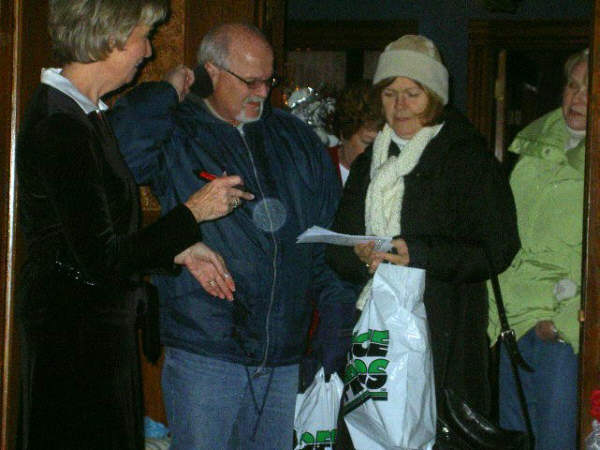 Sue Bloenk greets visitors at the door of the Urband home on Saturday. Her husband Bob's grandparents, Philip and Anna Coe, owned the home prior to the Urbands who acquired it in 1972.
(MyBayCity Photo Dave Rogers)
A Christmas Market in a large tent on a lot on Center between Hampton and Johnson once occupied by the home of financier James E. Davidson was a lively scene through the two days of the holiday tour.
Other homes on the tour were:
A Federal style mansion with historical provenance said to be linked to the Birney family at 901 Fifth Avenue boasting the only first floor ballroom in Bay City, owned by Gary and Nancy Hadden;
Terry Zajac's restored 1887 Queen Anne Victorian home at 1609 Fifth Avenue, formerly owned by Edward Babcock;
The Turner-Ingersoll House, 1514 Center Ave., a late 19th Century Queen Anne style home restored by Dr. Steve and Deborah Ingersoll;
The Stone-Branigan home, 1701 Center Ave., a Lewis Manufacturing kit home originally costing $1,859 when built in 1922 by Dr. Albert Stone for his daughter. Kathleen Branigan has completely renovated the home, which had a Victorian style dollhouse decorated for the occasion;
The Stone-Zuraw home at 415 North Trumbull Street, a gabled 1920s Christmas village with seven decorated trees, antique ornaments and toys;
The Harris-Cole home at 2309 Gysin Court, a 1945 home built by Charles Harris from old brick, renovated by Jerry Cole and Carolyn Buzzard.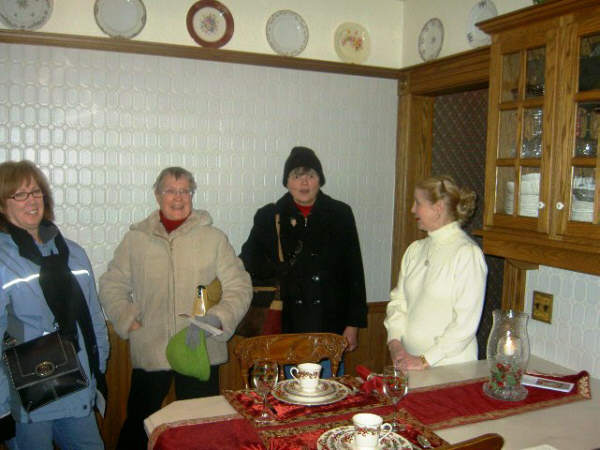 Sandy Urband tells details of her restored kitchen to a group of interested visitors completing their tour.
(MyBayCity Photo Dave Rogers)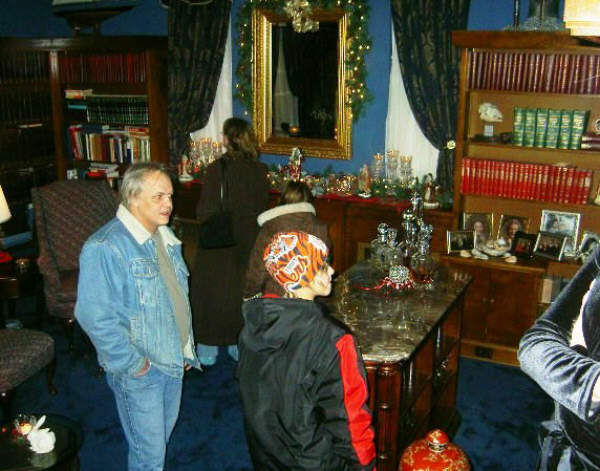 Tommy Anderson, left, and family explore the magnificent library in the Griswold-Urband home added by attorney James Duffy in 1929.
(MyBayCity Photo Dave Rogers)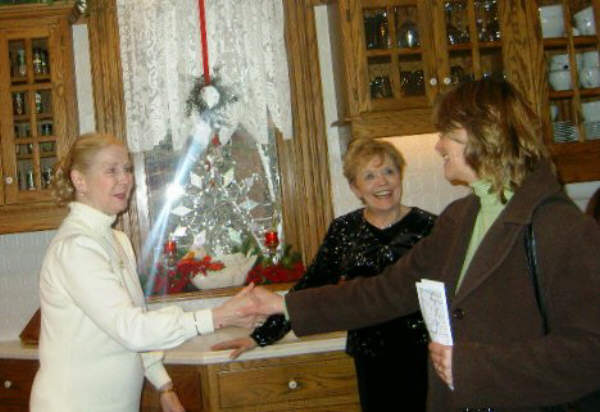 Sandy Urband greets Anne Anderson in the kitchen of her historic home on Center Avenue as Dolores Rogers looks on.
(MyBayCity Photo Dave Rogers) ###