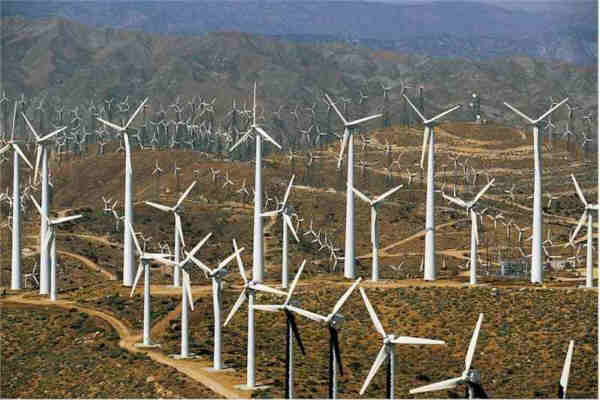 Windmills of Banning Pass, near Palm Springs, California.
---
Dow Corning Silicones Make Wind Power More Efficient With Lubrication
Wind Energy Use Hiked 27 Percent in 2007 in North America, Europe and China
December 13, 2008
By: Dave Rogers
Faster windmills produce more power from less wind.
Dow Corning Corp. says its silicones are helping wind energy equipment become more efficient and more viable.
Wind power is one of the world's fastest growing sources of renewable power.
It is vital to reducing this nation's dependence on foreign oil as well as to meet growing demand for power.
Dow Corning technologies are said to improve turbine reliability, increase efficiency and reduce costs.
A 27 percent increase in global wind energy use was reported in 2007 through capacity expansions in North America, Europe and China, according to the the Worldwatch Institute.
Converting wind energy to electricity involves blades on a turbine shaft turning a generator to produce electricity, according to technical reports from the company.
However, effectively producing a significant amount of clean, renewable power can strain components such as hydraulic circuits, brakes, blades and bearings.
"The cost of alternative energy sources must be weighed against existing technologies, so factors such as reliability, remote monitoring and ease of maintenance are critical factors for operators of wind turbines," said Suzanne Fuson, global market director, Dow Corning, adding:
"High-efficiency lubrication is critical to ensure reduced maintenance and long-term reliability of wind power technologies."
Proper lubrication and maintenance are essential to maximize energy output, Dow Corning sources said. Friction between wind turbine components can drastically reduce efficiency, making specially formulated silicone lubricants, such as Molykote® brand lubricants from Dow Corning, essential to meet these extreme demands.
Combined with modern designs using longer blades, taller towers and improved mechanical and electrical components, proper lubrication ensures that that assemblies are running at peak performance.
"From industrial plants to wind powered turbines, new advances in silicone lubricants and proper lubrication programs have helped manufacturers and consumers reduce their carbon footprint," said Ms. Fuson.
"As the need for more wind farms and renewable sources of energy increases, silicones will continue to play a vital role in growing wind energy as a critical part of a balanced energy future."
Germany is the world leader in wind power. Wind energy is still marginal as a world energy source(16,600 megawatts in 2001), underwent exceptional growth in the last three years of the 20th century.
Global wind power is renewable and nonpolluting, and windmill energy uses the most modern methods developed by the aeronautics industry. ###