DNR Baiting Ban Aimed at Keeping Healthy Deer Herd, Official Tells Rotary
Decision on Keeping Or Ending Ban to be Based on Health of Free Range Herd
December 30, 2008
By: Dave Rogers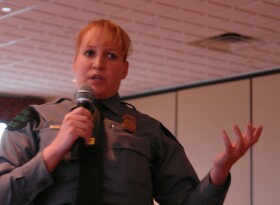 Last Weeks Meeting - December 30, 2008
Hunters should look on the deer baiting ban as an opportunity to spend more time in the woods, DNR Officer Holly Pennoni told Bay City Rotarians last week.
"We wish everyone success in their hunts," said Ms. Pennoni, who is the lone enforcement officer in Bay County.
She said spread of Chronic Wasting Disease (CWD) "would be devastating to the free range herd."
The discovery of one case of CWD in a deer in a private facility in Kent County was the cause of the baiting ban imposed last year.
About 300 deer from that facility were shot and killed and tested but no additional cases were found.
More than 500 private facilities were quarantined as result so deer couldn't be moved in and out, she said.
In addition, about 9,000 deer were tested for CWD but no additional cases were found.
The disease can stay in the soil for several years, she said, and hunters need to understand the need for control measures.
"We are doing the best we can to keep the disease under control so we will have a healthy deer herd," Ms. Pennoni commented.
The ban apparently caused a drop in hunting this past season, she said.
There is a possibility that if no additional cases of CWD are found that baiting may be allowed next year; at the same time there is a chance the DNR will continue the ban indefinitely.
"Lansing will make a decision with the best interests of hunters in mind," she said.
Michigan has had a response plan for CWD in effect since 2002. The plan was adopted after Wisconsin found disease in its free ranging herd.
The plan was slated to go into effect if disease was found in the state or within 50 miles of Michigan's borders.
"This was not a quick or rash decision," the DNR official said.
One problem in dealing with CWD is that the disease often does not appear in animals for 20-30 months.###
---
CLUB NEWS and ANNOUNCEMENTS
Rotary Homecoming: Rob Clark announced the February 3, 2009 meeting as Rotary Homecoming day. Past members and prospects will be invited to this special meeting.


Membership: The next new member orientation will be held January 7, 2009 at the Stein House.


Vocational Days will be March 3 and 24. Please tell Griff or Ralph by January 13 if you plan to participate. Pinconning schools will be added this year so that will mean more students. You can download the form from the club web site.


Golf Outing: Tim Holsworth reported that the golf outing has been scheduled for June 1, 2009.
Anyone who would like a new name badge to reflect a classification change should contact Steve Kent.


Breezes Reporters Wanted: If you'd like to help write the weekly Breezes please see Steve Kent. It's an easy job. No experience necessary. High Pay (well at least a lot of thanks).


---
Upcoming Programs
(See the official schedule at RotaryBayCity.org )
Jan 6: Great Lakes Environmental Film Festival Hear about this Bay City festival for student films, now in its second year.


Jan 13: City of Bay City Rehabilitation programs Bay Area Housing's Neighborhood Preservation Program and the City of Bay City Redevelopment Dept. team up to talk about rehab loans, preserving neighborhoods, and general rehab programs in our beautiful City.


Jan 20: Google.com Dave McCann will discuss Google's major investment in the Ann Arbor area and other plans for expansion and for Michigan operations.
---
Visit RotaryBayCity.org