NOAA Sea Grant Benefits All Of Michigan's Shoreline
Federal Program Administered by MSU and University of Michigan Extensions
January 6, 2009
By: Stephen Kent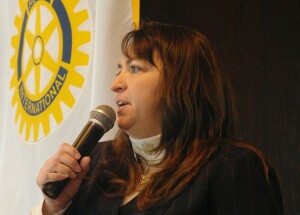 Last Weeks Meeting - January 6, 2009
Mary Bohling, Extension Educator for Southeast Michigan, spoke to the Rotary Club about the Michigan Sea Grant program.
Sponsored by the National Oceanic and Atmospheric Administration (NOAA), Michigan Sea Grant is a joint program of MSU and U of M. Part of a national network, MSG endeavors to integrate Great Lakes research, outreach, and education to help stakeholders respond to issues.
Among the focus areas are: coastal communities and economies, coastal aquatic habitat, fisheries, aquatic invasive species, and marine and aquatic science literacy,
"Environmental investments always sound good, and are good for public relations, but in hard economic times with tight budgets they are often the first to go", said Bohling. "We show how they can be profitable, even in tight times."
MI Sea Grant has six field offices around the state. The focus is the Great Lakes and the coast lines so the offices serve only the state's coastal counties.
The MSU Extension provides educational programming that delivers the resources of MSU to the people. MSU was an original Land Grant College. The MSU Extension was established by the Smith-Lever act of 1914 with outreach to the people of Michigan as its mission. With offices in 83 counties, the Extension reaches over a million people annually through direct education, media, events, and publications.
The Saginaw Bay is one of the largest fresh water bays in North America. As a major migratory waterfowl staging area, the bay has become an important geo-tourism destination. That, along with its support of agriculture and manufacturing, means the Bay increases the economic sustainability of the entire area.
The MI Sea Grant has a growing role in Saginaw Bay. It has helped improve public access and sponsors efforts such as the Saginaw Bay Coastal Initiative, Lake Huron Biodiversity Conservation Strategy. These programs help enhance tourism, improve fisheries, and focus resources on problems like the beach muck at the state park.
Through Sea Grant's MI Clean Marina Program, and MI Small Harbors Coalition, the group helps improve public access to the lakes. Michigan has over fifty small harbors, most of which are recreational. Although they serve huge numbers of people, these small harbors are usually the last to get dredging services. Sea Grant is helping to focus attention and find funding for these programs.
For more information about Michigan Sea Grant visit
miseagrant.umich.edu/
.
---
CLUB NEWS and ANNOUNCEMENTS
Rotary Homecoming: Rob Clark announced the February 3, 2009 meeting as Rotary Homecoming day. Past members and prospects will be invited to this special meeting.


Membership: The next new member orientation will be held January 7, 2009 at the Stein House.


Vocational Days will be March 3 and 24. Please tell Griff or Ralph by January 13 if you plan to participate. Pinconning schools will be added this year so that will mean more students. You can download the form from the club web site.


Golf Outing: Tim Holsworth reported that the golf outing has been scheduled for June 1, 2009.
Anyone who would like a new name badge to reflect a classification change should contact Steve Kent.


Breezes Reporters Wanted: If you'd like to help write the weekly Breezes please see Steve Kent. It's an easy job. No experience necessary. High Pay (well at least a lot of thanks).


---
Upcoming Programs
(See the official schedule at RotaryBayCity.org )
Jan 13: City of Bay City Rehabilitation programs Bay Area Housing's Neighborhood Preservation Program and the City of Bay City Redevelopment Dept. team up to talk about rehab loans, preserving neighborhoods, and general rehab programs in our beautiful City.


Jan 20: Google.com Dave McCann will discuss Google's major investment in the Ann Arbor area and other plans for expansion and for Michigan operations.


Jan 27: Rotary Major Project Gena Gates updates the club on the next steps toward the next Major Project.


Feb 3: Rotary HOMECOMING This is the day to welcome back former Rotarians and invite prospective members to join us for lunch. Also we will be awarding our second Rose Award --- You don't want to miss this date. And wear your old college sweaters, shirts, pins or whatever!


Feb 10: Angel Food Ministries Joyce Wetters form First Church of the Nazarene will talk about program that the club has pledged $7,200 for.


March 3: Vocational Day First of two job shadowing day for high school students.


March 24: Vocational Day Second of two job shadowing day for high school students. Pat McCormick will speak about the Michigan Lottery and how funds support our schools.
---
Visit RotaryBayCity.org