Detroit Making Automobile Headlines With A Piece Of Obama's Past!
"Obamobile" Chrysler 300C Is Up For Auction On eBay!
January 15, 2009
By: MyBayCity Staff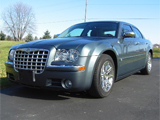 Barack Obama's 2005 Chrysler 300C is seen in this image courtesy eBay.
Finally, a hot car featured from "Auto-city" Detroit!
A luxury Chrysler 300C, HEMI engine sedan that U.S. president-elect Barack Obama drove before winning the White House is on the auction block on eBay. The starting bid is $100,000.
The car comes "loaded" with a navigation system, a sunroof and leather interior, the eBay listing says. The sedan reportedly has just over 20,000 miles on it and is still under warranty.
Its Blue Book value is around $13,500. It is estimated on eBay that Obama bought the car for about $38,000.
The top bid as of this morning on eBay Motors: $101,100.
President-elect Obama sold it early in his presidential campaign and bought a hybrid. Possibly because Obama had been accused of hypocrisy by lecturing Detroit to make more environmentally friendly cars while he cruised around in his muscular, gas-burning Chrysler?
The Escape burns anywhere from 29 to 31 miles per gallon on local roads and 27-31 MPG on the highway. The 300C (HEMI) gets about 15 MPG on city streets, and 20-25 on the highway, I know this because I own the same exact vehicle!
Tim O'Boyle, the general manager of a restaurant in Hillside, Ill., west of Chicago, is selling Obama's steel-blue 2005 Chrysler 300C Hemi on eBay, hoping to cash in on a piece of Presidential history!
The INTERNET auction mogul lists the "Buy It Now" option price as a cool $1 million! Quite a price for a vehicle that was estimated to be an approximate original sale to Obama for roughly $38,000!
According to The Canadian Press, Obama leased the car in 2004 at Park Plaza Dodge in Forest Park, Ill., and swapped it for a Ford Escape Hybrid in 2007. The vehicle was transferred back to the dealership, where O'Boyle bought it used last February.
"One of the guys over at the car dealership said", "You better hold onto that thing, it used to belong to Obama" said O'Boyle, an Obama supporter.
Gary Hall, finance director for Park Plaza Dodge, confirmed Obama had leased the car from the dealership and O'Boyle later bought the vehicle.
O'Boyle tried to sell it on eBay in December but stopped the bidding process when his accountant instructed him to wait until he had owned it for a year for tax reasons.
O'Boyle reported to The Canadian Press that the top bid on eBay was $125,100 and a second person topped that, offering $150,000.
"The vehicle is immaculate! Hopefully, he takes as good care of the country as he did the car," stated O'Boyle.
Cars of other leaders have fetched high prices. Pope Benedict XVI's 1999 Volkswagen Golf recently sold for $244,591. And a 1962 Lincoln Continental "bubble top" used by former President John F. Kennedy - not the one in which he was assassinated - was auctioned for $632,500.
O'Boyle plans on giving some of the proceeds to charity and will donate to the Italian American Executives of Transportation, a Chicago-area charity.
I suppose anything related to Obama at this point in time is selling like hotcakes - or should I say "waffles". It has been reported that someone on eBay claimed to be selling half of a waffle munched by President-elect Barack Obama. The asking price: $20,000!!!!
For more information on this vehicle, visit
President-elect Obama's Chrysler 300C!
Bidding ends on Inauguration Day!