City, Bay Area Housing Revitalizing, Rehabilitating Housing
400 On Waiting List for Low Income Substandard Housing Rehab
January 18, 2009
By: Dave Rogers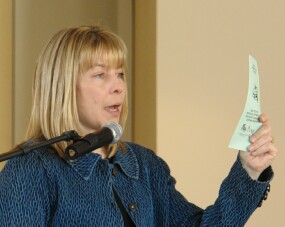 Debbie Kiesel
Last Weeks Meeting - January 13, 2009
Bay City Rotarians last week learned that two agencies, the City of Bay City, and Bay Area Housing, Inc., are working to revitalize housing in the city.
Program co-chair Eric Jylha introduced two speakers:
Debbie Kiesel, redevelopment director for the City of Bay City; and
Brenda Christian, president & CEO of Bay Area Housing, Inc.
Ms. Kiesel told of her work administering two programs under the Community Development Block Grant Program that provide a total of $1,682,000 to ameliorate substandard housing. She said there is a waiting list of 400 for low interest deferred loans providing weatherization, lead paint removal, roofs, furnaces and water and sewer --"anything that would hinder the living environment." The program also involves replacement of sidewalks for low income homeowners.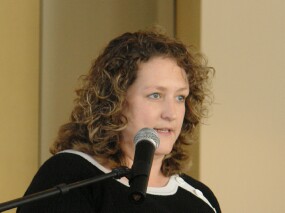 Brenda Christian
The city anticipates funding about eight substandard housing improvement projects a year costing a total of $300,000 to $500,000, she said.
Last year the city funded 40 emergency projects and eight full rehabilitation projects, she said. These projects are funded on a citywide basis with no specific target area.
"We are always willing to look at new applications," she said, indicating the program is open but funding is limited.
Ms. Christian administers an agency founded in 1993 to focus on increasing home ownership.
A Neighborhood Preservation project was started in 2002 to focus on the 23-square block area between 9th and Farragut and Columbus and Washington.
The project, funded with $1 million in federal dollars to be spent over a two year period, aims at the "very old homes that need a lot of work" in the district. She said: "We will work with any resident to help them purchase and rehabilitate these homes."
Bay Area Housing provides home buyers $10,000 for the down payment and $20,000 for rehabilitation and lead-based paint abatement.
Recently a grant was received from the Michigan State Housing Development Agency (MHSDA) to help four home buyers in Pinconning, she said.
The agency will have a drawing Jan. 26 to help 15 home buyers with counseling and obtaining MHSDA mortgages. Pre-purchase education and financial management training are involved, she said, adding: "We work with them so they are mortgage-ready in a year."
The agency also has hired a foreclosure prevention counselor linked to MHSDA's television and radio advertising for the "Save the Dream" foreclosure prevention program. Counseling is free and there is no income limit to qualify for this program, she said. ###
---
CLUB NEWS and ANNOUNCEMENTS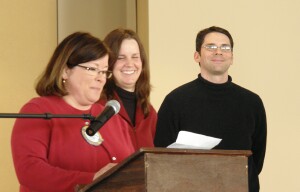 Kathy Czerwinski introduces Andrea Hales
as Matt Stark looks on.
Welcome to our newest members, Andrea Hales and Matt Stark.
Rotary Homecoming: Rob Clark reminds everyone to remember that February 3, 2009 is Rotary Homecoming Day. Past members and prospects are all invited. Everyone is looking forward to a special guest for the day, an all knowing, all seeing, visitor from the East who is long overdue to grace our podium with his predictions of things to come and words of so-so wisdom.


Membership: The next new member orientation will be held January 7, 2009 at the Stein House.


Angel Food Ministries project The board heard a report from member Jennifer Carroll of the United Way outlining how the United Way will administer the club's $6,000 grant for this project.


GSE Team from Thailand is scheduled to be here April 5 through 10. Contact Haratch for more information.


The board agreed to join other clubs and the district contribute $200 to increase the funds sent to Ambassadorial Scholar Carrie Kahl to help make up for the very unfavorable exchange rate she found when arriving in Germany.


Vocational Days will be March 3 and 24. Please tell Griff or Ralph by January 13 if you plan to participate. Pinconning schools will be added this year so that will mean more students. You can download the form from the club web site.


Golf Outing: Tim Holsworth reported that the golf outing has been scheduled for June 1, 2009.


---
Upcoming Programs
(See the official schedule at RotaryBayCity.org )
Jan 20: Google.com Dave McCann will discuss Google's major investment in the Ann Arbor area and other plans for expansion and for Michigan operations.


Jan 27: Rotary Major Project Gena Gates updates the club on the next steps toward the next Major Project.


Feb 3: Rotary HOMECOMING This is the day to welcome back former Rotarians and invite prospective members to join us for lunch. Also we will be awarding our second Rose Award --- You don't want to miss this date. And wear your old college sweaters, shirts, pins or whatever!


Feb 10: Angel Food Ministries Joyce Wetters form First Church of the Nazarene will talk about program that the club has pledged $7,200 for.


March 3: Vocational Day First of two job shadowing day for high school students.


March 24: Vocational Day Second of two job shadowing day for high school students. Pat McCormick will speak about the Michigan Lottery and how funds support our schools.
---
Visit RotaryBayCity.org