Munich Dunkel Available Now At Lumber Barons Brew Pub
As Seen On Tri City Buzz Television
January 25, 2009
By: Julie McCallum, Entertainment Editor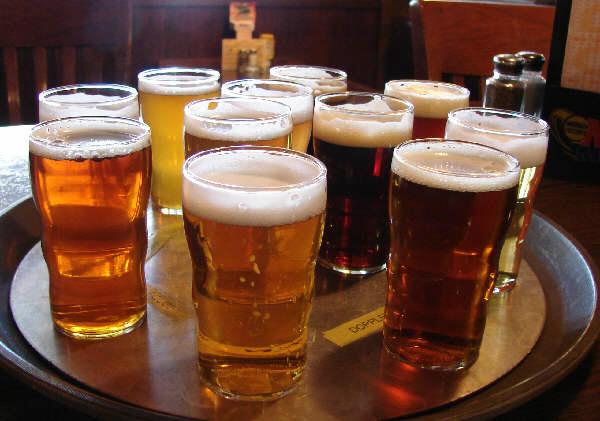 Try The Sampler Platter Including Munich Dunkel
You saw it in the making on
Tri City Buzz Television
, Now it's available at Art's Brew Pub at Lumber Barons (Dore Riverview Complex).
Munich Dunkel
, a German dark lager - medium body, rich malty flavor with a hint of roasted malt. (Dunkel is German for Dark).
You may have seen the making on Tri City Buzz TV this past week. Now its available, (approximately 10 weeks later.)
Ask for it next time your at Art's Brew Pub (Lumber Barons) inside the Dore Riverview Complex on Midland Street Bay City. Tell them you saw it on Tri City Buzz Television!
According to Marty Rapnicki, Director of Brewery Operations at Lumber Barons Brew Pub there are 10 to 11 crafted brewed beers on tap.
(Listed Below)
Rapnicki said, "We have a 15 barrel (BBL) brew house which mean every batch a beer is 15 BBLs @ 31 gallons to a BBL or 465 gallons of beer."
Rapnicki continued, "A batch of beer will last any where from 6 weeks to a few months depending on the style, I typically brew once a week and used about 1000 pounds of malted barley per batch which is given to a Farmer and used to feed cows and pigs."
Lumber Barons also has beer available for take out. Growlers (1/2 gallon) Party Pigs (21/4 gallons) 1/4 barrel's 7.75 gal. and 1/2 barrels (15.5 gal.)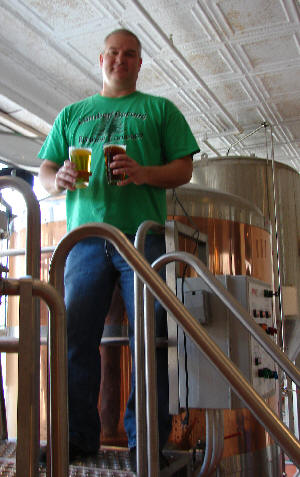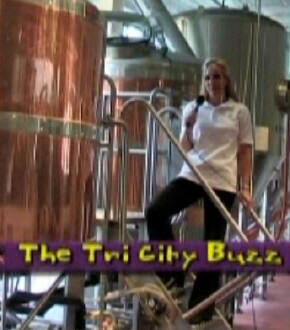 (Above Left)
Rapnicki has been brewing professionally for over 11 years and is currently serving as President of the Master Brewers Association of the America's District Michigan.
(Above Right)
As Seen in the making On Tri City Buzz Television.
Hefe Weizen is a German Wheat beer unfiltered so it's cloudy and has a Banana/clove flavor.
Red Ale is a malty beer similar to Killian's red but with more malt flavor.
IPA it a very hoppy beer with a piny citrus flavor from the American hops use.
Doppelbock is a German Lager very Malty and Strong in alcohol. (AKA: Toughman)
Stout is an oatmeal stout which mean oats are used in the mash which gives the beer a smooth Velvet taste.
A Lager is a beer which is fermented at cold temperature about 50 degrees.
Ale's are fermented warmer around 68 and produce a fruity flavor because the yeast consumes the sugar much faster then in a lager beer.
English Pale Ale is a seasonal and the English means English hops are used which are more laid back then American hops.
Raspberry Ale
is a light ale made with raspberry puree for a light raspberry flavor.
Porter an English ale which is a cousin to a stout. Not a roasted (coffee like).
The other 5-6 are Seasonal beers which will change when the batch of beer is gone. Right now is the feature on Tri City Buzz, Munich Dunkel.
Enjoy with lunch or dinner with these or any of the scrumptious entrées at Lumber Barons.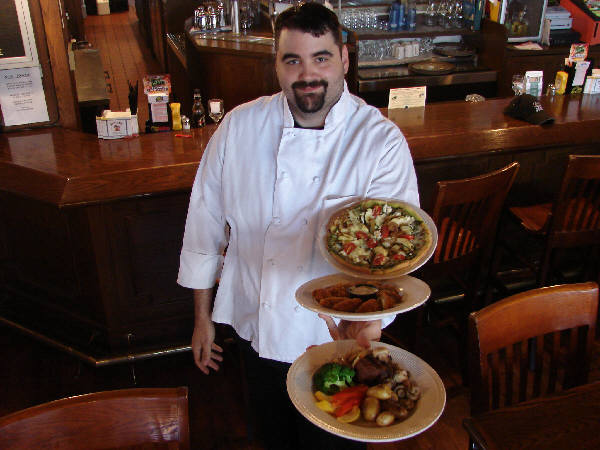 Lumber Baron's Chef Mike Shesky.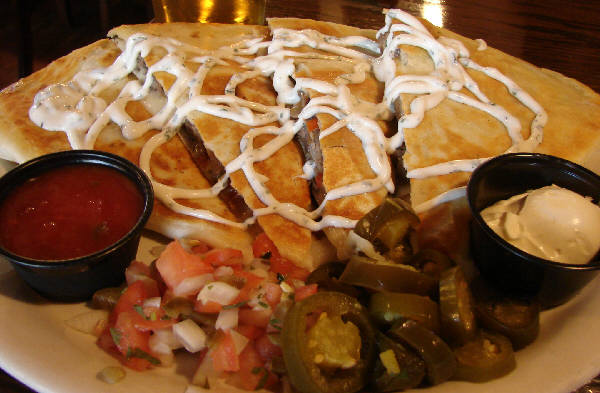 Steak or Chicken Fajita Quesadillas:
Poblano chiles, roasted onion, steak/chicken fajita & Monterey jack cheese stuff a flour tortilla - grilled & served w/ jalapeños, cilantro, sour cream & fresh pic de gallo.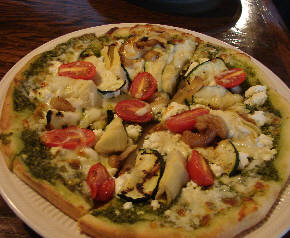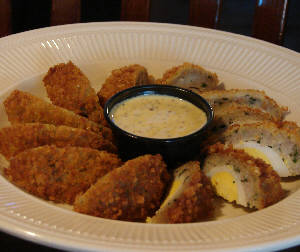 (Above Left) Grilled Vegetable Pizza:
Grilled seasonal vegetables, goat cheese and pesto sauce.
(Above Right) Scotch Eggs:
A Scottish pub favorite, seasoned sausage encases, a hardboiled egg, breaded and then fried served w/ rowdy rouge IPA mustard dipping sauce.
Art's Brew Pub & Brick Oven located inside the Dore Riverview Complex at 804 E. Midland Street on Bay City's West side.