Does Bay County Have An Identity? Yes, Tradition of Industrial Innovation!
"Branding" Meeting Needs to Consider Linking History with Development Hopes
January 25, 2004
By: Dave Rogers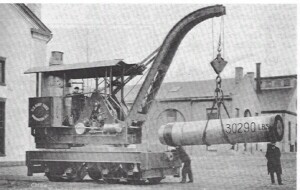 Huge steam railroad crane of Industrial Works at work at U.S. Navy Yard in Washington, D.C.
      Identity? Identity? We ain't got no stinking identity!"      
Paraphrasing the tobacco-stained bandit from Humphrey Bogart's "Treasure of the Sierra Madre" has become a frequent sport among media and show business types in recent years. The fact that the film bandit was responding to Bogie's request to see badges, (remember the line: "Well if you are police, where are your badges?") is often forgotten. The bandit's reply: "Badges, badges, we ain't got no stinking badges" has become, strangely, one of the most famous quotations in the history of filmdom. But identity is the badge of a community, and we ain't got no stinking identity, according to a startling recent survey of 800 business people across Michigan conducted by consultants Brogan and Partners, Detroit consultants.
      The headline on a flyer promoting a "branding" meeting this week states: "Without a strong identity, the Bay Area could be just about any other community, anywhere on earth. And in the minds of our customers, we are."
      Oh, but we do have an identity. Perhaps we have not recognized it, or our identity has not been promoted. The identity of Bay City 125 years ago was that of the world headquarters of the lumber trade. That leadership continued for about a decade in the 1870s and 1880s. What was considered the finest pine lumber ever harvested was shipped from Bay City across the globe. the mill of Sage and McGraw was the largest in the world at that time. The Boutell fleet of tugs andships asserted world leadership in moving no less than 150 million board feet of timber every year, and more in total than any other firm on record, extending the lumber boom by a full decade.
      Now, we have, or should have, a very specific identity. Our identity is that of a community of innovation.
      Incredible industrial, technological and social innovation. But, mainly,
INDUSTRIAL INNOVATION
.
      And, incidentally, a place that has produced dozens of people of high accomplishment who have contributed to that culture of innovation.
      Consider these innovations created right here in Bay County:
      About 15 years ago one of the world's foremost telecommunications companies was launched in a Bay City garage by a pair of young entrepreneurs. Today Concentric Research is part of XO Communications, of San Jose, California, and Reston, Virginia, a full-service integrated broadband service. Concentric Dial-Up Internet is a nationwide Internet access service with speeds up to 56 Kbps.
      The Bay City tradition of industrial and technological innovation began early and was continuous through the years.
      In 1865 a 14-year-old local boy, Dewitt Brawn, devised the world's first range light system for guiding ships to a destination at the Bay City light house at the mouth of the Saginaw River. Versions of that same system are still used across the globe.
MANUFACTURING
      Some of the earliest, and most innovative, welding machines were made here by National Electric Welding Machines Co. (NEWCOR), Resistance Welder Corp. (RWC) and United Welders. These machines can turn out a refrigerator body or car door in a flash, and RWC remains a strong force withnearly 200 employees.
      The General Motors Powertrain plant, one of the first acquisitions by the firm in 1916, has a long tradition of innovation and set a labor-management relations standard in the 1970s with its Quality of Work Life (QWL)"living agreement."
UTILITIES
      In 1868, Bay City was the second city in the state, after Ann Arbor, to have a system of natural gas lines for lighting.
      In 1882 the city was the first in the state to install electric street lights and a 220 foot high tower at Center and Jefferson was the tallest in the state.
      The city also was a pioneer in generating its own electricity and still operates a municipal power operation supplied mainly by wholesalepower from Consumer Energy.
      The huge Karn-Weadock electrical generating complex of Consumers Energy is a monument to industrial innovation, providing power to much of the Saginaw Valley and continually being upgraded.
TRANSPORTATION
      Bay City had the first electric street railway in the state in 1889, just five years after Cleveland established the first system in the nation.
      Perhaps the earliest railway into the timber regions was the Pinconning and Kaiserville Railroad, which opened up previously inaccessible areas for lumbering.
AGRICULTURE
      Michigan's pioneer sugar plant was established in Essexville in 1898.
HEAVY INDUSTRY/CONSTRUCTION
      The Industrial Works built the first "walking dredge," an amazing construction device used to create drainage of vast acreage for cultivation in Michigan, build the Tamiami Trail in Florida and bring irrigation for agriculture to California deserts. (The last remaining walking dredge is on display at a state park in Florida.)
      IB's huge steam railroad cranes, up to 1,100 tons capacity, were used in the digging of the Panama Canal.
      The Bay City Shovels built digging equipment powered by gasoline engines that was used extensively across the country and in the South Pacific during World War II.
AEROSPACE/FOUNDRY INNOVATION
      Because of the availability here of advanced foundry knowledge and equipment, the director of the University of Michigan's aeronautical engineering department came here in 1943 and established Stalker Corporation, a firm that produced magnesium jet engine parts for many years.
THE PRESS
      The Bay City Tribune daily newspaper was the first in the state outside Detroit to install typesetting machines in the 1880s.
SHIPBUILDING/BOATBUILDING/WOOD TECHNOLOGY
      Capt. James Davidson built the longest wooden ships ever constructed, notable for "secret" bracing techniques that kept the ships from sagging in heavy weather.
      The Wheeler Shipbuilding Co. was rated by a government inspector as one of the finest yards producing steel ships in the nation in the 1880s. Wheeler's "Pere Marquette" revolutionary rail ferry for Lake Michigan traffic became the model for later railroad ferries.
      In 1901, Annie Edson Taylor made history by becoming the first person to go over Niagara Falls and live. Much has been made of this feat, but little of the wooden barrel she used, which was made in West Bay City. A technological innovation -- certainly!
The Defoe Shipbuilding Company's "rollover" method of shipbuilding was an innovation of technologicalefficiency in World War II honored by the U.S. Navy. Defoe built about 150 warships including the prototype destroyer escort, a ship credited with reversing domination of the North Atlantic by German submarines and contributing to victory in World War II. Defoe also built the most famous Presidential yacht, the "Honey Fitz."
      Les Staudacher built some of the world's fastest unlimited hydroplane boats here in the 1950s and 1960s including the 250 mile per hour "Miss Pepsi" and others. Staudacher is credited with building more Gold Cup racing boats than any other builder.
      Gougeon Brothers, Inc., revolutionized the use of wood in boat construction worldwide with their WEST System epoxy and published several editions of a book of instruction in new methods. Gougeon also built the first successful wind generator blades and their iceboats and sailboats have won numerous world racing titles.
HOUSING
The Sovereign brothers, Otto and William, pioneered the concept of mail-order ready-cut homes, packaged for shipment and assembly on site. Their Aladdin Company , 1906-1982, shipped homes all over the world, including an entire village of 200 homes built in England for war production workers during World War II.They spawned a new industry that included Liberty Homes and Sterling Homes here and other companies across the country. Ready-cut boats were produced by Aladdin and later the Eddy Boatbuilding Company.
INNOVATORS FROM BAY CITY
      Notable innovators with roots in Bay City included James Shearer, one of three contractors on a state commission directing construction of the Michigan Capitol; Fred Zeder, chief engineer of the early Chrysler Corporation and his brother, James Zeder,in charge of Chrysler research and development; and Brig. Gen. Oscar Westover, Army Air Corps commander who pioneered the use of hydrogen balloons and directed the first balloon flight into the stratosphere by radio from James Clements Airport and for whom Westover Air Force Base in Massachusetts is named.
      One of the early "sales" of a professional athlete was negotiated by financier James E. Davidson for the transfer of the contract of baseball player Hazen (Ki-Ki) Cuyler from the Bay City Wolves to the Chicago Cubs. Davidson was a pioneer of big league baseball, holding the post of financial vice president of the Cleveland Indians while living here in the 1920s.