Google Exec Dave McCann, Central High Graduate, Explains Company Success
January 23, 2009
By: Dave Rogers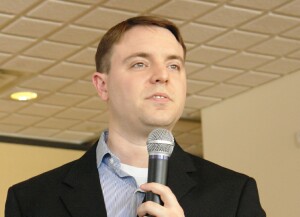 Google's Dave McCann
Last Weeks Meeting - January 20, 2009
Life has changed a lot since the first e-mail was sent in 1994, Google executive Dave McCann told Rotarians last week.
When McCann graduated from Bay City Central High two years later the electronic revolution was in full swing.
Programmer Barb Dinauer introduced the young techie who works out of Google's Ann Arbor office and still tries to get to Wolves football games here in the fall. "I love being back in Bay City," he said.
One Rotarian observed he was in an interesting spot in Ann Arbor, being "a Spartan in the middle of all those Wolverines."
After graduating from Michigan State University, McCann went on to get a Masters in Business Administration (MBA) at Harvard University. Then it was on to Ford Motor's finance department where he pursued funding strategies worldwide.
McCann joined Google in 2006 as manager of small business solutions, the platform from which he discussed "Helping Michigan Be Successful in the New Economy" at the Rotary Club of Bay City.
Google, based in Mountain View, Calif., reported net income last year at $4.22 billion, up from $2.39 billion the year before, and profit of $5.10 a share, making it one of the nation's most stable companies.
The company said that paid clicks, the number of times that users clicked on advertisements, grew 18 percent from a year earlier.
The e-mail business has grown from the 1994 infancy to 183 billion sent today, Mr. McCann noted. Google's revenues come mainly from advertising that revolves around its search business.
Mr. McCann ran through some of Google's partners with exotic names like sharmusic.com, oDesk, Mobbaility, a platform for group work, Protovation, Lima Beads and those with more prosaic monikers like Parker's Pantry that sells unique items like lamb cake pans.
The global aspects of business today were stressed by Mr. McCann: "The market is not just here," he said. "Talent is mobile, too, so if we don't have jobs for people they're going to move."
Automotive is "still the engine for Michigan," he said, noting that Michigan "once was the New Economy. It's not out of the question it could happen again."
Among services of his company are Google Trends, that tells how popular search results are, Google Docs, that provides updates for web-based processors, AdWords, that allows users to see the effectiveness of advertising and allows tracking of success, and the Google Small Business Center that drives additional business to your site.
###
---
CLUB NEWS and ANNOUNCEMENTS
Rotary Homecoming: Rob Clark reminds everyone to remember that February 3, 2009 is Rotary Homecoming Day. Past members and prospects are all invited. Everyone is looking forward to a special guest for the day, an all knowing, all seeing, visitor from the East who is long overdue to grace our podium with his predictions of things to come and words of so-so wisdom.


Membership: The next new member orientation will be held January 7, 2009 at the Stein House.


GSE Team from Thailand is scheduled to be here April 5 through 10. Contact Haratch for more information.


Vocational Days will be March 3 and 24.


---
Upcoming Programs
(See the official schedule at RotaryBayCity.org )
Jan 27: Rotary Major Project Gena Gates updates the club on the next steps toward the next Major Project.


Feb 3: Rotary HOMECOMING This is the day to welcome back former Rotarians and invite prospective members to join us for lunch. Also we will be awarding our second Rose Award --- You don't want to miss this date. And wear your old college sweaters, shirts, pins or whatever!


Feb 10: Angel Food Ministries Joyce Wetters form First Church of the Nazarene will talk about program that the club has pledged $7,200 for.


March 3: Vocational Day First of two job shadowing day for high school students.


March 24: Vocational Day Second of two job shadowing day for high school students. Pat McCormick will speak about the Michigan Lottery and how funds support our schools.
---
Visit RotaryBayCity.org