Rotary Celebrates Homecoming
February 3, 2009
By: Stephen Kent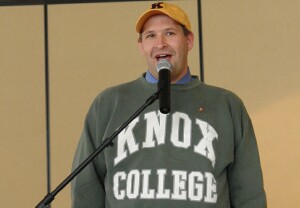 Rob Clark celebrates his Alma mater
Last Weeks Meeting - February 3, 2009
The Rotary Club of Bay City held its first
Homecoming Meeting
last Tuesday. Past members, guests and prospective members gathered at the Lumber Baron's for lunch and a somewhat less than serious program.
In keeping with the theme, members were encouraged to wear hats, shirts, and other apparel from their schools. MSU and UM alums were given a special opportunity to test their memory and sing their school fight songs.
The club took the occasion to present the second annual
Rotary Outstanding Service and Excellence (ROSE)
award honoring Women in Rotary. Sadly, women were not always welcome in the days of all male clubs and organizations. The effort to embrace the idea of female Rotarians dates back almost to the organization's founding in 1905. It took a federal lawsuit in the mid 80's for women to gain membership in Rotary, and many other all male organizations.
On January 7, 1989 the Bay City Times ran a story headlined "Two Women First to Join Rotary Club". Those women were Linda Heemstra, who is still a member, and Joy Gaasch. Today women make up 30% of the membership. Five women have served as club President. The current club President and the president-elect are women.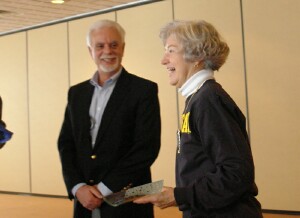 Tom Birch Presents Rose Award
to Linda Heemstra
At last year's Women Of Rotary dinner the men of Rotary presented special Rose pins to all of Bay City's Women of Rotary. The first ROSE award was presented to Cindy Chadwick, past President, Sargent at Arms, and very active member.
This year the ROSE award was presented to
Linda Heemstra
, another outstanding Woman and one of the first two women in the Bay City club. Linda spent a career with the Bay County Library System before retiring as the system's Director several years ago. Linda has dedicated herself to service through Rotary and many other community organizations. Well known and highly respected, Linda is truly an Outstanding and Excellent Woman of Rotary.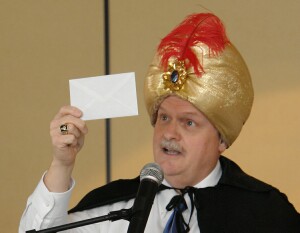 Wisdom dispensed by Rotariac
The club welcomed a special guest long absent from its midst. Making a command appearance to dispense wisdom, inspired insights, and a healthy dose of humor was that all knowing, all seeing, visitor from the East
Rotariac
(the not so great). With help from assistant Rob Clark, Rotariac mystically divined the answer to questions sealed in envelopes which had been kept on the back steps of the Bay County School System's maintenance building since 8:00 am that morning. Some of the most important questions of the day were addressed with amazing clarity and accuracy. (With apology to all those who were skewered, roasted and humorously offended.)
---
CLUB NEWS and ANNOUNCEMENTS
Congratulations and a big Rotary thanks to Rob Monroe who received his Paul Harris Fellowship PLUS 7 (two rubies) for contributions to the Rotary Foundation.


Membership: The next new member orientation will be held January 7, 2009 at the Stein House.

Applications are being accepted for an outbound Ambassadorial Scholar.


GSE Team from Thailand is scheduled to be here April 5 through 10. Contact Hratch for more information.


Vocational Days will be March 3 and 24.


---
Upcoming Programs
(See the official schedule at RotaryBayCity.org )
Feb 10: Angel Food Ministries Joyce Wetters form First Church of the Nazarene will talk about program that the club has pledged $7,200 for.


Feb 17: The Lincoln assassination's impact on the Mudd family. Thomas Mudd will tell how his family has struggled over the years to clear their ancestor's name in connection with one of America's darkest days.


March 3: Vocational Day First of two job shadowing day for high school students.


March 24: Vocational Day Second of two job shadowing day for high school students. Pat McCormick will speak about the Michigan Lottery and how funds support our schools.
---
Visit RotaryBayCity.org