Angel Food Ministries Helps Neighbors in Time of Need One Box at a Time
February 15, 2009
By: Dave Rogers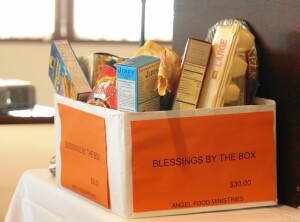 Sample $30 food box from Angle Food Ministries
Last Weeks Meeting - February 10, 2009
Joyce and Don Wetters of Angel Food Ministries give a hand up, not a hand out, as they told Rotarians last Tuesday.
The couple brought the project to Bay City through the First Church of the Nazarene in November 2006, Mrs. Wetters said.
"This is a new vision of neighbor helping neighbor that provides an opportunity to show that we care," she commented.
What is Angel Food Ministries (AFM)?
It is a vast network of food distribution; the food is not free but it is about half price.
"Seventy percent of Americans are a heartbeat away from hardship, living paycheck to paycheck," said Mrs. Wetters, stressing that the situation no doubt is even more dire in today's economic climate.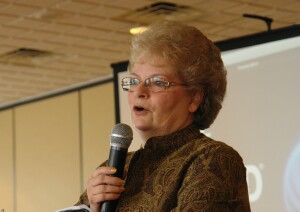 Joyce Wetters of Angel Food Ministries
Several locations around Bay County serve as "host" sites where needy patrons may pick up food boxes. These include St. Paul's Lutheran Church on West Side Saginaw Road, Calvary Worship Center, 405 S. DeWitt Street and Pinconning Township.
Local boxes are sorted at the Cat's Meow of Do-All, Inc., and a trailer is provided by Disability Resources, she said.
Since the first local distribution in April 2007 the project has caught on and interest has increased, said Mrs. Wetters.
The Rotary Club of Bay City has provided about $6,000 in grants through United Way of Bay County for the Angel Food project, a charity with Internal Revenue Service 501 (c) 3 status, she said.
Each box contains enough food to feed a family of four for a week. The regular $30 box has the following items: 1.5 lb. choice cut beef roast, 2 lb. breaded chicken tenders, 1.5 lb. pork chops, 1 lb. 80/20 lean beef patties, 28 ox. Salisbury steak entrée, 1 lb. all meat hot dogs, 1 lb. carrots, 1 lb. green beans, 1 lb. rice, 24 oz. steak fries, 32 oz. reduced fat shelf stable milk, 7.5 oz. macaroni and cheese, 14 oz chicken broth, 7 oz. corn muffin mix, a dozen eggs and a dessert item.
There is also available a $28 senior convenience box of heat and serve items such as pulled pork, ground beef Stroganoff, chicken and broccoli. Each item has side dishes such as mashed potatoes, Creole-style okra and a chocolate chip cookie.
Purchasers of the basic boxes qualify to purchase one or more of the monthly "specials" such as a 6.5 lb. grill box of meat for $22, a fresh fruit and veggie box for $21 or other offers.
Payment is required when placing the order and the only requirement is that the purchaser sign the voucher. Checks are not accepted but food stamps are.
Since an estimated 35 million Americans are without adequate food, according to Mrs. Wetters, the project has spread across the country and now is in 38 states with 400 host sites served by deliveries from 600 semi-trailers.
Offerings are different every month and each box contains a copy of "The Servant" magazine describing the food available that month together with inspirational articles by Pastor Joe Wingo of the Church of the Nazarene.
AFM has a website, AngelFoodMinistries.com and a hotline 1-800-FOOD-MINISTRY where more information may be obtained.
---
CLUB NEWS and ANNOUNCEMENTS
Membership: The next new member orientation will be held January 7, 2009 at the Stein House.

Applications are being accepted for an outbound Ambassadorial Scholar.


GSE Team from Thailand is scheduled to be here April 5 through 10. Contact Hratch for more information.


Vocational Days will be March 3 and 24.


---
Upcoming Programs
(See the official schedule at RotaryBayCity.org )
Feb 17: The Lincoln assassination's impact on the Mudd family. Thomas Mudd will tell how his family has struggled over the years to clear their ancestor's name in connection with one of America's darkest days.


March 3: Vocational Day First of two job shadowing day for high school students.


March 24: Vocational Day Second of two job shadowing day for high school students. Pat McCormick will speak about the Michigan Lottery and how funds support our schools.
---
Visit RotaryBayCity.org