Rotary Host High School Students at Career Day
First of two career days fills the meeting room and empties buffet table
March 8, 2009
By: Stephen Kent
Last Weeks Meeting - March 3, 2009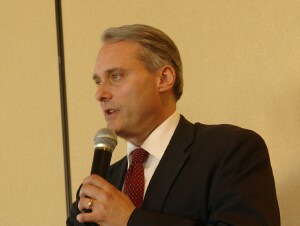 Television 5's Morning News Anchorman Craig McMorris spoke to the Rotarians and guest student on the Club's first of two Vocation Days. McMorris, who moved to TV-5 from Spokane Washington in 2003, outlined the day of a morning newsman.
"My day starts at 3:00. I'm walk into the studio at 4:00, and on air by 5:00 a.m."
Producers at the station will have written the scripts for the morning by the time McMorris arrived. He takes about 40 minutes to review, edit and rewrite areas to add his personal approach to delivering. He then gets made up and then spends two hours on air.
During the on-air segment, anchors have laptop computers in front of them to monitor news wires. If something significant comes in they can digress from the script to cover those items.
After the newscast the staff gathers for a meeting to discuss the show and stories to be covered. McMorris checks with the assignment desk then and hits the road with his photographer to cover stories in the area.
Returning to the station, McMorris reviews the tapes, writes stories and helps prepare segments that will be broadcast on the evening news. By 12:30 his day is done.
McMorris talked about career paths in broadcast media. There are many more members of the team than those you see on air including the General Manager, news director and assistant news director, the producers, writers, assignment desk, editors, reporters and photographers. Besides their specific jobs, everyone listens to the scanners to keep their finger on the pulse of the community.
Even though the economy is terrible right now, McMorris said that the media has not been hit that badly. He is upbeat on his career and encouraged interested students to consider the field.
"There are a number of good programs at Michigan Colleges and universities" said McMorris. "Delta has a very good program.". He went on to say that students should tailor their education to English, Journalism, History filled out with general studies.
---
CLUB NEWS and ANNOUNCEMENTS
The Club welcomed over 120 students to the first of our two annual career days. Some students shadowed Rotarians and learned about their careers first hand. Ninety eight students visited Delta College where they met with professors, instructors and others in a wide range of career opportunity.


The Community Grants committee is accepting applications from local groups seeking funding of projects. Check the club web site at rotarybaycity.org for full information.


Applications are being accepted for an outbound Ambassadorial Scholar.


GSE Team from Thailand is scheduled to be here April 5 through 10. Contact Hratch for more information.


Second Vocational Day will be March 24.


---
Upcoming Programs
(See the official schedule at RotaryBayCity.org )
March 10: MBS Airport Manager Jeffrey Nagle will speak on the local facility, it's past, present and future.


March 17: Living Green Our own Anne Trahan will show us how she is living green on St. Patrick's Day


March 24: Vocational Day Second of two job shadowing day for high school students. Dr. Eric Gilbertson, President of Saginaw Valley State University, to speak on Youth of Tomorrow,Their Choices and Saginaw Valley


April 7:
GSE team from Thailand
---
Visit RotaryBayCity.org