Ah, And Wasn't It a Foine Day for the Irish at the Bay City Rotary Club?
Anne Trahan Goes Green at Home and Tells All About It
March 22, 2009
By: Dave Rogers
Last Weeks Meeting - March 17, 2009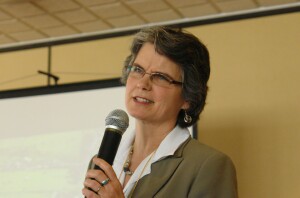 Ever think anybody in today's world could live in a house nestled in the woods, warmed mainly by the sun and crackling wood fires and cooled only by breezes?
No, it's not frontier Michigan of the 1800s but right here in Bay County today.
Anne and Patrick Trahan 30 years ago foresaw the "green building" trend and built their dream house, doing all the work themselves.
Mrs. Trahan, a popular family photography studio operator, and her husband, an entrepreneur in building products, are living the dream in Bangor Township, she told Rotarians last Tuesday.
Her talk came after a rousing St. Patrick's Day warm up songfest, with Rob Clark and Deb Lutz leading the chorus of voices in "My Wild Irish Rose" and "When Irish Eyes Are Smiling."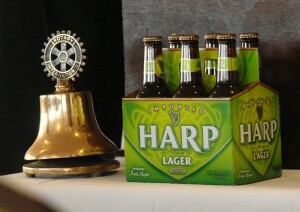 Along the way we learned the first St. Patrick's Day Parade was held in Boston in 1737, that blue was the original color of festive Irishmen and that the day was to mark the earliest planting of the potatoes of the growing season.
Scotsman Harry Farris chimed in with a clever tale, somewhat ribald and no doubt apocryphal, about Gen. Dwight D. Eisenhower, who had his headquarters in Ireland for a time during World War II, and a red-haired Irish lass who sat on the Blarney Stone. (See Harry for details.)
Interspersing her talk with pictures of her shelter home and picturesque scenes of the Auld Sod, Mrs. Trahan enchanted the Rotary crowd, already predisposed to enjoy themselves on that special day --St. Patrick's Day.
The house was sited to preserve the best of the trees, bushes and ground cover, said Mrs. Trahan. The solar orientation was arranged to complement a passive solar scheme, she said.
The couple chose a shed design for the long house facing south, and "using 30 percent of the wall space for windows made a lot of sense," she observed.
The house is 2,600 square feet with post and beam construction and sits on 39 telephone poles seated six feet deep in the ground instead of on a block foundation.
Without a basement there is no need for a sump pump, saving electricity, and a sunken living room and well-insulated floors are other elements of the house. Since the sun never shines from the north, that side of the house has only a few windows. Trees provide sheltering protection from winds that have ranged as high as 100 miles per hour without ruffling the Trahan household.
There are lots of other special features of the rough sawn pine home, including tongue and groove ceiling, reverse board and batten siding that never needs staining, double pane windows on the south and triple panes on the east, west and north, and solar shades handmade by Mrs. Trahan.
Mr. Trahan has installed film on the windows to keep out the harmful ultra violet rays. The couple handcrafted the windows to save money and constructed their dream house for about $50,000 in six months. It has been remodeled three times.
Dogs sleep under the house and cats act as "solar detectors," moving to the sunny spots to nap, she quipped.
For 13 years there was no furnace in this "green" house, but as age crept up a furnace and central air were added. The wood stove still provides heat and exercise for Patrick, who loves to chop and split wood, she said.
Visitors to the Trahan home will see the rare sight of clothes drying on the line, just like the old days.
"It's our little castle in the woods and we love it," she exclaimed in conclusion.
---
CLUB NEWS and ANNOUNCEMENTS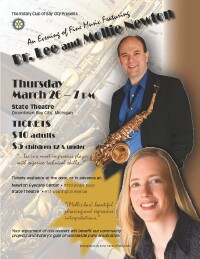 The club is looking forward to the Lee and Mollie Newton concert on March 26 at the State Theater at 7:00 pm. Tickets are $10 for adults and $5 for children 12 and under. Members are encouraged to attend and to invite their friends.


The Community Grants committee is accepting applications from local groups seeking funding of projects. Check the club web site at rotarybaycity.org for full information.


Applications are being accepted for an outbound Ambassadorial Scholar.


GSE Team from Thailand is scheduled to be here April 5 through 10. A reception will be held at the Delta College Farmhouse. See Mike Stoner or Hratch for more information.


A Polio Vaccination Trip is being organized for Nigeria from May 2 to May 12. Anyone interested should contact Chuck Cusick.


Second Vocational Day will be March 24.


Golf Outing: Tim Holsworth is looking for sponsors for the annual golf outing, which is scheduled for June 1, 2009 at the Bay City Country Club.


---
Upcoming Programs
(See the official schedule at RotaryBayCity.org )
March 24: Vocational Day Second of two job shadowing day for high school students. Dr. Eric Gilbertson, President of Saginaw Valley State University, to speak on Youth of Tomorrow,Their Choices and Saginaw Valley


April 7:
GSE team from Thailand
April 14: Delta Students Kenya Project Students will describe the effort in this 20th anniversary year of Delta College's partnerships with several colleges in Kenya.


April 21:
Blood Drive Program
April 28:
Michigan Lottery Commission
---
Visit RotaryBayCity.org