Iditarod Dog Sled Racer Jim Warren Speaks to Rotary
March 31, 2009
By: Stephen Kent
Last Weeks Meeting - March 31, 2009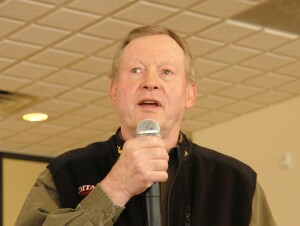 Jim Warren
is a native of Linwood with a spirit of adventure that took him to the frozen and unforgiving wilderness of Alaska to run the Iditarod dog sled race. Not once, but twice!
To many in this area Jim is best known for his
Warren Homestead Christmas Tree Farm
west of Linwood, which he's operated since high school. As much as he loves that venture, as Jim tells it, "The tree farm pays for dog food".
When one thinks of a pro-level race like the Iditarod it seems like a person would have been racing since childhood. In Jim's case he came to the sport late and in Michigan. But in just a few years he was hooked and set his sights on Alaska.
Warren's book "Following My Father's Dreams" tells how it started and how his father dreamed of Alaska and read everything about the state. He passed those dreams to Jim which lead to the first Iditarod run in 2004 then the second in 2006.
The race is a true test of man and dogs. 1,150 miles of wilderness from Anchorage to Nome. The winners make it in 10 to 11 days, the last to finish could take 20 days. A musher and his or her 16 dogs cover as much as 150 miles a day.
There are 23 check points along the trail where vets check dogs and the teams can rest. If a team doesn't make it to the check point they will sleep on the trail. Or as Jim puts it, the dogs will sleep, they know what to do. The musher may and may not, or at most might get a few hours.
Sled dogs are bred to run and live in the cold. They love to get out and have an instinct to just GO! The musher is the coach and driver. In a well trained team the dogs trust the musher to take the right turns.
Warren described conditions and hardships that make one wonder why anyone would do this. He said he's asked himself that question at times. The conditions can go from cold and sunny to 70 mph winds and temperatures far below zero. "It's a recipe for sleep deprived misery" Warren said.
The Warren family now has sled dogs in it's blood. Both of the kids, Whitney and Chris race. The family runs a training lodge in Paradise Michigan in the Upper Peninsula, where racers come to spend weeks training their teams.
For more information and a great video, visit the
Iditarod.com
web site.
For more on the Warren's and to purchase a copy of his book visit
warren-enterprises.com
.
---
CLUB NEWS and ANNOUNCEMENTS
Congratulations to member Anne Trahan on winning this year's Athena Award. And to Chuck and Nancy Cusick who received Delta College's World View Award.


The Community Grants committee is accepting applications from local groups seeking funding of projects. Check the club web site at rotarybaycity.org for full information.


District Conference is April 24-25 at the DoubleTree Hotel and Conference Center in Bay City. The Club will reimburse members for half of a full day or full weekend fee. For complete information visit rotary6310.org.


Applications are being accepted for an outbound Ambassadorial Scholar.


GSE Team from Thailand is scheduled to be here April 5 through 10. A reception will be held at the Delta College Farmhouse. See Mike Stoner or Hratch for more information.


A Red Cross Blood Drive, sponsored by Rotary will be held at the Lumber Barons from 10:00 am to 4:00 pm Tuesday April 21.


Golf Outing: Tim Holsworth is looking for sponsors for the annual golf outing, which is scheduled for June 1, 2009 at the Bay City Country Club.


---
Upcoming Programs
(See the official schedule at RotaryBayCity.org )
April 7:
GSE team from Thailand
April 14: Delta Students Kenya Project Students will describe the effort in this 20th anniversary year of Delta College's partnerships with several colleges in Kenya.


April 21:
Blood Drive Program
April 28:
Michigan Lottery Commission
---
Visit RotaryBayCity.org