Rotary Group Study Exchange Team from Thailand Visits Bay City
April 12, 2009
By: Stephen Kent
Last Weeks Meeting - April 7, 2009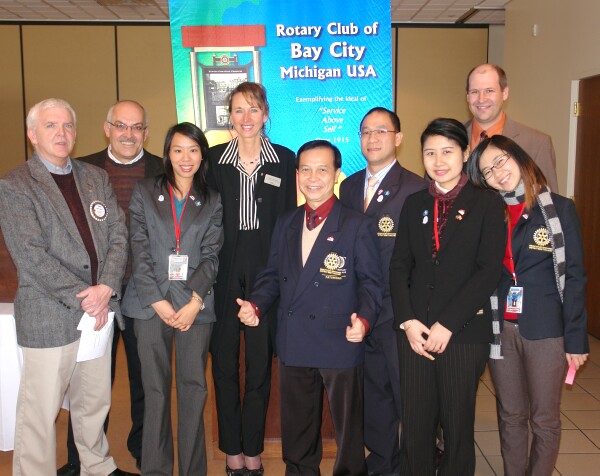 Mike, Hratch, Amy, Deb, Sam, Nu, Ja', Rob, Opal
Rotary District 6310 welcomed the Group Study Exchange (GSE) team from District 3350, Bangkok, Thailand at Tuesday's meeting. The GSE team, under Team Leader Samrerng V. (Sam), will be in the district for several weeks.
The Team's first week in Bay City was highlighted by their visit to the Bay City's Club meeting, a pot luck dinner, a pizza party, and a reception at the Delta College Farm House.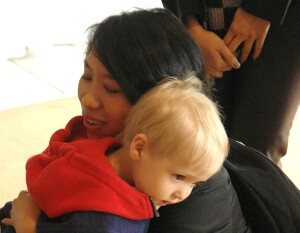 New friends in the Family of Rotary
Each of the members introduced himself or herself at Tuesday's meeting telling a bit about their home, career and expectations from the visit to Michigan. Team leader Sam said "I asked Hratch how long a drive it would be from the airport and he said 'about 7 minutes'. In Bangkok it took two hours!".
Bangkok is a city of about seven million souls. The team took a tour of Bay City Hall including a climb to the clock tower where they could see almost the entire span of Bay City. It would be quite a different impression from the same view of their home city.
Most of the members commented on the cold temperatures. For one or two it was the Spring snow when they arrived was a treat. The team will be staying with Rotary families and will tour businesses, see the sights, and generally get a taste of live in the middle of Michigan.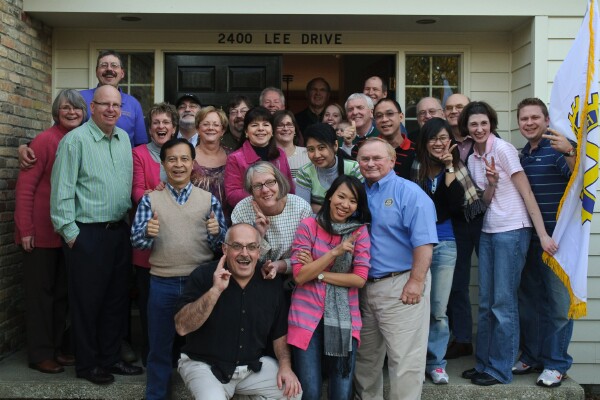 Pizza Party at the Chadwick's house
---
CLUB NEWS and ANNOUNCEMENTS
Board Meeting Tuesday April 14, 11:00 am at the Lumber Barons.


International Night 2009 has been scheduled for October 15.


Annual Railtrail Cleanup is scheduled for April 18, 9:00am until noon. See Anne Trahan for details.


The Community Grants committee is accepting applications from local groups seeking funding of projects. Check the club web site at rotarybaycity.org for full information.


District Conference is April 24-25 at the DoubleTree Hotel and Conference Center in Bay City. The Club will reimburse members for half of a full day or full weekend fee. For complete information visit rotary6310.org.


Applications are being accepted for an outbound Ambassadorial Scholar.


A Red Cross Blood Drive, sponsored by Rotary will be held at the Lumber Barons from 10:00 am to 4:00 pm Tuesday April 21.


Golf Outing: Tim Holsworth is looking for sponsors for the annual golf outing, which is scheduled for June 1, 2009 at the Bay City Country Club. Covenant Health Care has signed on as the event sponsor.


---
Upcoming Programs
(See the official schedule at RotaryBayCity.org )
April 14: Delta Students Kenya Project Students will describe the effort in this 20th anniversary year of Delta College's partnerships with several colleges in Kenya.


April 21:
Blood Drive Program
April 28:
Michigan Lottery Commission
---
Visit RotaryBayCity.org