Delta College Students Describe Partnership Supporting Education in Kenya
April 19, 2009
By: Dave Rogers
Last Weeks Meeting - April 14, 2009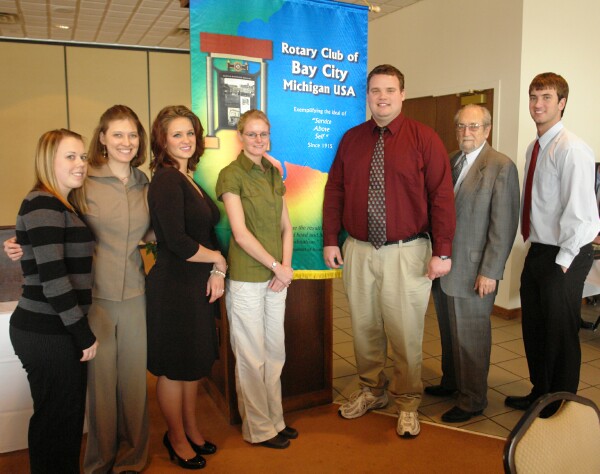 Ashley Zobel, Megan Allison, Leah Werth, Brigid Weidner,
Ron Weidner, Don Carlyon and Shane Lynch
In 1987, 17 members of the Delta College faculty traveled to Kenya and established a partnership with educators in the Rift Valley. That partnership has grown and has resulted in at least $6 million in computers and educational materials sent from Bay County to Kenya.
In 1989 the local community college initiated a partnership with the Rift Valley Institute of Science and Technology and Tracom College in Nakuru. And in 2000 the original intent of the partnership was expanded.
Delta recently celebrated the 20th anniversary of the partnership and students and faculty are planning a group tour of Kenya May 22-June 6.
Through Delta's Rural School Computer Project, headed by faculty member Jack Crowell, more than 400 schools throughout Kenya have received thousands of dollars worth of educational materials.
Future possibilities include a medical internship and nursing exchange, according to students from the class "Oral Communications for Managers" taught by Barb Handley-Miller.
Seven students of that class presented information on the Kenya project of Delta to the Rotary Club of Bay City last Tuesday.
Kenya is a country of 39 million people on the east coast of Africa. It is twice the size of Nevada and consists mainly of low lying plains. Some 42 percent of the population is nuder age 14 and the average age of the nation is 18-19.
Despite a national focus on education, because of a lack of facilities and teachers, only 3 percent of the eligible population is attending elementary school, according to Brandon Precour, of Bay City, one of the student speakers. "This is why Kenya needs our support so much," he said.
Average income in Kenya is about $500 per year and 46 percent of the population is below the "poverty line." Meanwhile, the cost of attending college is about $250 per year, an amount that would absorb a large part of a family's income.
Megan Allison, of Burt, said a Delta contingent is going to Africa to discuss goals of the project for the next six years. "There is a great need for medical supplies," she said, indicating that Bay Regional Medical Center is considering global internships in Africa for local doctors.
"We need to learn how to use diversity to our advantage and become better global citizens," said another student.
Delta is working on articulation of academic programs with Tracom to allow transfer of students to U.S. colleges to earn degrees.
---
CLUB NEWS and ANNOUNCEMENTS
International Night 2009 has been scheduled for October 15. The theme will be a Mediterranean Cruise.


Lee Newton reported to the board that the second annual Rotary Concert raised $817 for the club. A committee has been formed to help with next year's concert and a goal of $1,500 to $2,000 has been set.


Rotarians are invited the the chartering of the Frankenmuth Rotariac club. Zhenders, April 22 at 7:00 am.


The May 12 club meeting is going to be a "Baby Basics Shower" as part of the Rotary Year theme of "Make Dreams Real". Members will be asked to bring baby items (suggestions will be coming), or cash, which will be donated to local agencies.


The May 19 meeting has been scheduled to be held at the Pere Marquette Depot. This will be one of two annual off-site meetings called for in the club's strategic plan.


A Red Cross Blood Drive, sponsored by Rotary will be held at the Lumber Barons from 10:00 am to 4:00 pm Tuesday April 21.


Golf Outing: Tim Holsworth is looking for sponsors for the annual golf outing, which is scheduled for June 1, 2009 at the Bay City Country Club. Covenant Health Care has signed on as the title sponsor. Bay Health has signed on as the cart sponsor.


---
Upcoming Programs
(See the official schedule at RotaryBayCity.org )
April 21:
Blood Drive Program
April 28:
Michigan Lottery Commission
May 5:
10-Minute Rotarians
May 12: Make Dreams Real "Baby Shower" Dr. Kim Prime discusses poverty and the need for infant assistance. Donated items for infants; ie, diapers, formula, clothing, etc. are appreciated.


May 19: Off-site meeting: Pere Marquette Depot May is Historic Preservation month. Enjoy a box-lunch at the beautifully preserved Pere Marquette Train Depot and take a tour around the building
---
Visit RotaryBayCity.org