Michigan Lottery Annual Sales Holding Strong While Casinos Lagging
Claim Center Chief Pat Napoleon Tells Inner Workings of Gambling Games
May 3, 2009
By: Dave Rogers
Last Weeks Meeting - April 28, 2009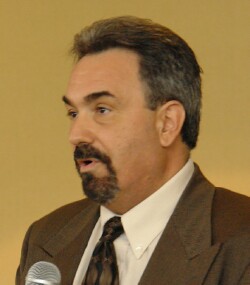 Pat Napoleon
The Michigan Lottery is one of the most successful state gaming operations in the nation, according to Pat Napoleon, speaker at the Rotary Club of Bay City last Tuesday.
Introduced by programmer Barb Dinauer, Mr. Napoleon in turn introduced Renee Piotrowski, Lottery employee of Bay City, who drives about 4,000 miles a month covering lottery retailers in The Thumb.
Mr. Napoleon, who runs a Michigan Lottery claims center in Sterling Heights, has nine sales representatives, including Ms. Piotrowski, and 10,000 retailers who sell lottery tickets in his jurisdiction.
While the state's 15 casinos are finding falling numbers of patrons, no doubt because of the lagging economy, the Michigan Lottery is seeing increased revenues. One reason may be because the Lottery pays out 56.6 percent of its revenue in prizes, said Mr. Napoleon. And, 31.7 percent of profits go to the state school aid fund, he said.
"The casinos are our competition," said Mr. Napoleon. "They want every penny to go into slot machines." However, he said the casinos "bread and butter business is down."
The Lottery, meanwhile, is scrambling for every penny to help fund the operations of Michigan's 4,500 public schools. "We have to bring a number to the bottom line for the School Aid Fund," he said.
The lottery returns 7.3 percent of revenues to players, direct game expenditures total 2.6 percent and operating expenses total 1.7 percent. In addition, 1 percent of revenues goes to the Gambler's Hotline.
Online sales comprise 44 percent of the State Lottery's business, said Mr. Napoleon. Some 32 percent comes from scratch-off tickets and club accounts amount to 24 percent. About $1.35 billion is taken in annually from online sales, he said.
Prizes won by 178 Bay County players totaled $17.4 million last year, according to Mr. Napoleon.
Since its inception in 1972, the Michigan Lottery has generated $15.04 billion in net revenues to support K-12 public education in Michigan. In fiscal 2008 alone, the Lottery transferred $740.7 million directly to the state School Aid Fund.
The School Aid Fund is a restricted fund that can only be used for education. Lottery revenues comprise roughly 5 percent of this fund, with the other 95 percent of the money coming from the state's sales and use tax, earmarked income tax and state education property tax, as well as cigarette, liquor and other taxes.
The Lottery is seeing an 18-20 percent increase in sales with its new vending machines "because people don't want to wait in line" mainly at the terminals operated by big retailers, he said.
The self-serve terminals, called "Fat Boys" in the trade, are popping up in highway rest areas, malls and other public locations.
---
CLUB NEWS and ANNOUNCEMENTS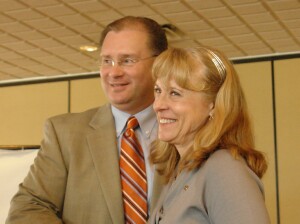 Ed Keating welcomes Sita Compton

Welcome to Sita Compton, our newest member. Sita is the co-owner of BC Automotive Service Center with her husband Bruce. She active on the Railtrail / Riverwalk Committee, Bay City in Bloom, the Saginaw Bay Yacht Racing Assoc., the Chamber of Commerce and other groups.


President Deb thanked all of the members who worked so hard to make the recent District Conference one of the best in memory. Deb estimates that over 40 members participated in one way or another. And congratulations to President-Elect Anne Trahan who received the District Governor's Service Award.


A reception was held at the Kingfish Restaurant Sunday for our departing GSE team from Thailand. The time has flown. It seems they only just arrived.
---
DATES TO REMEMBER
The May 12 club meeting is going to be a "Baby Basics Shower" as part of the Rotary Year theme of "Make Dreams Real". Members will be asked to bring baby items (suggestions will be coming), or cash, which will be donated to local agencies.


The May 19 meeting has been scheduled to be held at the Pere Marquette Depot. This will be one of two annual off-site meetings called for in the club's strategic plan.


Golf Outing: Tim Holsworth reminds everyone that the golf outing, scheduled for June 1, 2009 at the Bay City Country Club, is right around the corner.. Covenant Health Care has signed on as the title sponsor. Bay Health has signed on as the cart sponsor.


International Night 2009 has been scheduled for October 15. The theme will be a Mediterranean Cruise.


---
Upcoming Programs
(See the official schedule at RotaryBayCity.org )
May 5:
10-Minute Rotarians
May 12: Make Dreams Real "Baby Shower" Dr. Kim Prime discusses poverty and the need for infant assistance. Donated items for infants; ie, diapers, formula, clothing, etc. are appreciated.


May 19: Off-site meeting: Pere Marquette Depot May is Historic Preservation month. Enjoy a box-lunch at the beautifully preserved Pere Marquette Train Depot and take a tour around the building
---
Visit RotaryBayCity.org