How You Gonna Keep 'Em Down on the Farm After They've Seen Bay City?
May 8, 2009
By: Dave Rogers
Last Weeks Meeting - April 28, 2009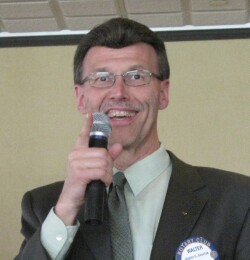 Walter Szostak
Theme of last Tuesday's Ten Minute Rotarians very well could have been: "How You Gonna Keep 'Em Down on the Farm After They've Seen Bay City."
Two Rotarians with interesting youth backgrounds growing up on farms were our speakers.
Walter Szostak and Brenda Rowley both told of their days down on the farm, Walter in Kingston (Michigan, not Jamaica, Hratch!) and Brenda in Kawkawlin Township.
Walter, now with Chemical Bank, told of driving a 1955 GMC pickup truck at age 9, graduating high school in 1975 with 38 others and working in a grain elevator.
"About 1978, after doing maintenance on the grain elevator 80-90 feet in the air, I woke up and asked myself 'what am I doing here?'" he recalled. After attending Delta College and graduating from the University of Michigan-Flint in 1981, young Mr. Szostak was facing an economy similar to today's.
He went on to get a master's degree at Central Michigan University and took a job with a steel fabricating company. Then it was on to the Department of Defense Tank Automotive Command in Warren.
"I liked working with military people but soon realized I was a country boy," he recalled. He began his banking career with New Century in 1986, spending three years in Bad Axe and 14 years in Bay City. First of America and then National City became his employers successively.
J.P. Morgan Chase gave Mr. Szostak the added challenge he sought for seven years and then Chemical Bank in August, 2007, "and here I am" he exclaimed. Walter works in Caro and enjoys the Thumb and Bay City: "It's going great and I have a chance to meet a lot of people," he said.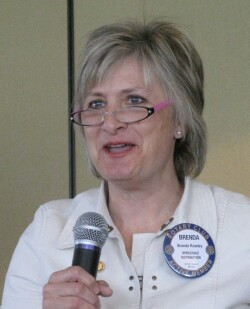 Brenda Rowley
Brenda Rowley, married to Keith, grew up on the Schmidt Farm in Kawkawlin, she recalled in her trip down memory lane. She is the fourth of six children of Bill and Belle Schmidt. Growing up on the farm, she recalls going to a one room school, sliding down the hills and her athletic activities and student government at Western High School, from which she graduated in 1975.
Dirty jobs? The farm offered many, hot, tough tasks that "weren't pleasant," she recalled. "Dad was a great motivator and Brenda and her brothers and sisters hoed and cultivated sugar beets, beans, pickles, hot peppers and other crops.
There were good and bad years and through it all the family persevered with unconditional love and strong faith in God, she said.
Her parents taught the value of being an involved citizen that gave her a solid foundation to grow upon.
At Delta College Brenda got a co-op job at Dow Chemical and then moved on to Mt. Pleasant where she earned a bachelor's degree in Business Administration.
Like Walter, she worked for a bank, Second National (now Citizens Bank.) Then at Monitor Sugar she was a vice president of administration for 12 years before returning to her husband's family business, Rowley Brothers where she has worked nine years.
She is involved in many civic activities including the Bay Area Family Y capital campaign. "I enjoy living and working in Bay County and I'm glad to be part of the Rotary group," she concluded.
---
CLUB NEWS and ANNOUNCEMENTS
The club has a large number of Paul Harris points that can be distributed within the next year. The club will match any member's gift to the Foundation up to $250. It's a great way to earn your Paul Harris Fellow designation.


Next Tuesday, May 12, the club will hold a Baby Basics "shower". Members are encouraged to bring diapers, wipes, baby shampoo, pacifiers, etc. These items will be distributed by the Red Cross. Cash gifts will be used to purchase items.


The Bijou Orchestra will be providing music for the big Fourth of July Fireworks show. They will be accompanied by a ROTARY CHOIR singing patriotic songs. Anyone who can carry a tune (even if you need a bucket) is encouraged to join in. Contact Leo Najar.
---
DATES TO REMEMBER
The May 12 club meeting is going to be a "Baby Basics Shower" as part of the Rotary Year theme of "Make Dreams Real". Members will be asked to bring baby items (suggestions will be coming), or cash, which will be donated to local agencies.


The May 19 meeting has been scheduled to be held at the Pere Marquette Depot. This will be one of two annual off-site meetings called for in the club's strategic plan.


Golf Outing: Tim Holsworth reminds everyone that the golf outing, scheduled for June 1, 2009 at the Bay City Country Club, is right around the corner.. Covenant Health Care has signed on as the title sponsor. Bay Health has signed on as the cart sponsor.


International Night 2009 has been scheduled for October 15. The theme will be a Mediterranean Cruise.


---
Upcoming Programs
(See the official schedule at RotaryBayCity.org )
May 12: Make Dreams Real "Baby Shower" Dr. Kim Prime discusses poverty and the need for infant assistance. Donated items for infants; ie, diapers, formula, clothing, etc. are appreciated.


May 19: Off-site meeting: Pere Marquette Depot May is Historic Preservation month. Enjoy a box-lunch at the beautifully preserved Pere Marquette Train Depot and take a tour around the building
---
Visit RotaryBayCity.org