Rotary Slates Second Week of Vocational Days for High School Students
Duro-Last Roofing Prexy Tom Hollingsworth to Speak Before Career Explorers
March 14, 2004
By: Dave Rogers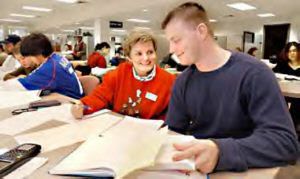 Delta College counselor helps student choose from wide variety of trade and technical programs.
The second week of Vocational Days is on tap at the Bay City Rotary Club, with Tom Hollingsworth, president of Duro-Last Roofing, slated to be the speaker at the Tuesday noon meeting in the Holiday Inn. Jim Hollerbach, industrial sales representative, is programmer.
      More than 100 high school students will have attended the club and spent their Tuesday mornings with their Rotary mentors exploring careers.
      Last week Delta associate dean Dave Bledsoe described the college's career programs such as heating-ventilating-air conditioning technician, in which there are projected to be 60,000 job openings in the next year.
      "We are incredibly blessed by Delta College, a tremendous resource," said Rotary President Rob Monroe.
      Nancy Cusick, member of a Rotary International team that conducted National Immunization Day in Niger, Africa, last year, described continuing efforts by Rotary to stamp out polio worldwide. District Governor Jerome Yantz of Bay City urges Rotarians to make contributions to the RI Foundation for the polio effort before June 30. "We must fulfill the promise," said Yantz.
      Two new members, Ann Lingle, president of National City Bank-Bay City, and Bill Kozuch, Realtor with DeGroat-Keenan, were inducted last week by Rev. Andreas Teich.
      The Third Annual Rotary Golf Outing, slated for June 9 with an 8:30 a.m. start at the Bay County Golf Course, was announced by Brian Kay.
Jason McCoy, regional Boy Scout executive, comes to the podium at Rotary on Mar. 23, programmed by Jim Hollerbach;
The Mar. 30 program will feature Mike Seward, president of the Bay Area Chamber of Commerce, introduced by Dave Rogers, programmer;
Eric Renshaw, entrepreneurial custom yacht and small craft builder, will speak on Apr. 6, with introduction by Dave Rogers, programmer;
A speaker from Bay Regional Health Center will talk about the new volunteer health clinic in Essexville on Apr. 13, with introduction by programmer Keith Markstrom;
Apr. 20 will see Josie Meyer speak on the 8th annual Mid-Michigan Regional Business Expo, slated Wed. May 5 at Saginaw Valley State University; Introduction will be by programmer Jim Hollerbach;
Laura Ogar, Bay County environmental affairs and community development director, is scheduled to speak on economic development to Rotary on Apr. 27, with introduction by programmer Jim Hollerbach.
Hratch Basmadjian, manager of the Holiday Inn, heads the committee planning the Rotary District 6310 Assembly and Conference on April 30-May 1. Basmadjian promises and exciting two days of programs for Rotarians, including a presentation Youth Exchange students from various foreign countries. The event will be headed by Rotary District Gov. Jerome Yantz and District Gov.-elect Ruby Iwamasa of Midland.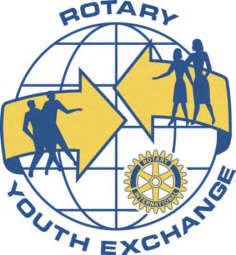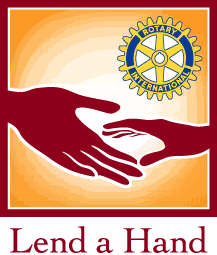 ---