Understanding Poverty
Rotarians hold Baby Basics "Shower" and Hear Presentation on Poverty
May 12, 2009
By: Stephen Kent
Last Weeks Meeting - May 12, 2009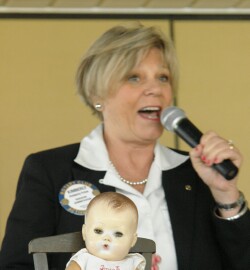 Kim Prime
On May 12 the club held a
Baby Basics
"shower" during the meeting. Members brought diapers, wipes, baby shampoo, pacifiers, etc. These items were collected by the Red Cross and will be distributed to families in need.
Kim Prime of the Bay City School System presented the program with a discussion of the realities of what life is like for those who live below the poverty line.
Kim specializes in working with students of poverty. She explained that it's hard for middle class people to understand the mind set of the poverty class. Using food as an example, those in poverty value food for it's quantity. The middle class values quality. The wealthy value food for its presentation.
Two types of poverty were described. Generational poverty by being in poverty for two generations or longer. Situational poverty is more temporary. For example, both bread winners in a family loose their jobs due to the economic downturn. They may fall into poverty but they anticipate and probably will get another job and recover.
Statistics show that there is more poverty in the area than people may expect. Those living below the poverty line are actually near 50%.
Each social class lives with hidden rules that are known to the class but may not be known by others. Even when a person of poverty works their way up, many of the patterns of thought, social interaction, cognitive strategies, etc. remain.
Schools and businesses operate from middle-class norms and rules. Those rules are not taught in schools. Those from the lower class may move up but may not understand the hidden rules they are expected to live by.
Poverty values include survival, relationships, and entertainment. Middle class values include work, achievement, and material security. The wealthy value political prowess, financial status and social connections.
For those who work with the poverty class it's important to learn their rules and values. Most importantly they must target the children from age 0 to 5. If we invest wisely in children and families, the next generation will pay that back through a life-time of productivity and responsible citizenship.
Four reasons were cited for people leave poverty: It is too painful to stay. They have a vision or goal. They form a key relationship. They have a special talent or skill.
"There is no question whether we need to do something about poverty" said Prime. "It is morally right and ethically sound to intervene. The question is What are YOU willing to do."
---
CLUB NEWS and ANNOUNCEMENTS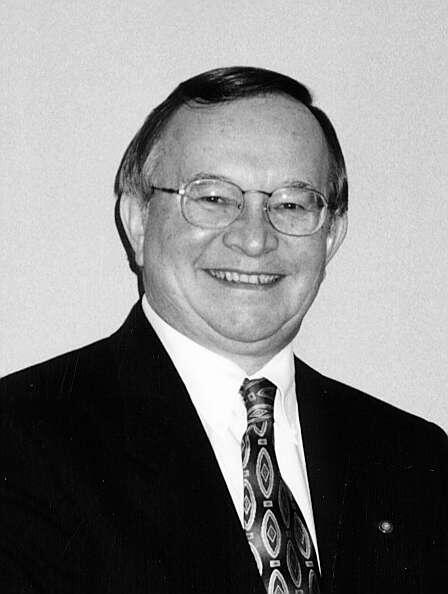 Walt Kwiatkowski 1939-2009
The club was sorry to hear of the passing of former Bay City Club President (1996-97) and former District Governor Walt Kwiatkowski. Walt was remembered Tuesday for his trip to the international conference in Calgary Canada. He returned with a ten gallon cowboy hat and a belt buckle the size of a dinner plate. He wore those for the rest of his term as President. Walt had retired to Arizona several years ago.
The club has a large number of Paul Harris points that can be distributed within the next year. The club will match any member's gift to the Foundation up to $250. It's a great way to earn your Paul Harris Fellow designation.


The Bijou Orchestra will be providing music for the big Fourth of July Fireworks show. They will be accompanied by a ROTARY CHOIR singing patriotic songs. Anyone who can carry a tune (even if you need a bucket) is encouraged to join in. Contact Leo Najar.
---
DATES TO REMEMBER
The May 19 meeting has been scheduled to be held at the Pere Marquette Depot. This will be one of two annual off-site meetings called for in the club's strategic plan.


Golf Outing: Tim Holsworth reminds everyone that the golf outing, scheduled for June 1, 2009 at the Bay City Country Club, is right around the corner.. Covenant Health Care has signed on as the title sponsor. Bay Health has signed on as the cart sponsor.


International Night 2009 has been scheduled for October 15. The theme will be a Mediterranean Cruise.


---
Upcoming Programs
(See the official schedule at RotaryBayCity.org )
May 19: Off-site meeting: Pere Marquette Depot May is Historic Preservation month. Enjoy a box-lunch at the beautifully preserved Pere Marquette Train Depot and take a tour around the building


June 16: Historic Pine Ridge Cemetery Dave Rogers from The Friends of Pine Ridge will speak on what research has uncovered about this historic treasure.
---
Visit RotaryBayCity.org