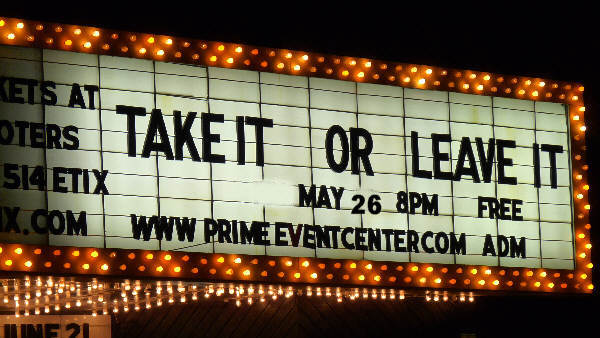 There's A New Game Show In Town - Giving Away Free Money
'Take It or Leave It' Game Show is The Real Deal
May 21, 2009
By: Julie McCallum, Entertainment Editor
There's a new game show in town, leave it to Bay City Business man Art Dore to execute the idea to give away FREE MONEY. And everyone has a chance to win! Take IT or Leave It is similar to the TV game show Deal or no Deal.
Contestants put their name and info into a drawing. If your name is drawn, you can guarantee you won't be going home empty handed.
The first show debuts was on Friday, May 15, 2009. Your next chance to win free money is Tuesday, May 26, 2009 at the Prime Event Center, located at 1201 Washington, Downtown Bay City.
Admission is Free. You must be 21 to enter.
Show starts at 8:00 PM.
Up to 25 people in the audience will assist the player and get between $5.00 and $50.00 for helping, guaranteed. The Best Part is, it is all FREE to play, FREE to win.
As you enter, you fill out your name and answer a couple questions, then the player is selected and the assistants are drawn from a bingo drum.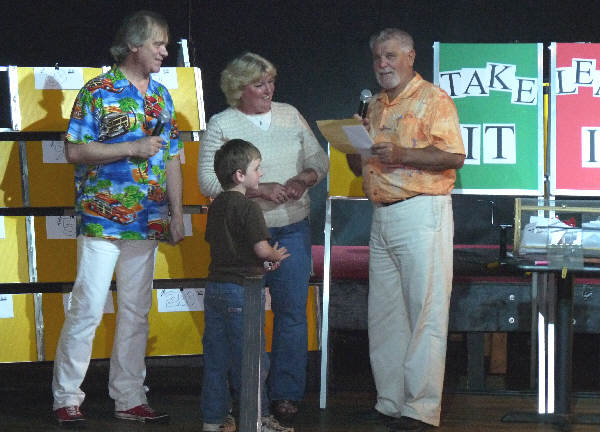 (Above) Connie Bothe of Kawkawlin, was a contestant on May 15, 2009.
Bothe is the grandmother of a 20 month old boy that drowned last September. The family was unable to afford a tombstone. At the end of the contest in addition to her winnings Dore presented Bothe with a gift certificate for a monument for her grandson's tombstone. Bothe is pictured here with her 5 year old grandson.
The monument was Donated by - Huron Granite Works, Linwood, owned by Dave and Scott Erway.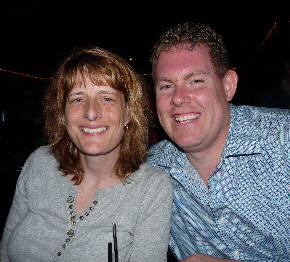 (Left)
Molly and Chris Girard were both part of the audience who's name were drawn to assist Both. Each handed their cash winnings over to Bothe.
TAKE IT OR LEAVE IT Returns to Prime Event Center, Downtown Bay City! Tuesday, May 26, 2009.
Food and Drink Specials before, during, and after the show.
Be there to see for yourself or maybe you could walk away with cash in hand!