St. Patrick's Day, St. James, Notre Dame, Leprecahns, and More . . .
Is It All About Tradition . . .
Or Is It Just Dumb Irish Luck?
March 21, 2004
By: O. J. Cunningham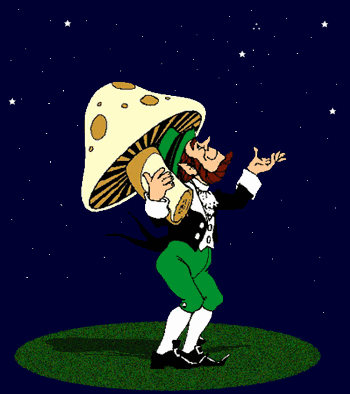 Luck of the Irish? Or Is It Tradition?
Once upon a time, back around 1949, there was a little guy whose parents sent him off at 6 years old to Saint James Grade School in Bay City, Michigan.
Saint James had Sisters of Charity like Sister DePaycze, Father Wynne and was known for sports teams of every make and model. St. James was the home of the football "Irish," as well as the basketball "Shamrocks."
Every St. Patrick's Day as far back as that little guy can remember there were parades and parties to welcome the oncoming Spring.
St.Patrick's Day was always a day more significant than most others.
That little guy was a student at Saint James when the Notre Dame Marching Band came to town to play and march in the parade. The Notre Dame band ate at the Saint James cafeteria (in full band uniform) after the parade.
Not a Saint Patrick's Day goes by without that little guy's mom reminding him how the Notre Dame band got sick from the food at the Saint James' cafeteria that day. And she'll tell you that they were sick all the way home on the bus - back to South Bend, Indiana. And of course, the Notre Dame Marching Band - The Band of the Fighting Irish - never returned to Bay City again - because of the Saint James cafeteria incident.
And as the years passed, like his dad before him, that little guy became more "Irish" every year as he wore the green and white shamrocks of the Saint James Fighting Irish on the football field, in the "band-box" Saint James basketball gym on Monroe Street and on the Saint James baseball diamond.
"We are the Irish" . . . The cheerleaders chanted on the sidelines. "Go Shamrocks Go" . . .
The fans and screamed in unison from the stands and the parents cheered from the bleachers as the wins and losses drifted by week after week, season after season and year after year until 1961 - The year our little guy graduated from Saint James - Home of the Fighting Irish - and went off to college.
"All praise to Saint Patrick who brought to our mountain . . ."
That little guy (Although he's a little older now) still smiles every time he hears the melody. And if you ask him, he can probably still recall every chorus. It was a tradition, you see. Like going to Grandma's for Saint Patrick's Day celebrations after the parade. It was the way things were around that little guy's house.
As Irish luck would have it, that teen-aged, Saint James graduate continued his Irish ways and chose a path that led himto South Bend, Indiana and the home of the "Real" Notre Dame Fighting Irish.
He didn't play sports at South Bend but came away with a unique, wonderful, profound understanding of life and the way that tradition, luck, leprechauns, rainbows andpots of gold will always be a significant part of his family tradition.
That little guy took everything he learned "growing up Irish" and started a little hometown business in Bay City, met and married a wonderful lass named Donna, had a couple of great kids named Chis and Jessica and had the good luck (at 60 years of age) to look out his Center Avenue office window on Saint Patrick's Sunday (2004) and watch the 50th Annual Saint Patrick's Day Parade pass by.
Faith and Beghorra! Howlucky can that one little guy be?
Happy Saint Patrick's Day - Especially to my Mom who watched the parade on TV this year and to my Dad, who I'm sure, is still keeping an eye on us all from heavenly bleachers.
(Passing Note) All that talk about sports, the Irish and Saint Patrick's Day and not even a mention of Denny Hayes and the Green Hut. How can that be possible?
Happy Saint Pat's Day to all.