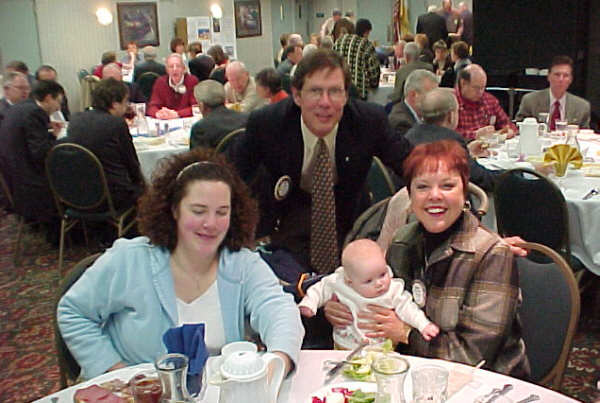 FAMILY OF ROTARY: Little Eliza Skinner, four and a half months, is perhaps the youngest person ever to attend a Bay City Rotary Club meeting, delighting mother Rebecca Skinner, proud grandmother Anita Bowden, and President Rob Monroe.
---
Rotary Club Volunteers Help Raise $4,665 for Delta College Q-TV
Consultant Louise Stevens to Present Final Community Arts Plan Tuesday
March 25, 2004
By: Dave Rogers
     Eight volunteers from the Bay City Rotary Club helped raise $4,665 for Delta College's Q-TV station in its spring fundraising campaign last Sunday, March 21.
      The Rotary volunteers were Anita Bowden, Barb Fisher, Chuck Cusick, Marty Fitzhugh, Hratch Basmadjian, Mike Grabowski, Nancy Mueller-Greve and Rob Clark.
      "We had a great time answering phones and taking pledges," said Clark, who reported the group's success at last Tuesday's regular club meeting.
      This week's Rotary program will feature ArtsMarket consultant Louise Stevens, replacing Mike Seward of the Bay Area Chamber of Commerce. Stevens will present the final draft of a Bay Cultural Arts Plan, with introduction by Shirley Roberts, executive director of the Bay Area Convention and Visitors Bureau.
      RI Foundation Chair Kathy Czerwinski presented Paul Harris level 4 pins to Wes Timm and Jerome Yantz.
      Jeff Yantz announced that because of a conflict with a Bay Area Chamber of Commerce event the Rotary Golf Tournament has been changed from June 9 to Monday, June 7 and the course from Bay County to the Bay City Country Club. The event will now have an afternoon start, he said.
      Rob Clark also announced that Rotarians will again participate in a RiverWalk-RailTrail Cleanup on May 1, even though it conflicts with the last day of district conference.
      Tim Moulthrop is seeking about 70 volunteers to make follow-up phone calls to 1,200 persons in a fundraising campaign for the Bay Regional Medical Center's new volunteer health clinic.
      Jason McCoy, Scout executive of the Shoreline District, Boy Scouts of America, last week told Rotarians of the activities of the 947 Cub Scouts, 335 Boy Scouts and 31 Venture Scouts in the district.
Below:(Right) Kathy Czerwinski greets Wes Timm and Jerome Yantz to the podium to receive Paul Harris level 4 pins.(Left) Scouts look on during Rotary luncheon.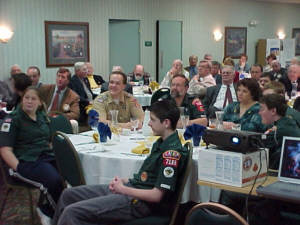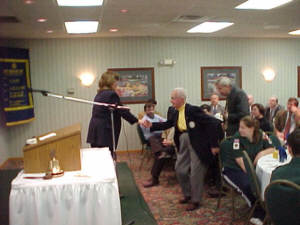 ---
      One of the programs for Scouts to develop leadership and responsibility is Scouting for Food in which surplus food is collected and delivered to food pantries, churches and soup kitchens.
      McCoy said the Bay area is one of the few places in the country where Boy Scouts are still allowed free access to schools. Many places have blocked the Scouts, apparently because of political considerations. The Scouts raise about $127,000 a year selling popcorn in the district, he said.
      Hratch Basmadjian, chair of the district conference, has announced that because of the closing of Hereford & Hops the Friday night conference program has been shifted to the Bay City Country Club and the Saturday night event to the Holiday Inn.###