Dow Chemical Has Technology to Capture C-0-2 Emissions, Says Expert
Pure Water for the World Program Explained at Rotary by Midland Man
June 7, 2009
By: Dave Rogers
Last Weeks Meeting - June 2, 2009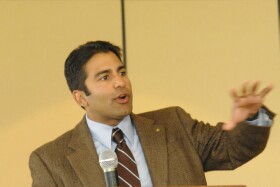 Ajay Badhwar
Ajay Badhwar, a Dow Chemical Co. technician from Midland, told Bay City Rotarians last week of efforts to provide pure water to remote areas where contaminated drinking water is a problem.
At the end of his presentation, Mr. Badhwar responded to a question about C0-2 capture, a key to power plant emissions, by stating: "Dow has the technology to fix that."
However, the Midland firm has been taking "a quiet stance" on the issue that is pitting power plant expansion advocates against environmental groups seeking to stop more coal-burning plants.
Only five percent of the C-0-2 emissions into the atmosphere are caused by humans, including power plants and transportation he said. Other uncontrollable factors include volcanoes, etc.
Mr. Badhwar, a Canadian native who earned a masters in business administration from the University of Michigan, is in new business development at Dow.
In 1994 he participated in a Rotary youth exchange program in Japan and as a Rotarian in Sarnia, Ontario, in 2000, he traveled to India on a Polio Plus expedition. He joined the Midland Noon Rotary Club in 2004.
He is a board member of the Pure Water for the World (PWW) organization and traveled to Honduras on behalf of that group in January 2008.
"About 1.3 million children die annually of water related illnesses, most of them under the age of 5," said Mr. Badhwar "This is the major driver for infant mortality around the world."
Among the most important efforts to provide pure water is one that provides bio-sand filters, he said. "They're east to make in-country and the rocks and sand in them remove 97 percent of the bacteria; this is just one technology we can use -- there are many others."
Among methods used by PWW are health and hygiene training for children in schools and with parents and anti-parasite medication (costing about $2 a dose) that kills the worms in the water.
Pure water issues are being addressed with local champions and government forces working on infrastructure, transportation and border crossing implications.
The Peace Corps and other non-governmental organizations are also involved in pure water initiatives, he said.
Persons interested in the pure water initiative may access the groups at www.purewaterfortheworld.org. ###
---
CLUB NEWS and ANNOUNCEMENTS
Thanks to Tim Holsworth and his committee for all the work on the Golf Outing. And a special thanks to Brian Kay for all his work as chair for the past SEVEN YEARS! Brian's dedication has made this event one of the club's most important fund raisers!


Deb Lutz reported on the great work of the club to meet the Polio Pluschallenge Issued last May. 86 members participated and. The club collected $15,570 and has pledges for another $3,532 for a total of $19.122. These funds will help Rotary International make their match for the Gates Foundation's $355 Million. Great work for a noble cause!


Kathy Czerwinski has issued a final call for Paul Harris awards to take advantage of the club's match. The program ends June 30 and Kathy needs time to get the paperwork done.


The Community Foundation has matched Rotary's $6,000 pledge to Angle Food Ministries for the year. This will double the program's ability to give food coupons to needful families from 18 a month to 36 a month. Thanks to the Community Foundation.


The Bijou Orchestra will be providing music for the big Fourth of July Fireworks show. They will be accompanied by a ROTARY CHOIR singing patriotic songs. Anyone who can carry a tune (even if you need a bucket) is encouraged to join in. Contact Leo Najar.


Members who attended the District Conference are reminded that the club will reimburse part of your fees if you wish. Please request this reimbursement as soon as you can.
---
DATES TO REMEMBER
BOARD MEETING 11:00 am Tuesday June 9.
International Night 2009 has been scheduled for October 15. The theme will be a Mediterranean Cruise.


---
Upcoming Programs
(See the official schedule at RotaryBayCity.org )
June 9: CLUB ASSEMBLY Chuck Brooks will update the club on the strategic plan.


June 16: Historic Pine Ridge Cemetery Dave Rogers from The Friends of Pine Ridge will speak on what research has uncovered about this historic treasure.
---
Visit RotaryBayCity.org