Rotary Discusses Long Range Plan
June 9, 2009
By: Stephen Kent
Last Weeks Meeting - June 9, 2009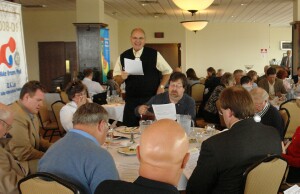 Members Discuss Long Range Plan
Rotary is one of the oldest and largest service clubs in the world. Founded in Chicago in February 1905, the international organization today represents more than 1.2 million people who call themselves Rotarians. 33,000 Rotary clubs in some 200 countries subscribe to the Rotary ideal of "Service Above Self".
Several times a year the Bay City Club holds a club assemble with the purpose of reviewing the club's long range plan and assessing how the club is adhering to Rotary's Four Avenues of Service: Club Service, Vocational Service, Community Service, and International Service.
At Tuesday's meeting Chuck Brooks reviewed some of the highlights of the past year. He outlined the results of previous meetings by reminding the club of what members had perceived as strengths, weaknesses, opportunities and threats.
In general, the Bay City club is strong and vibrant. 43% of the membership actively participates at the committee and project level. Club giving to the Rotary Foundation and other fund raising efforts is well above average. The Club's community activities and its support for community needs are excellent.
Perhaps the largest challenge is to maintain membership. Many service clubs are faced with dwindling membership. Rotary is no exception, even with 1.2 million members world wide. The Bay City club has seen a small decline over the past three years. There were 123 members in 2006 and today's membership is 118.
Following Chuck's talk the 65 members in attendance divided into four groups, each addressing one of the avenues of service. Discussion was lively and ran well past the normal end of the meeting at 1:30, a testament to the interest and involvement of the members of the Bay City Club.
---
CLUB NEWS and ANNOUNCEMENTS
Incoming president Anne Trahan announced her slate of officers, board of directors, and committee chairs for 2009-10. Thanks to everyone for their interest and willingness to serve.


Ed Keating was announced as the President elect-elect. Ed will follow Eric Jylha, who follows Anne Trahan.


The board approved the 2009-10 budget of $78,400.


The board voted to endorse the application of Jency Schnettler for a Rotary Ambassadorial Scholarship. Local club endorsement is on requirement in a very detailed and involved process.


Another work detail is being organized for the Rotary Garden in the arboretum. Meet Anne Trahan in the park near the Rudder on June 18 at 5:00 pm. Bring a shovel.


Rob Monroe is looking for drivers who can take two of our Brazilian Rotary Exchange Students through Canada to meet another ride coming from Montreal.


Sargent at Arms Cindy Chadwick is looking for assistants. If you'd like to join the team and be the Sargent for a few weeks, see Cindy.


The Bijou Orchestra will be providing music for the big Fourth of July Fireworks show. They will be accompanied by a ROTARY CHOIR singing patriotic songs. Anyone who can carry a tune (even if you need a bucket) is encouraged to join in. Contact Leo Najar.


Breezes Reporters Wanted: If you'd like to help write the weekly Breezes please see Steve Kent. It's an easy job. No experience necessary. High Pay (well at least a lot of thanks).
---
DATES TO REMEMBER
International Night 2009 has been scheduled for October 15. The theme will be a Mediterranean Cruise.


---
Upcoming Programs
(See the official schedule at RotaryBayCity.org )
June 16: Historic Pine Ridge Cemetery Dave Rogers from The Friends of Pine Ridge will speak on what research has uncovered about this historic treasure.


June 30: Stephen Kent will present an update on the Club's web site, demonstrate some of the features, answer questions and take suggestions.


July 7: Installation of 2009-10 President Anne Trahan, board and officers.


July 14: Ajay Badhwar from Dow returns to talk about the capture of power plant flue gas and how it can be done.
---
Visit RotaryBayCity.org