Pine Ridge Cemetery is one of the area's premier Civil War heritage sites, boasting an 1885 Grand Army of the Republic monument.
---
Walking Tours of Historic Pine Ridge Cemetery to Begin Saturday, June 27
151 Year Old Civil War and Pioneer Burial Ground Has Wealth of Stories
June 18, 2009
By: Stephen Kent
Last Weeks Meeting - June 9, 2009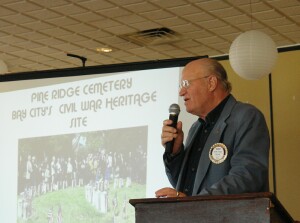 Dave Rogers Speaks on Pine Ridge
Bay City Rotarians heard the story of 10 years of efforts to preserve Historic Pine Ridge Cemetery last Tuesday.
And of latest plans to promote the cemetery as a Civil War Heritage Site.
Five of the community's historians, researchers and storytellers will collaborate to make a place of the dead "come alive," said Dave Rogers, speaker.
Tours will be held the last Saturday of June, July, August, September and October at 2 p.m. In case of rain, the tour will be held on Sunday. A porta-potty is available on the site.
Friends of Historic Pine Ridge Cemetery, a volunteer group that has been raising funds and coordinating workers in maintaining the cemetery, is sponsoring the tours.
Tour guides include Alan Flood, a retired Great Lakes ship's first officer; Marvin Kusmierz, who conducts the Bay Journal local history website; Jim Petrimoulx, General Motors retiree and dedicated researcher; Fred Welsh, of Millington, who conducts a downtown walking "Ghost" tour; and Rogers, local historian and author.
Pine Ridge is the scene of annual Memorial Day tributes to veterans and this year saw the formal introduction of a Sons of Union Veterans of the Civil War (SUVCW) organization, the U.S. Grant Post No. 67.
The ceremony was performed by the SUVCW post in Vassar, whose members had assisted Mr. Petrimoulx and other Friends in replacing 50 weathered headstones of Civil War veterans at the cemetery.
The Rotary Club of Bay City has played a large part in supporting preservation efforts, contributing funds for a new gate, a mini-garden and plaques at grave sites of prominent persons for interpretive tours.
---
CLUB NEWS and ANNOUNCEMENTS
Congratulations to Hratch on his "field promotion" to Sargent at Arms this past Tuesday. Good job on short notice. (And NO FINES!)


Rob Monroe is looking for drivers who can take two of our Brazilian Rotary Exchange Students through Canada to meet another ride coming from Montreal.


Sargent at Arms Cindy Chadwick is looking for assistants. If you'd like to join the team and be the Sargent for a few weeks, see Cindy.


The Bijou Orchestra will be providing music for the big Fourth of July Fireworks show. They will be accompanied by a ROTARY CHOIR singing patriotic songs. Anyone who can carry a tune (even if you need a bucket) is encouraged to join in. Contact Leo Najar.


Breezes Reporters Wanted: If you'd like to help write the weekly Breezes please see Steve Kent. It's an easy job. No experience necessary. High Pay (well at least a lot of thanks).
---
DATES TO REMEMBER
International Night 2009 has been scheduled for October 15. The theme will be a Mediterranean Cruise.


---
Upcoming Programs
(See the official schedule at RotaryBayCity.org )
June 23: Doug Zloto will talk about the role of the Secret Service in this region in addition there will be a hands on review of counterfeit currency.


June 30: Stephen Kent will present an update on the Club's web site, demonstrate some of the features, answer questions and take suggestions.


July 7: Installation of 2009-10 President Anne Trahan, board and officers.


July 14: Ajay Badhwar from Dow returns to talk about the capture of power plant flue gas and how it can be done.
---
Visit RotaryBayCity.org