Bill Bowen, Joyce Hardy, RN, to Enlighten Rotarians on Free Health Clinic
District Gov. Jerome Yantz Seeks Volunteers, Sponsors for Conclave
March 31, 2004
By: Dave Rogers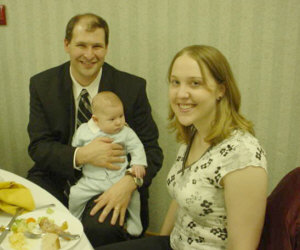 Family of Rotary campaign sparks "youngest meeting attendee" competition as Rob Clark, wife Claire and son Owen, 3 months, take the honors.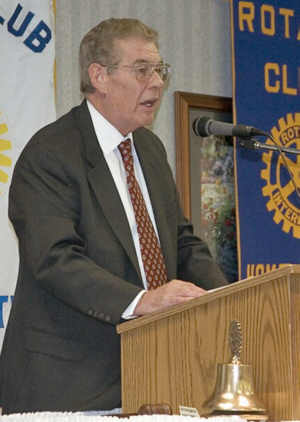 Bay Area Chamber of Commerce President/CEO Mike Seward outlines programs benefiting business and the community.
      Tuesday's Rotary program will bring Bill Bowen, board member of Bay Regional Medical Center, to the podium to discuss a new free health clinic staffed by volunteers. Keith Markstrom is programmer.
      The Rotary meeting will be at noon in the Holiday Inn.
      Bowen will be joined by Joyce Hardy, RN, director of the clinic, in describing the need and development program for the service. Dr. Floyd Stevens is the medical director of the new clinic. He is director of medical education and family practice residency at Bay Regional Medical Center.
      The Bay Area Volunteer Clinic began Wednesday, March 31, at the Medical Mall, 1480 W. Center Road. It aims to serve the large percentage of the population that is without health insurance and cannot afford medical care or is underinsured.
      Last week at Rotary, Mike Seward, president and CEO of the Bay Area Chamber of Commerce, ended up being the speaker after all, filling in for Louise Stevens, consultant withArtsMarket, who was injured in a vehicle crash near her home in Bozeman, Montana.
      It was a strange turn of events as Seward, originally scheduled to be the speaker, had agreed to step aside in favor of Stevens, who was to make the final report on the Bay Cultural Plan. A Bay Economic Forum meeting slated for Wednesday at the Elks Club also was cancelled because of Stevens' accident.
      "We need to make cooperation, unity and teamwork a way of doing business," said Seward, adding: "This is important to our economic climate and quality of life." He quoted this advice: "Make no little plans, aim high and build up your community."
      He outlined some impressive Chamber accomplishments in membership, small business assistance, education and workforce development, public and governmental affairs and economic development.
      A membership drive gained 255 members for the Chamber last year. This year's campaign, headed by Stu Reid of Weinlander, Fitzhugh CPA firm, kicks off April 23.
      A Chamber small business self-help program organized by Dan Latal of Dow Corning, connects advisers with small business managers needing assistance.
      The education and workforce development committee, coordinated by Alan Mayes of Red Lobster, provides an Opportunity Connection website with 40 companies providing direct services to schools.
      The Chamber's "Reading Is Bay County's Business" program, begun last year, already has seen 216 volunteers serving 7,164 youngsters in 323 K-5 classrooms, according to Seward.
      The Principal for a Day program will see 25 business people exchange places with 25 school principals in a Chamber initiative to demonstrate how schools and business fit together, he said.
      Another program, "Making Business Count," urges business people to use school transcripts in evaluating prospective employees and will have the effect of encouraging young people that "paying attention to school grades will pay off for them."
      District Governor Jerome Yantz urged Rotarians to attend the District Assembly and Conference April 30-May 1 in Bay City, especially the district assembly Friday morning in the Holiday Inn. He is seeking volunteers as marshals to direct attendees from out-of-town, staff the registration desk and act as chauffeurs for older attendees.
      Sponsors are sought for cocktail parties Friday night at the Bay City Country Club and Saturday night at the HolidayInn. Sponsorships are $500 for each party, Yantz said.
      Presentations during the conference include international assistance programs in Guatemala with Frances Dixon, Polio Plus in Niger with Nancy Cusick, origami, gender communications, music appreciation with Leo Najar, Dave Rogers on the history of shipbuilding on the Saginaw River and astronomical shows at the Delta College planetarium.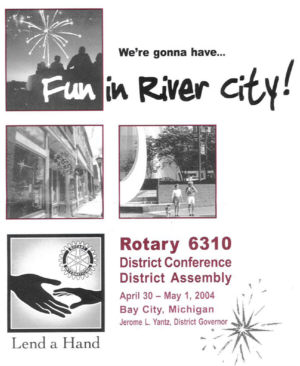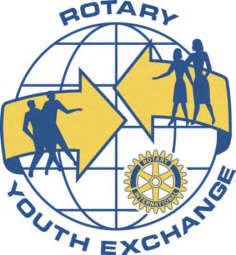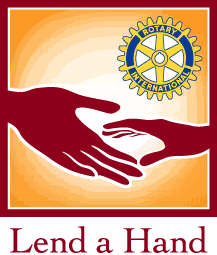 ---