Michigan Can Become Leader in Clean Energy, Says Midland Expert
July 14, 2009
By: Dave Rogers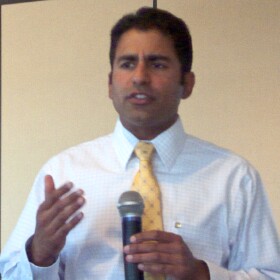 Ajay Badhwar
Last Weeks Meeting - July 7, 2009
Carbon capture and sequestering waste from coal-fired energy plants can be done, but the cost is high, says Ajay Badhwar, a Midland Rotarian who stresses he does not speak for his employer, The Dow Chemical Co.
Mr. Badhwar spoke to the Rotary Club of Bay City last week, stating that making clean coal generating plants may cost up to 30 to 50 percent more per kilowatt hour of energy produced.
"There are always tradeoffs and we need to make the right decisions," said Mr. Badhwar, adding: "Nothing is free."
Regarding the proposed Karn Weadock plant expansion of Consumers Energy, he said the permitting process is not progressing as fast as the company would like.
Mr. Badhwar indicated the need for more coal generating capacity is required to have enough energy for recharging electric vehicles. "More electricity has to come from power plants," he asserted.
Decisions being made now in Michigan are crucial, because if we don't approve more coal generating capacity "other states will take advantage," the speaker said. Baseline capacity is needed "to make sure the lights go on," he commented.
Although repeatedly asserting he does not speak for the company, Mr. Badhwar said Dow is working with Alstrom Power on technology to capture CO-2 from stack gas of power plants. A plant in Poland began using such technology in late 2008, he said.
Also, construction is starting on a power plant in West Virginia that will have the capability of capturing CO-2, he added "We can capture all byproduct streams if we want to," he said. "If the public will pay for it we're able to do it."
Diversity in energy sources is the key, he said.
"Michigan has the opportunity to be a world leader in clean power," he stated. The state has a skilled workforce, great infrastructure, favorable real estate (geography for underground storage) and the technology for CO-2 sequestration.
"Massachusetts doesn't have it -- Michigan's got it," he emphasized. "The Clean Energy Economy has real possibilities for Michigan."
A "portfolio of options" should include renewables like wind and solar energy, hydro-electric, waste energy, geothermal and nuclear, all of which require tremendous investments.
---
CLUB NEWS and ANNOUNCEMENTS
The Birch Run club will be celebrating its 10th anniversary with a dinner on September 2. Tickets are $20.


There are still openings for the GSE team going to Portugal this fall.


Sergeant at Arms Cindy Chadwick is looking for assistants. If you'd like to join the team and be the Sergeant for a few weeks, see Cindy.


Breezes Reporters Wanted: If you'd like to help write the weekly Breezes please see Steve Kent. It's an easy job. No experience necessary. High Pay (well at least a lot of thanks).
---
DATES TO REMEMBER
International Night 2009 has been scheduled for October 15. The theme will be a Mediterranean Cruise.


---
Upcoming Programs
(See the official schedule at RotaryBayCity.org )
July 21: 10 Minute Rotarian Brenda Scramlin and Ron Bloomfield,


July 28: District Govenor Jim Brozzo will share his and John Kenny's 2009/2010 goals with our group.


August 11: Changes to the Local Newspaper Industry Matt Sharp, Publisher of Booth Mid-Michigan, will present a summary of the changes that have taken place with the local newspaper industry in Mid-Michigan.


August 18: US Mail Fraud Josh McCallister, United States Postal Inspector, will share information about How to protect yourself & what to do if you have become a victim.
---
Visit RotaryBayCity.org