Rotary Club Meets 10-Minute Rotarians
July 21, 2009
By: Stephen Kent
Last Weeks Meeting - July 21, 2009
Members all agree that the 10-Minute Rotarian program is one of the club's favorites. Every one's story is interesting and, even if a member was born and raised in Bay City, there are parts of that story that most people don't know.
Despite the popularity, most members, when asked to talk about themselves, find this to be the most difficult topic they could address. Everyone is afraid that THEIR story is not interesting enough.
This week two members of the Programs Committee told their stories and also gave a formula for others to use when called on. And both succeeded by being both instructive and interesting.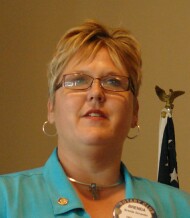 Brenda Scramlin
Brenda Scramlin
joined the club in March, 2009. As Vice President of the Toastmasters Club, public speaking is not new to Brenda. She explained how the Rotarian questionnaire used last year for the Who's that Rotarian" game made a great outline for a 10 minute Rotarian talk. It covers a number of interesting facts and topics.
Brenda was born and raised in Quanicassee and went to the Akron-Fairgrove schools where she was a "band kid" playing a number of brass instruments. Her father was a Mason and Brenda was in Jobs Daughters. She spent her summers babysitting and running a bike repair shop with her sister.
Brenda's father was a truck driver and taught her to drive a stick shift and, she's proud to say, she can drive a truck and she can back a trailer using only her mirrors. She said her Dad was fond of saying "You can't push a Rope".
Brenda's mother was a stay-at-home Mom, for which Brenda is forever grateful. She came from a close family that stressed hard work and honesty. Her Mother advised her "Try everything ones, and always vote".
Brenda worked her way through SVSU doing a number jobs. She joined Copoco Credit Union 17 years ago and is their Marketing Directory. Brenda is married to Brian, who had two children, both now in college. Her first exposure to Rotary was at Rotary Leadership Camp when she was in High School. Brenda serves in a number of community and volunteer positions from Jr. Achievement to the Literacy Council and YWCA.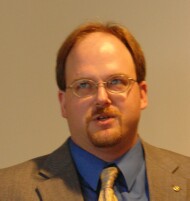 Brenda Scramlin
Ron Bloomfield
joined Rotary in March, 2007. For his talk Ron used the idea of the 350 tunes on his I-pod to represent the "soundtrack of his life". An accomplished musician and long time rock band member, this was a natural approach for Ron.
Ron, his wife Corrine, their two kids and two dogs live in Kawkawlin, where his lot is large enough to be a four hour mowing job. Both Ron and Corrine are historians and work for the Bay County Historical Society Museum where Ron is Director of Operations and Chief Historian.
Ron was raised in Saginaw where his Dad, a "born mechanic", owned a garage. Ron's mother was a homemaker and a seamstress specializing in wedding dresses. Ron's Dad had the ability to fix a car by listening to it. When computers took over his Dad retired and ended up working more than ever helping build show cars. Ron has two sisters who are nurses.
The 80's represented Ron's "Hair Band" days. He went to Eisenhower High School in Saginaw then on to Delta with the intent of going into secondary education. After Delta he went to CMU and ran headlong into the museum.
Ron became a historian and his musical taste moved to Gaelic music and Highland wedding songs. Among his CMU accomplishments was to start the fencing club and serve as trainer. He also met Corrine, another museum major, at CMU.
Ron's musical taste continued to evolve through Bob Segar, country music, and finally classic rock. Ron played guitar since age 7 and picked up other string instruments along the way. Today he plays with the local Classic Rock band "The Toys".
Maritime music has a role in Ron's life as well. He became a Scuba diver in 2001 and has become an authority in Great Lakes ship wrecks and underwater archeology. He was instrumental in the formulation of the State's policy on ship wrecks. He has written articles and co-authored books. This last year his own book on Great Lakes ship wrecks was published.
---
CLUB NEWS and ANNOUNCEMENTS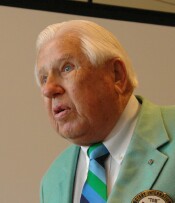 The club was pleased to have Tom Tabor visit although the moment was bittersweet as Tom emotionally announced that this was to be his farewell and final visit. As time marches on it becomes more difficult for Tom and Sally to return from Florida. But Tom, being Tom, moderated his announcement by recalling how his father made similar "final" announcements, over an over. So the club wishes Tom and Sally the best and hopes to enjoy a repeat "final visit" announcement sometime in the future.


The Birch Run club will be celebrating its 10th anniversary with a dinner on September 2. Tickets are $20.


There are still openings for the GSE team going to Portugal this fall.


Sergeant at Arms Cindy Chadwick is looking for assistants. If you'd like to join the team and be the Sergeant for a few weeks, see Cindy.


Breezes Reporters Wanted: If you'd like to help write the weekly Breezes please see Steve Kent. It's an easy job. No experience necessary. High Pay (well at least a lot of thanks).
---
DATES TO REMEMBER
International Night 2009 has been scheduled for October 15. The theme will be a Mediterranean Cruise.


---
Upcoming Programs
(See the official schedule at RotaryBayCity.org )
July 28: District Governor Jim Brozzo will share his and John Kenny's 2009/2010 goals with our group.


August 11: Changes to the Local Newspaper Industry Matt Sharp, Publisher of Booth Mid-Michigan, will present a summary of the changes that have taken place with the local newspaper industry in Mid-Michigan.


August 18: US Mail Fraud Josh McCallister, United States Postal Inspector, will share information about How to protect yourself & what to do if you have become a victim.
---
Visit RotaryBayCity.org