Rotary District Governor Address Club
August 2, 2009
By: Stephen Kent
Last Weeks Meeting - July 28, 2009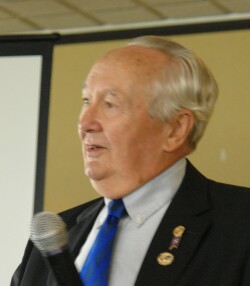 Jim Brazzo
2009-10 District Governor Jim Brazzo
visited the Bay City Club last Tuesday. Prior to the regular meeting, Jim met with the board of directors to discuss his plans for the year and the club's plans. He reviewed the goals of International President John Kenny for the year but he spent most of the time asking about the Bay City club, its projects and plans.
Speaking to the full club after lunch, Brazzo opened his remarks by saying that being District Governor can be like running a cemetery; there are lots of people under you but they're not listening.
Brazzo emphasized that every Rotary Club is autonomous. Each club has a unique character and its own agenda and interest. The District organization exists to help the clubs, but the individual club is the key to Rotary. Brazzo noted that the Rotary Theme for the year is "The Future of Rotary is in your hands".
At the international level Rotary's focus for the year will be Water, Health and Hunger, and Literacy. Water continues to be a problem around the world in less developed countries. Rotary has a strong program to bring sufficient, clean and potable water to people around the world. The Bay City Club has participated in these programs and will continue to do so.
Rotary's impact on world health is well known, primarily by its efforts to eradicate Polio from the earth, an effort that is very close to success. Rotarians are also well known for the efforts in clinics, food projects and literacy projects.
Brazzo also addressed membership. Service clubs of all types face membership challenges as society changes and evolves. Rotary is more successful than most but also feels the pressure to evolve. Brazzo emphasized the benefits of recruiting younger members. Rotary has historically been a club for established executives and business people. Today Rotary has become an important conduit for younger people to join that group and benefit from their experience.
---
CLUB NEWS and ANNOUNCEMENTS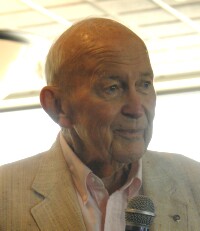 John Bultrud

John Bultrud announced to the club that he and Jan will be moving to Indiana, PA. soon. He thanked the club for the great friendships and memories of his time with us in Bay City. He and Jan will be living close to family in their new home. Everyone wishes the best to John and Jan. They have both been an asset to the Family of Rotary.


President Trahan inaugurated a "Fellowship Minute" by asking members to take a minute to greet someone at a different table and ask when they joined the club. Don Carlyon has the most years of service with 48. Carl Lockwood was second with 44 years.

---
DATES TO REMEMBER
The Birch Run club will be celebrating its 10th anniversary with a dinner on September 2. Tickets are $20.


International Night 2009 has been scheduled for October 15. The theme will be a Mediterranean Cruise.


---
Upcoming Programs
(See the official schedule at RotaryBayCity.org )
August 4: Boot Camp for New Dads Rob Clark will share his experiences running this new and exciting program at Bay Regional Medical Center.
August 11: Changes to the Local Newspaper Industry Matt Sharp, Publisher of Booth Mid-Michigan, will present a summary of the changes that have taken place with the local newspaper industry in Mid-Michigan.


August 18: US Mail Fraud Josh McCallister, United States Postal Inspector, will share information about How to protect yourself & what to do if you have become a victim.
---
Visit RotaryBayCity.org