New Bishop Offers Compassion for Jobless, Children Abused in the Church
Bishop Joseph Cistone Installed as Sixth Shepherd of Saginaw Diocese
August 2, 2009
By: Dave Rogers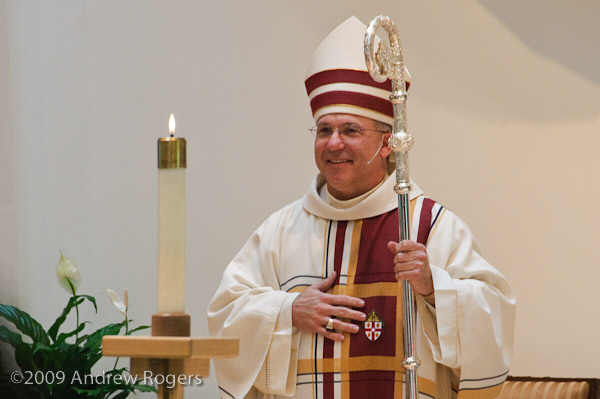 (MyBayCity Photo by Andy Rogers)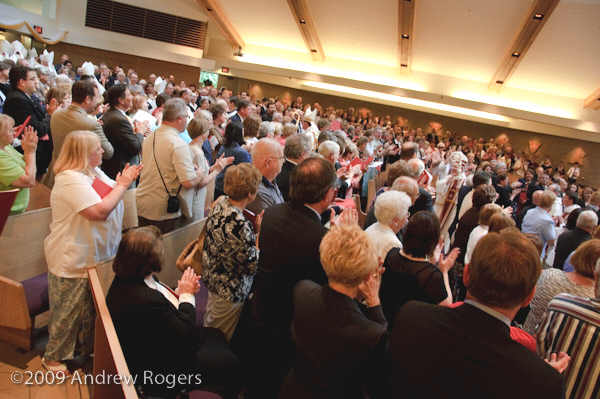 (MyBayCity Photo by Andy Rogers)
In his installation homily, the new Roman Catholic Bishop of Saginaw did not shrink from social problems including the abuse of children by priests, a scandal that has rocked the church in recent years.
Bishop Joseph R. Cistone, 60, installed last Tuesday in Saginaw, also urged efforts to strengthen both Catholic and non-Catholic schools.
Declaring his chief priority to be promoting a deeper love and appreciation for the Eucharist, Most Rev. Cistone commented:
"The Eucharist will inspire us to find ways to cope with mounting unemployment and instability in our communities."


The Eucharist will open our hearts to reach out more generously to the poor and needy, the sick and elderly;


The Eucharist will instill within us a deep compassion for those who are victimized in this world, especially those abused as children by servants in the Church. The Eucharist will help us better comprehend and be more sensitive to their pain, their suffering and their on-going needs."

Bishop Cistone serves on the U.S. Conference of Catholic Bishops' Committee for Protection of Children and Young People, which oversees sex-abuse matters, and committees related to cultural diversity, African American affairs, and finance.

The Bishop also addressed the Church's need for vocations, declaring: "In a special way I invite our young people to respond to the call of Jesus to serve the Church, generously, unselfishly, with undivided hearts."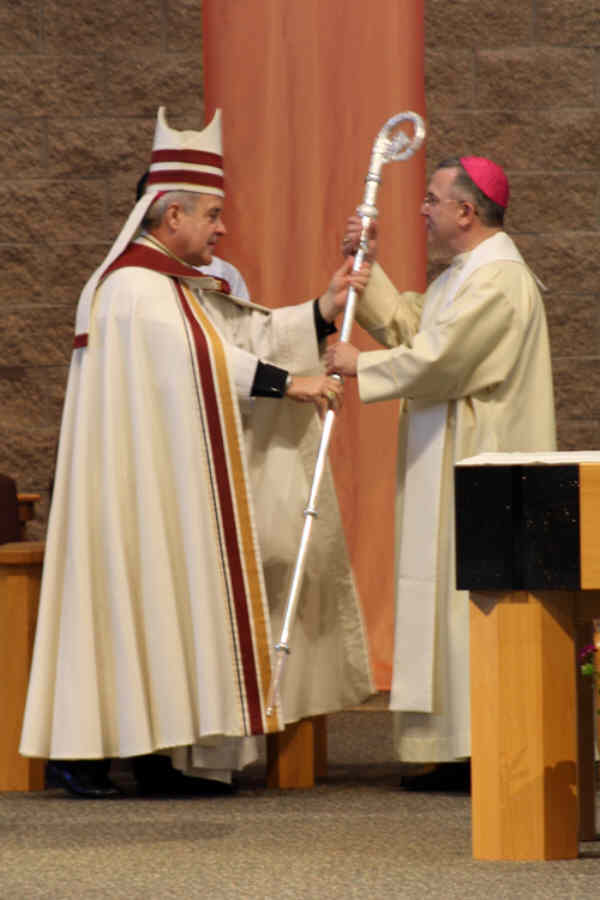 Bishop Joseph Cistone, right, receives crosier from Archbishop Robert J. Carlson.


The native of Philadelphia became leader of the region's approximately 120,000 Catholic worshipers in a ceremony at St. Stephen Catholic Church in Saginaw.

Former Saginaw Bishop Robert J. Carlson, now archbishop of St. Louis, Missouri, was among the 900 standing-room-only worshipers at the installation mass, later praising the new bishop for his inclusionary comments.

Archbishop Pietro Sambi, the chief representative of Pope Benedict XVI in the United States, also attended.

According to the Philly.com news website, Cardinal Justin Rigali, the current archbishop of Philadelphia, ordained Cistone an auxiliary bishop in 2004, Rigali later restructured the leadership of the archdiocese and gave administrative duties to all four auxiliary bishops, each receiving the title of vicar general.

The news report also said: "A 2005 Philadelphia grand-jury investigation into clergy sexual abuse in the archdiocese concluded that Cistone, while assistant vicar for administration, was complicit in 1996 in silencing a nun who tried to alert members of St. Gabriel's parish about an abusive priest.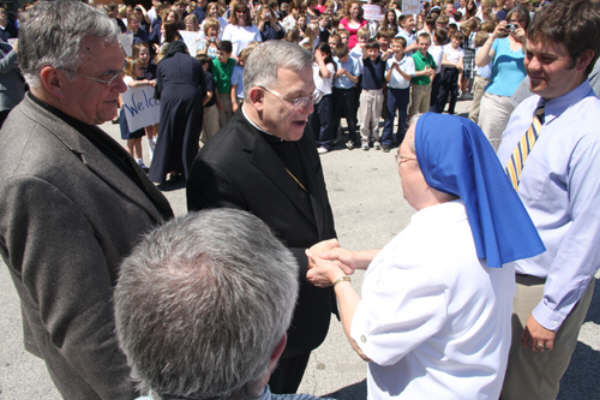 New bishop is greeted at Bay City St. James by Sister Julie Gatza and Father Robert DeLand, left.


"The grand jury also found that, among other things, Cistone in 2002 took no action to warn a suburban school district that one of its teachers was a former priest known to abuse children. It said he had taken no action against a parish priest despite reports that he (the parish priest) sometimes made boys strip and pricked some with pins."

In an e-mail to The Philadelphia Inquirer in 2005, Cistone expressed his "sorrow" for "any mistakes in judgment made by those of us . . . with responsibility for these matters."

News media INTERNET sites here lit up with negative comments although some supporters urged local people not to judge Cistone hastily, noting that prosecutors' reports often can be misleading.

One blogger here wrote: "I will give Bishop Cistone the benefit of the doubt and the opportunity to prove himself. May Bishop Cistone work with all in the Body of Christ!"

Cistone oversaw the archdiocesan secretariat for Catholic Human Services and the secretariat for Temporal Services, with pastoral oversight for the parishes in Philadelphia-South and parts of Delaware County.

"We will miss his wisdom, assistance, and faithful service here in the Archdiocese of Philadelphia," Cardinal Rigali said.

Rigali is a member of the Congregation for Bishops at the Vatican, which recommends episcopal appointments to the pope.

As the sixth bishop of the Saginaw Diocese, Cistone follows Robert J. Carlson, 2005-2009; Kenneth E. Untener, 1980-2004; Francis F. Reh, 1968-1980; Stephen S. Woznicki, 1950-1968; and William F. Murphy, 1938-1950.

The Catholic Diocese of Saginaw was established on February 26, 1938 by Pope Pius XI. Its territory included 16 counties, carved out the Diocese of Grand Rapids and the Archdiocese of Detroit. Msgr. William F. Murphy, pastor of St. David Parish in Detroit was selected by the pontiff to be the first bishop of Saginaw and the city's St. Mary Parish was designated as the diocesan cathedral.

As the first leader of the diocese, Bishop Murphy (1938 - 1950) organized many efforts to care for the poor, including a Catholic Charities organization, today Catholic Family Service; the League of Catholic Women, focusing on the Catholic Social Welfare of the underprivileged; and the Mexican Apostolate, now the Office of Hispanic Ministries, to assist with spiritual needs of migrant workers.

His successor, Bishop Stephen S. Woznicki (1950 - 1968), led growth for the diocese. He established 21 new parishes and missions and built the diocese its own seminary, St. Paul Seminary in Saginaw, which today houses Nouvel Catholic Central High School and the main diocesan offices.

Saginaw's third leader, Bishop Francis F. Reh (1968 - 1980), became the region's implementer of the Vatican II reforms. He also established the diocese's lay formation program, which was unique at that time in the United States.

In 1971, the establishment of the Diocese of Gaylord in northern Michigan shifted Saginaw's territory to the 11 counties that remain to this day: Arenac, Bay, Clare, Gladwin, Gratiot, Isabella, Huron, Midland, Saginaw, Sanilac and Tuscola.

Bishop Kenneth E. Untener (1980 - 2004) took the mid-Michigan diocese global with his legacy of "Little Books" of prayer for the seasons of Lent, Easter and Advent/Christmas. More than 3 million copies were sold worldwide in 2007 alone, with books making their way into the hands of Catholics as far away as Australia.

Bishop Robert J. Carlson was installed as fifth ordinary of the diocese in February 2005.

The official diocesan biography of Bishop Cistone states: "Born on May 18, 1949, Joseph Robert Cistone was the second of three sons born to Josephine R. (Altomare) and Daniel A. Cistone, Sr. He was baptized and grew up in the close-knit Italian parish community of Our Lady of Consolation in Philadelphia. He received his elementary education from his parish school and later graduated from the city's Father Judge High School for Boys.

"In 1967, he entered Saint Charles Borromeo Seminary in Overbrook, Pa., where he earned his bachelor's degree in philosophy in 1971 and Masters of Divinity in 1975. Bishop Cistone was ordained to the priesthood on May 17, 1975, by John Cardinal Krol for the Archdiocese of Philadelphia.

"Father Cistone celebrated his first Mass at his home parish, Our Lady of Consolation, on his 26th birthday. His first assignment was as assistant pastor at Epiphany of Our Lord Parish in Philadelphia, where he served until 1979. During that time, he also served as chaplain at the city's St. Maria Goretti High School from 1977 to 1979.

"He later served as assistant pastor at Saint Jerome Parish in Philadelphia from 1979 to 1982, Saint Jude Parish in Chalfont, Pa., from 1982 to 1987; Saint Francis of Assisi Parish in Norristown, Pa., from 1987 to 1989 and Saint Bernard Parish in Philadelphia from 1989 to 1991. In addition to his parish assignments, Father Cistone also served as an advocate and Defender of the Bond in the Archdiocese of Philadelphia Metropolitan Tribunal, member of admissions board for the archdiocese's Permanent Diaconate Program and Newman Chaplain at Delaware Valley College of Science.

"In 1991, he was appointed as Dean of Formation at Saint Charles Borromeo Seminary. Father Cistone was next transferred to the archdiocesan administrative offices, where he has served for the past 16 years in various capacities. He was Associate to the Vicar for Administration from 1993 to 1994 and Assistant Vicar for Administration from 1994 to 1998.

"On March 14, 1998, he was named as an honorary prelate by Pope John Paul II, giving him the title of monsignor. That same year, he was appointed as Vicar General and Vicar for Administration for the Archdiocese of Philadelphia.

"John Paul II recognized him again on June 8, 2004, when he appointed Monsignor Cistone to become an Auxiliary Bishop for the Archdiocese of Philadelphia. He was consecrated as a bishop on July 28, 2004, at the city's Cathedral Basilica of SS. Peter and Paul. Bishop Cistone chose for his episcopal motto, a phrase from his daily devotion to Philadelphia's Saint John Neumann: Father of Mercy and Love.

"Bishop Cistone was appointed Bishop of Saginaw by His Holiness Pope Benedict XVI on May 20, 2009 and installed on July 28, 2009 - the fifth anniversary of his episcopal ordination."

###



0202 nd 10-12-2019