Daddy Boot Camp Teaches New Dads The Basics
From the Scoop on Poop to Baby Safety, Bay Med Course Tell It How It Is
August 9, 2009
By: Stephen Kent
Last Weeks Meeting - August 4, 2009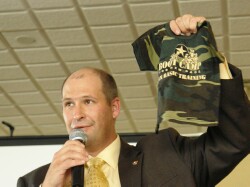 Rob Gives Away Boot Damp Shirt
Past Bay City Rotary President
Rob Clark
is good at many things from writing music to playing extreme Frisbee to ... changing diapers? Yep, Rob's a pro! For the past five years, since the birth of his son Owen, Rob has been the Head Facilitator for Bay Medical Boot Camp for New Dads.
The boot camp was started in California in 1990 by Greg Bishop, who realized that new Dads have little preparation for their role. Mothers, even first timers, are far more prepared. They talk to other women and other mothers. Men seldom talk to their buddies about such things. New Dads just accept that Mom knows what she needs to know and will tell them what to do.
The boot camp helps prepare Dad for what to expect, what he can do, how to support Mom, and what his responsibilities are. More than 24 million kids under 18 live in a household without their biological father. Dads need to learn they are responsible too.
The Boot Camp program is a one-night gathering of 16 to 20 expectant fathers held at Bay Medical. The men are rookies (first time dads) or veterans with at least one baby. Vets are encouraged to bring their babies with them. When they express concern that 7:00 at night is usually bedtime, Rob tells them to keep the babies awake and feed them a lot. "I want them pooping, peeing and crying", he said.
The boot camp is structured and covers all of the basics. Rob says "we're one of the few courses that uses live babies. We change diapers, we practice passing babies from person to person, we learn why they cry and some things we can do to help."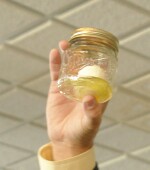 Of the many interesting facts and stories the one Rob pressed the most was NEVER SHAKE A BABY. He illustrated the results with a raw egg in a small jelly jar. It only took a slight shake to break the egg. "Think of this as a baby's brain. Shaking a baby is like making scrambled eggs".
The boot camp is offered several times a year. For information on this program and other baby classes, contact Becky Morgan, Bay Medical's Child Birth Educator. For more information on the boot camp visit
www.bayregional.org
.
---
CLUB NEWS and ANNOUNCEMENTS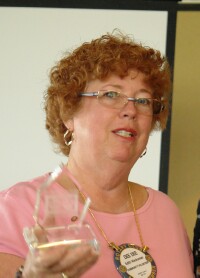 Dee Dee Wacksman

Dee Dee Wacksman was honored for including the Rotary Foundation in her estate plan. She joins Chuck and Nancy Cusick, Cindy and Bob Chadwick, and Don and Bobbie Anker from the Bay City club who have made similar commitments.


President Trahan noted that the Club's contributions to the Angel Food ministries have helped hundreds of local families. She also noted that our participation in the Guatemala projects is paying off as 70 mothers recently attended training at the Rotary sponsored school.


Bonnie Marsh asked that members bring their old Rotarian Magazines to meetings. Stickers naming the club will be affixed and the magazines will then be distributed to local doctors offices, hospitals, and clinics.


Harry Farris noted that the corn is a few weeks late this year. But that has not stopped the coons. He offered a happy buck for successfully trapping five of the critters so far. He offered a hard luck buck for the coons.

---
DATES TO REMEMBER
The Birch Run club will be celebrating its 10th anniversary with a dinner on September 2. Tickets are $20.


International Night 2009 has been scheduled for October 15. The theme will be a Mediterranean Cruise.


---
Upcoming Programs
(See the official schedule at RotaryBayCity.org )
August 11: Changes to the Local Newspaper Industry Matt Sharp, Publisher of Booth Mid-Michigan, will present a summary of the changes that have taken place with the local newspaper industry in Mid-Michigan.


August 18: US Mail Fraud Josh McCallister, United States Postal Inspector, will share information about How to protect yourself & what to do if you have become a victim.
---
Visit RotaryBayCity.org