Laura Ogar, County Environmental/Community Development Director, to Speak
May 4 Program to Spotlight Mark Gaubatz, Essexville-Hampton Superintendent
April 24, 2004
By: Dave Rogers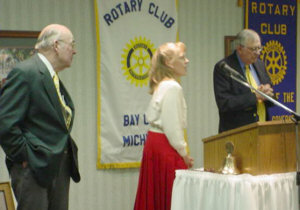 Bay City in Bloom speakers at Rotary last week were Dick Somalski, Paul Begick and Sita Compton.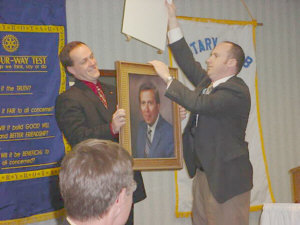 Jason McCoy, left, helps Jeff Yantz unveil an old photo of outgoing District Gov. Jerome Yantz at last week's Rotary meeting.
      Laura Ogar, Bay County director of environmental affairs and community development, will speak Tuesday, April 27, at the Bay City Rotary Club.
      She will be introduced by County Executive Thomas L. Hickner and will explain the county'sinitiative and involvement in the new Bay Futures economic development organization.
      Ogar came to Bay County several years ago from a similar post with the State of Alaska and has wide experience in the environmental field.
      Supt. Mark Gaubatz, who is retiring in June from his post at the Essexville-Hampton School District, will take the Rotary podium on Tuesday, May 4. He will be introduced by programmer Dave Rogers.      
On May 11 Judy Valentine and Judy Burkhardt of the Pt. Aux Barques Lighthouse Society, Port Hope, will bring their fabulous slide show featuring the historic lighthouse to Rotary. The presentation will highlight the society's efforts to preserve the lighthouse and a nearby lifesaving station.
      Last week the program at Rotary featured Bay City in Bloom, a new initiative and part of America in Bloom. Dick Somalski of Bay Landscaping, Paul Begick of Begick's Landscaping, and Sita Compton of B.C. Automotive, all active volunteerswith Bay City in Bloom, were speakers.
      Meanwhile, Hratch Basmadjian, chairman of the District 6310 Assembly and Conference on April 30-May 1, announced that more than 160 Rotarians have already registered for the conference.
      An exciting series of programs, including dinners at the Holiday Inn and Bay City Country Club and a concert by the Bijou Orchestra at the State Theatre at 2 p.m. Saturday are on the schedule.
      More local Rotarians are urged to register as there is no cost. Spouses may attend all conference events for $50. Contact Rev. Andreas Teich, registration chairman.
      Friday morning's district assembly will be in charge of Ruby Iwamasa, Midland, district governor elect. She will be assuming office from outgoing district governor Jerome Yantz of Bay City.###