Bay City Times Reaches 85 Percent of Area Residents, Says Publisher
Matthew Sharp, Former WorldCom Exec, Explains Increasingly Fragmented Media
August 16, 2009
By: Dave Rogers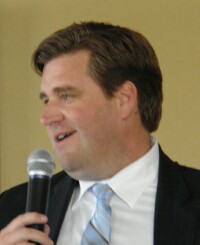 Matthew Sharp
Bay City Times Publisher
Last Weeks Meeting - August 11, 2009
Local news is the focus of The Bay City Times in this increasingly fragmented media market, says Matthew Sharp, publisher of The Times, The Saginaw News and The Flint Journal.
Mr. Sharp came to the Rotary Club of Bay City last Tuesday with Executive Editor John Hiner and told of how the Booth Newspapers, a part of the Newhouse Publishing chain, is remaking its product to compete in today's market.
In the sergeant-at-arms "teaser," the Booth executives asserted The Times reaches 85 percent of the local population.
Mr. Sharp also said the on-line M-Live.com service is accessed by about 100,000 readers daily in the Great Lakes Bay Region of Bay City, Saginaw and Midland.
Mr. Sharp was introduced by President Anne Trahan as the former publisher of the Michigan Business Review responsible for initiating three separate publications.
A University of Nebraska graduate, he was regional director of MCI WorldCom in San Francisco prior to the Michigan post. He lives in Fenton.
Despite the changed media landscape that followed the first Gulf War, he predicted "incredible changes coming in the media."
The reason The Times is now published Thursday, Friday and Sunday is, the publisher explained, due to the fact that "a good portion of readers are going on line early in the week." He noted "an incredible spike in readership" on Monday mornings.
Readership surveys have shown that people read traditional newspapers on the weekends beginning Thursdays when they have more time to read, he said.
"We could close up and not have a daily newspaper," Mr. Sharp said, "but we chose to maintain local journalism and a sense of a community hub."
He predicted most major newspapers in the United States "are going to look like us within two years," referring to the hybrid part print, part on-line format followed by The Times.
---
CLUB NEWS and ANNOUNCEMENTS
Cory Place is in need of simple personal staples like toiletry items to be distributed to the homeless in Bay City. The Board discussed this and encourages interested members to take items or donations to Cory Place, 581 N Scheurmann Rd. Call them at (989) 895-5563.


Kathy Czerwinski presented Paul Harris pins to new recipients Chris Girard and Brenda Rowley. She then presented Plus 2 pins to herself and Anne Trahan and a Plus 6 pin to Carl Lockwood.


The Board discussed the Club's meeting time. It has been shown that younger members may not have the flexibility that older members have with their lunch hour. Over the next few months lunch will be on the table at noon allowing members to start the meal earlier. The meeting start time will be moved up a few minutes and announcements will be shortened. The objective is to see if the meeting can be finished before 1:30.


International Night is rapidly approaching. The committee is soliciting auction items, volunteers, and input on the October 15 event.

---
DATES TO REMEMBER
The Birch Run club will be celebrating its 10th anniversary with a dinner on September 2. Tickets are $20.


International Night 2009 has been scheduled for October 15. The theme will be a Mediterranean Cruise.


---
Upcoming Programs
(See the official schedule at RotaryBayCity.org )
August 18: US Mail Fraud Josh McCallister, United States Postal Inspector, will share information about How to protect yourself & what to do if you have become a victim.


August 25: New Member Orientation Update Rob Clark and Cherri Burzynski will walk existing club members through the new member orientation process. This will be a great refresher for all members. At the conclusion two new members will be inducted.


September 1: Interact Club - Northern Bay and Arenac Rotary Club What is an Ineract Club? Interact is Rotary International's service club for young people ages 14 to 18. Interact clubs are sponsored by individual Rotary clubs, which provide support and guidance, but they are self-governing and self-supporting.
---
Visit RotaryBayCity.org