World's First Drive-Thru Farmers Market A Success!
Over 250 shoppers drove through a lineup of farmers and artisans
August 19, 2009
By: MyBayCity Staff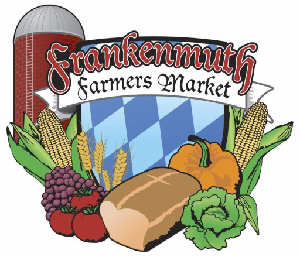 Operating 8am-2pm Saturdays, May-October in downtown Frankenmuth
From 4pm to 7pm Wednesday, August 12, Frankenmuth, Michigan bore witness to the world's first drive-thru farmers market. A steady stream of traffic, growers selling out of items, and tremendous excitement surrounding the event spelled a huge success for the Frankenmuth Farmers Market (FFM) Board of Directors, creating demand for future recurrences.
In the parking lot of McDonald's of Frankenmuth, a town of 5,000 and one of the state's largest tourist attractions, over 250 shoppers drove through a lineup of farmers and artisans. Shoppers and vendors were thrilled to be part of this world premier event. Heavy rains the previous regular Market day, generous publicity, and huge community buzz energized the entire region, drawing many new visitors to the Market.
FFM President Dietrich Bronner said, "We aimed to introduce the Market to new clientèle, those who live 40 miles away but work in Frankenmuth, the mobility-challenged, and people unfamiliar with the joys of the regular Market due to convenience, ease, or scheduling.
The drive-thru succeeded on many fronts, creating a huge buzz for the Market and greatly increasing its awareness for everyone. In fact, questioning how the drive-thru access would work, many customers came just for the fun of it," reported Bronner, also president of the Michigan Farmers Market Association. "Slow food in the fast lane - a super success!"
Tony and Geri D'Anna, Frankenmuth McDonald's owners and active community supporters, were gracious hosts, providing space, publicity, hospitality, and more.
Drive-thru customers received coupons for free McDonald's fruit smoothies using some of the 4 million pounds of Michigan blueberries McDonald's purchases. McDonald's spends $443.5 million per year on Michigan agricultural products, creating an additional 51,680 jobs, $645 million in in-state spending, and $40.6 million in taxes. Geri D'Anna reported, "We were so happy to be a part of this! We hoped it worked out well enough to do it again very soon!"
Signage promoted the event from Main Street in front of McDonald's, the restaurant's back entrance, and the electronic marquee. Approaching the drive-thru lane, drivers viewed the 'drive-thru menu' of Market offerings. Greeters welcomed drivers, explained the process, and handed out smoothie coupons and brochures directing them to the regular, 8am-2pm Saturday Market in downtown Frankenmuth.
Inside the Market, drivers viewed large printed menus of farmers' offerings and fresh produce laid out on tables. Farmers exchanged produce and dollars through windows on both sides of drivers' vehicles. Getting creative, farmers even packaged up Value Meal Deals and pre-bagged items for ease, speed, and efficiency as vehicles funneled through the Market in a steady stream the entire duration of the event.
Creating excitement, media coverage by The Saginaw News, Oldies 96 WHNN, WSGW Newsradio 790, ABC-12 Television, The Frankenmuth News, the Frankenmuth Chamber of Commerce spread the word. Vendors with near empty tables, drivers with produce-filled vehicles, Market organizers, and McDonald's owners and hosts all left this unprecedented event thrilled and eager for the next one.
At five years old, the Frankenmuth Farmers Market is one of Michigan's "Great Farmers Markets" as declared by Michigan Travel Ideas - Official State Travel Guide, operating 8am-2pm Saturdays, May-October in downtown Frankenmuth. Upcoming Market events include a Food Collection Day for the hungry August 22, a Pig Roast by Zehnder's of Frankenmuth August 29, a Christkindlmarkt on Thanksgiving Weekend November 27-29, and a Learn Great Foods Tour and Dinner November 28 (www.learngreatfoods.com).