Postal Inspector Talks to Rotary About Mail Fraud and ID Theft
August 23, 2009
By: Stephen Kent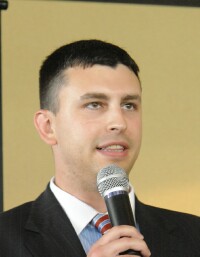 Josh McCallister
United States Postal Inspector
Last Weeks Meeting - August 18, 2009
Josh McCallister, United States Postal Inspector, spoke to Rotary about the problem of postal fraud and identity theft. A 2003 political science graduate of
Valparaiso University
, McCallister spent four years with the FBI's counter terrorism and counter intelligence special surveillance group. He is certified as a dangerous mail specialist. He joined became a Postal Inspector in 2007.
Postal Inspectors are the federal law enforcement branch for the Post Office. For over 200 years they have investigated postal crimes, post office robberies, assaults on postal employees and related crimes. Today they also cover identity theft, fraud, and illegal items such as drugs sent through the mail.
McCallister said one might be surprising by the drugs that are sent in the mail. He's seen as much as 78 pound packages of marijuana. He's seen mothers send pot to their kid in college and he's seen kids send pot to their parents. Cocaine, meth and other drugs are also sent in the mail.
Inspectors are limited by law in what they mail they can open. Foreign mail is up for grabs, but first class US mail is private. But postal workers are very good and know their customers and what goes through the mail. If they are suspicious the Postal Inspectors can get a warrant and search mail.
Postal Inspectors are also involved with scams, whether they are perpetuated through the mail or on the Internet, which is becoming the more common vector.
Scams abound. The famous Nigerian type scam is where you are contacted by someone who claims to need help moving a large amount of money, or collecting a winning lottery ticket, or some other transaction that must be processed in the US. You are needed to put up some money with the promise of receiving a large commission or share or payout.
A variation is where a person contacts you claiming to be an attorney for a sweepstakes. You're told to expect a calls from another office soon with details. The second caller asks for payment of a fee or deposit to make you eligible for your prize.
You should NEVER send money to someone with this type of claim. "You don't need to pay money to win money" said McCallister. If you're not sure, call the post office or law enforcement. Don't fall for the pitch
Unfortunately people do fall for scams. Often they're then too embarrassed to report it. Some even get hooked on scams repeatedly sending money thinking that they'll eventually get the promised payout.
ID theft is crime of the future. Crooks are becoming sophisticated. They know it a fast easy crime with limited penalties. Society considers it bad, but it's not taboo like drug dealing, rape or murder. Gangs are getting heavily involved. Michigan has become a hotbed of activity.
ID theft doesn't happen through mail as much now as on the Internet, and in particularly with e-mail. Watch your e-mail carefully. If you don't know the person who sent you an e-mail, just delete it. Don't even open it. If the subject doesn't make sense, be suspicious. And NEVER send personal information in e-mail, especially to someone you don't know.
Once they have your information, thieves will open credit cards in your name and run up a fast balance. Thieves have become very sophisticated. Many will run a target's credit score first and cherry pick the best people to hit. They have a good idea who will and will not check their cards. They run up a balance in a few days then move on to the next person.
Watch your credit card statements. Too many people just make a payment without looking, until there's a problem.
The credit card companies are becoming very proactive. They're hiring experienced law enforcement and FBI types to run their departments. They work closely with Postal Inspectors.
If you find a bogus charge, contact the card company immediately. They'll investigate and if they agree it's fraudulent they will absorb the debt and take you off the hook.
Unfortunately, some of the worst offenders are those you have been caught and convicted. They're sent to jail, which has become like a graduate school for crooks. They come out knowing more than they did before and they start over. Those people are harder and harder to catch, but the law is learning too. It's a never ending battle.
---
CLUB NEWS and ANNOUNCEMENTS
President Trahan introduced a new "Friendship Minute" where three randomly selected members were asked to introduce themselves, tell when they joined, who their sponsor was, what they do and one interesting fact about that people might like to know about them. Leo Najar, Cindy Luczak and Cherri Burzynski were the first to have the honor.


Cory Place is in need of simple personal staples like toiletry items to be distributed to the homeless in Bay City. The Board discussed this and encourages interested members to take items or donations to Cory Place, 581 N Scheurmann Rd. Call them at (989) 895-5563.


Over the next few months lunch will be on the table at noon allowing members to start the meal earlier. The meeting start time will be moved up a few minutes and announcements will be shortened. The objective is to see if the meeting can be finished before 1:30.


International Night is rapidly approaching. The committee is soliciting auction items, volunteers, and input on the October 15 event. Forms and other information is on the RotaryBayCity.org web site.

---
DATES TO REMEMBER
International Night 2009 has been scheduled for October 15. The theme will be a Mediterranean Cruise.


---
Upcoming Programs
(See the official schedule at RotaryBayCity.org )
August 25: New Member Orientation Update Rob Clark and Cherri Burzynski will walk existing club members through the new member orientation process. This will be a great refresher for all members. At the conclusion two new members will be inducted.


September 1: Interact Club - Northern Bay and Arenac Rotary Club What is an Interact Club? Interact is Rotary International's service club for young people ages 14 to 18. Interact clubs are sponsored by individual Rotary clubs, which provide support and guidance, but they are self-governing and self-supporting.


September 8: 10 Minute Rotarians: Rod Sundstrom and Barb Engelhardt.


September 15: Girl Scouts Five Girl Scout councils in Michigan merged to form one high capacity council called Girl Scouts Heart of Michigan. Dorothy Hammond, Membership Specialist, will explain how girls now have even more opportunities to discover, connect, and take action throughout the state.


September 22: River of Time Members of the River of Time Committee will update us on what's new this year at the River of Time Living History Event. Included will be a presentation by local reenactors.
---
Visit RotaryBayCity.org