Andrea Hales, Rod Sundstrom, 10-Minute Rotarians Describe Life Experiences
September 13, 2009
By: Dave Rogers
Last Weeks Meeting - September 8, 2009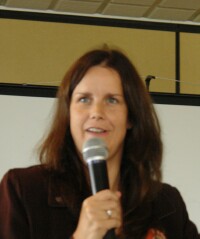 Andrea Hales
Andrea (Blizzard) Hales
and her family like fishing.
Rod Sundstrom is more partial to refinishing decks.
The pair made an interesting contrast as each became 10-minute Rotarians last Tuesday.
Andrea's tales of family were highlighted with a PowerPoint presentation.
Thankfully, Rod did not bring a section of deck for illustration.
Andrea, a band member and cheerleader at Bay City Central High, recounted her world travels with her husband, Steven, analyst at S.C. Johnson Co., who was in the U.S. Army when the pair married in 1988.
Their travels have included El Paso, Texas, "hot and dusty with lots of bugs," she recalled; Kitzingen, Germany, and, after Steven served in Iraq and Saudi Arabia during Operation Desert Storm, Tacoma, Washington.
The couple live in Alger (close to good fishing areas) and she is vice president of Communications Family Credit Union, Saginaw.
Andrea previously worked at the Dow Chemical Employees Credit Union and National City Bank.
She and Steven are historical re-enactors, specializing in the French and Indian War period. Son Joshua, 16, attends Standish-Sterling High, and Zakkaria is a Delta College student.
"If you're not living life now, it's not too late to start," she counseled Rotarians.
---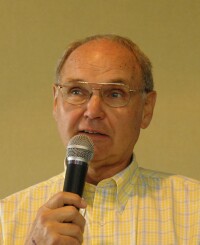 Rod Sundstrom
Rod Sundstrom
called his journey to Michigan one of the defining moments in his life and gave thanks for the good education he has been fortunate to receive.
That education has been extended recently to more mundane topics like refinishing a 350 square foot deck at his home, something he had never done before.
Rod has been a member of church choirs, plays the violin and asserts that he "learned more from Leo Najar than any other musical director," calling that experience "a very good one for me."
Rod also collects wisdom in the form of aphorisms from radio shows like Click and Clack and written in strange places like outhouse walls. Ask him about it.
---
CLUB NEWS and ANNOUNCEMENTS
Meeting Times: Lunch is now on the table at noon allowing members to start the meal earlier. The meeting starts by 12:30 and the speaker starting by 12:50. The meeting typically adjourns around 1:15!


International Night is rapidly approaching. The committee is soliciting auction items, volunteers, and input on the October 15 event. Forms and other information is on the RotaryBayCity.org web site.
Membership: The next new member orientation will be held October 7, 2009 at the Atrium Restaurant.

---
DATES TO REMEMBER
International Night 2009 has been scheduled for October 15. The theme will be a Mediterranean Cruise.



SPECIAL NOTE:
Board Meeting THIS WEEK
September 15 at 11:00.
That's one week later than usual.




---
Upcoming Programs
(See the official schedule at RotaryBayCity.org )
September 15: Girl Scouts Five Girl Scout councils in Michigan merged to form one high capacity council called Girl Scouts Heart of Michigan. Dorothy Hammond, Membership Specialist, will explain how girls now have even more opportunities to discover, connect, and take action throughout the state.


September 22: River of Time Members of the River of Time Committee will update us on what's new this year at the River of Time Living History Event. Included will be a presentation by local reenactors.
---
Visit RotaryBayCity.org